Second Hand News: A Fleetwood Mac Night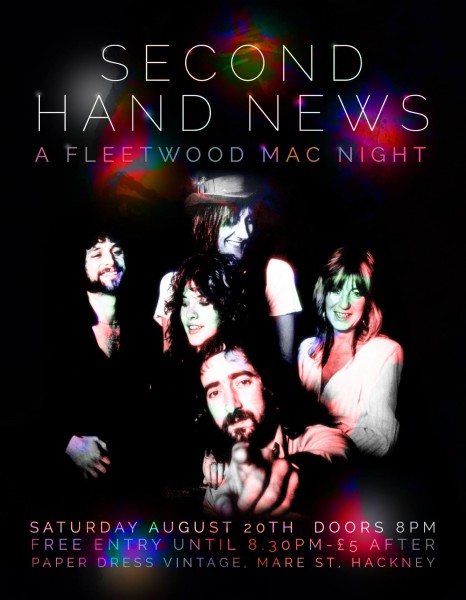 Wait a minute, baby.
Live music from Fleetwood Slack, covering all your favourites, Fightmilk and Tall Poppies.
DJs (David Ryder Prangley and guests) and dancing.
Lace and paper flowers.
=============
Fleetwood Slack have been specially and hastily convened for the night. Featuring vocals from David Barnett, Rebekah Delgado, David Ryder Prangley, Toby Benton, Katy Joanne Zita Hamilton, Kate Whaite and Tall Poppies, and instrument wrangling from Dom Green & Tom Harrison(Penny Orchids), Lucy Morgan (Thee Faction/ The Deptford Beach Babes),Sami Salo (dirty fingernails/ Medium Wave) and Ciaran McNamee (general legend), playing a host of 70s/80s Mac classics.
Tall Poppies
Indie pop four piece. Twin sister front women deliver melodic guitar pop in dual harmony with a dark twist and a bit of punch accompanied by soaring string lines and dance worthy drum beats.
Fightmilk
Once described as "an actual band", Fightmilk have lots of chords and shouting and try not to take the whole thing too seriously.
Free entry before 8.30 and £5 after – limited capacity so get down early!
RSVP to the Facebook event page here: https://www.facebook.com/events/2025155404377000/