F E L L Album Launch Show + Lowpines + Nous Vous DJs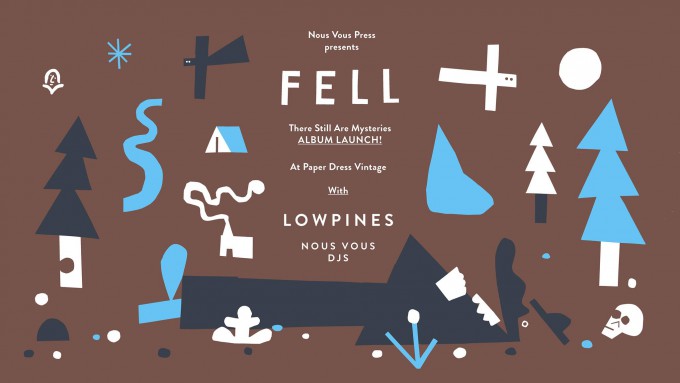 Live show celebrating the launch of 'There Still Are Mysteries' by F E L L on Nous Vous Press.
Nicolas Burrows has been making music for a while now. Back in 2006 he released a 6-track EP (through a very early incarnation of Nous Vous Press) under the name 'Glaciers' based on a month wandering round Norway. Two albums and a whole load of EPs later Glaciers have finally melted and he's now recording under a different name, F E L L.
'There Still Are Mysteries' sees Nicolas intensifying a long-held lyrical focus on natural wonder & magic. Subtle and expansive arrangements full of understated guitars, shimmering organs and dark synths reverberate with echoes of Will Oldham, vintage George Harrison and the introspective philosophies of Mt Eerie: a perambulatory meditation on wonder, on not knowing, on magic, myth and mystery…
'There Still Are Mysteries' is released as a 12′ heavyweight vinyl through Nous Vous Press and in digital formats on 19th August 2016.
F E L L will be joined by L O W P I N E S:
Lowpines' music has traveled far afield in it's short life. From simple beginnings as a series of bedroom recordings to being discovered by a number of American musical directors, Lowpines songs have been a regular feature of tv shows and films across the States, and prompted his first US shows in New York and Los Angeles. Back home in Britain, Lowpines has had regular airplay on UK radio, with DJ's Lauren Laverne and Steve Lamacq making their appreciation known from the release of the 2015 'Lowpines' EP and prompting appearances at The Great Escape and Wilderness festivals, as well as a number of headline shows in London.
"Beautiful" Lauren Laverne 6Music
"a slow-burning torch song that could safely guide you through the disorientating wilderness of heartbreak."
Q Magazine – Tracks of the week
–
N O U S V O U S D J s will be setting the mood with some warm and fuzzy folk, americana, psych-pop and everything else in between.
Plus:
Bar with Camden Brewery beers
Records & tapes
Excellent vibes
RSVP to the Facebook event page and invite your friends here: https://www.facebook.com/events/1493745260642981/
Advance tickets available here: https://www.eventbrite.co.uk/e/fell-album-launch-tickets-26798572251