Core Arts Fundraiser ft. Witching Waves, H Grimace, Dream Nailes + more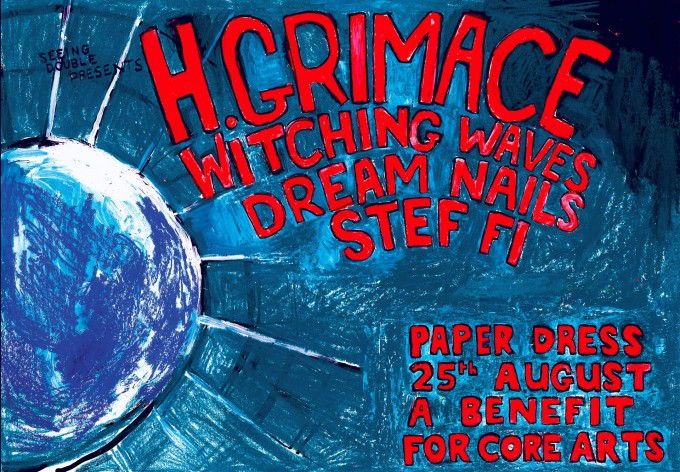 Seeing Double presents an evening of music in support of Core Arts
H Grimace
H Grimace have really carved out a reputation for themselves in the last three years with some really amazing gigs, and a number of releases on Soft Power, Art Is Hard and their own imprint.
This is H Grimace's first show in a long time, and featuring a brand new line-up that features a member of Molasses! We're really excited and pleased to be putting them on, and hearing the new set!
https://soundcloud.com/separatedbymotorways/hgrimace-cavepainter
Witching Waves
This year Witching Waves have released their second LP on Soft Power and Happy Happy Birthday To Me, toured the States, appeared at NYC Popfest, and have recently played Indietracks. They are currently writing a third record and play this as part of a UK mini tour.
https://witchingwaves.bandcamp.com/
Dream Nails
Dream Nails recorded an awesome EP earlier this year, and they've been going from strength to strength! Playing some awesome shows, including Glastonbury! Really looking forward to seeing this band, no doubt it will be electrifying.
https://soundcloud.com/sound-savers/dream-nails-bully-girl
Stef Fi
Steph is the singer and guitarist with the amazing Big Joanie. She's recently been doing a number of solo shows, and we can't wait to see her play this one!
£4
This is a benefit for Core Arts, a Hackney based charity that promotes postive mental health through creative learning.
"Providing quality education, training, employment and social enterprise initiatives that enable people who experience mental health issues to overcome barriers, fulfill their potential and participate fully in their community."