Buffalo Bar Bank Holiday Reunion! w/ The Priscillas, The Yeah Maybes, Liquorice River + Lazy Sharks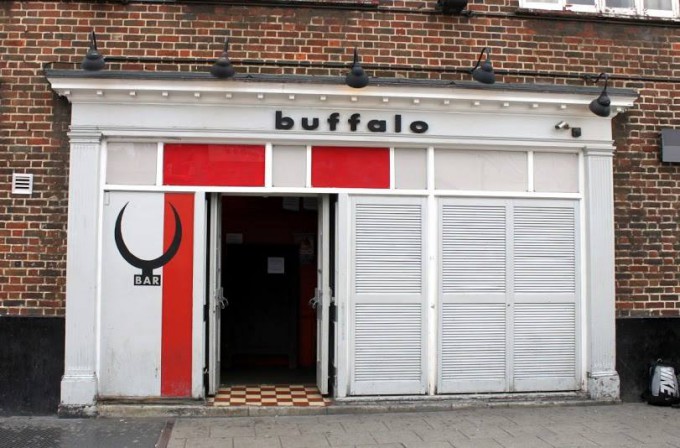 On Saturday 27th August we're hosting a special reunion knees-up to celebrate the life and times of the much beloved Buffalo Bar which closed it's doors at the end of last year.
Michael Buffalo is now managing Paper Dress and has pulled together some old friends from days gone-by to join a bill.
Come and join us for some great live music and some chat about the good old days.
Featuring live music from..
THE PRISCILLAS
The Mighty Boosh, Jay Kay, Shane McGowan, Franz Ferdinand, The Cramps, The Damned, Sky Saxon and designer Anna Sui don't often agree on things, but they have all declared their love for cult favourites The Priscillas and their unique brand of milkshake punk. Their second album "10,000 Volts" is out on Nag's Head Records via Cargo on 16th February, and is sure to make your ears pop.
THE YEAH MAYBES
The Yeah Maybes – what happened when Ravi (drummer with rock'n'roll hoodlums MFC Chicken) met Nero and Honey (guitarist and bassist from garage rockabilly ne'er-do-wells Nero Burns) and formed a band with delinquent opera singer Bea.
Turns out it's a gumbo stew of influences, from garage punk to country, from torch songs to ramalama seventies punk, with a bit of girl group action in between.
Saturday 27th August sees them make their debut at Paper Dress Vintage, so get in on the ground floor if you know what's good for you!
LIQUORICE RIVER
https://www.facebook.com/liquoriceriver
Liquorice River take you on an aural journey fuelled by bitter nostalgia and sardonic sentimentality, stopping off along the way at junctions of 60's psychedelia, glam, dub, folk, indiepop, krautrock and interludes of both a cinematic and electronic nature. Witty poems of longing and lust narrate a sonic film about life itself.
LAZY SHARKS
https://www.facebook.com/raspthorneshark/
Dark country murder blues!
—-
Plus Rock and Roll Idiots will be playing all of your favourite tunes ancient and modern.
As is the way with the majority of our weekend gigs at Paper Dress we are running this night on a 'Pay What You Want' / Donations basis on the door
If you want to read more about why we're doing that then have a quick read here: http://paperdressvintage.co.uk/live-music-manifesto
Suggested donation £5
RSVP to the Facebook event page and invite your friends here: https://www.facebook.com/events/1784653678480937/
Keep live music alive!
PD x