Paper Dress Presents: Bandini / King Cassady / Mariska Martina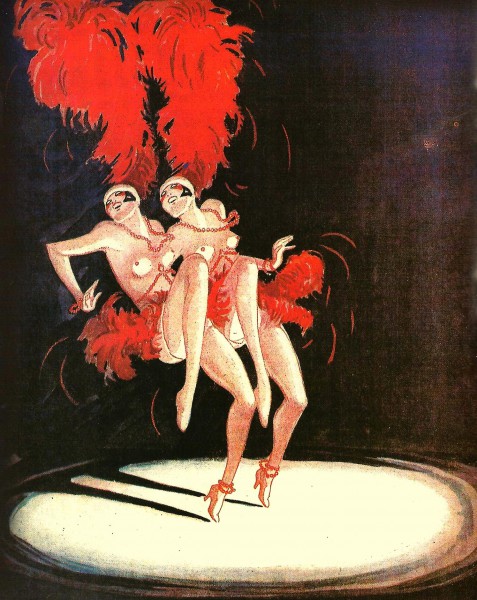 Paper Dress Presents an evening of wonderful live music from our unique shop window stage in Hackney Central. On Friday 30 September we welcome…
BANDINI
https://www.facebook.com/bandinimusic/
Luigi Rignanese – Bass/Double Bass
Richard Blenkinsop – Guitar
Richard Castle – Saxophone/Flute
Meri Lahti – Clarinet & Costumes
Oliver Presman – Mellowphone/Trumpet
Sandra Sorio, Millie Culett, Jo Piper, Jenny Lagerholm – Choir
Jacob Powell – Drum

KING CASSADY
https://www.facebook.com/kingcassady/
King Cassady blend a high energy cocktail of gypsy jazz and flamenco for you folks to dance to.
MARISKA MARTINA
https://www.facebook.com/mariskamartinalondon/
Songwriter, singer, cellist.
A bit of guitar, piano and ukulele here or there.
We're running this event on a 'Pay What You Want' / Donations basis on the door – If you want to read more about why we're doing that then have a quick read here: http://paperdressvintage.co.uk/live-music-manifesto
Suggested donation £5
RSVP to the Facebook event page and invite your friends here!
Keep live music alive!
PD x
Whipped Cream Records Presents: John Johanna + Super Best Friends Club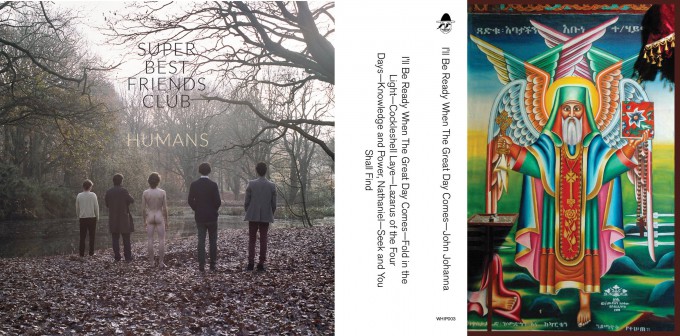 Thursday 29 September
John Johanna – Live
Super Best Friends Club – Live
Capitol K – DJ
Celebrate:
John Johanna – I'll Be Ready When the Great Day Comes – Ltd edition cassette tape – The six track cassette tape collects together various aspects of John Johanna's material; re-worked gospel standards, 4track experiments, fine crafted acoustic balladeering & blues. Always fervent and real, attuned with a keen minimalism and remarkable voicing. We are simply in love with this artists music here at Whipped Cream Records.
https://johnjohanna.bandcamp.com/album/ill-be-ready-when-the-great-day-comes
Rejoice:
Super Best Friends Club – Humans – is the new track from London-based quintet Super Best Friends Club,
Esoteric, idiosyncratic and ecstatic, taken from the band's 2nd album; due feb 2017 on Whipped Cream Records. Brimming with ideas, united, evocative and totally fresh.
Rave:
Capitol K DJ's
https://soundcloud.com/capitolk/firemonkeymoonmix
Admission will be £5 on the door pre-sale link will follow soon.
Llama Pop Presents: Winka Wayno Sound System & Vaya Futuro (Acoustic Set)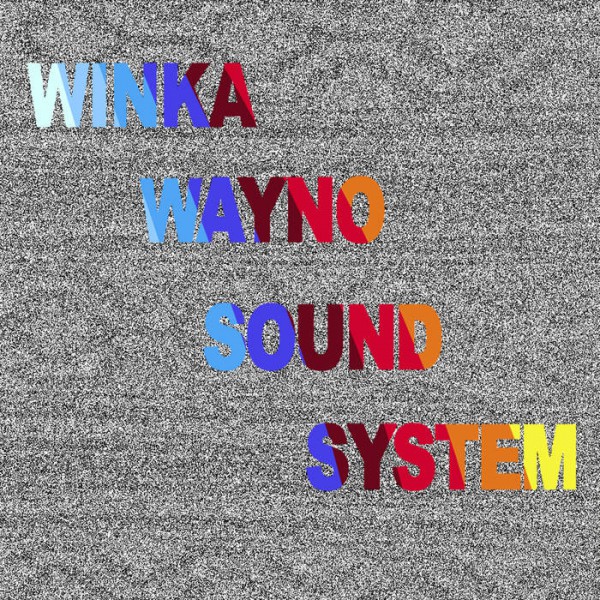 WINKA WAYNO SOUND SYSTEM: is a new project by Gregorio Fontén. The energetic melancholy of South America's wayno and cumbia rhythms is combined with psychedelic electronics to create a ritualistic pop for the dance floor. His work has been described as one of ramshackle and unique songs, whose effect is hallucinatory, corrosive; both strange and beautiful.
https://fonten.bandcamp.com/album/winka-wayno-sound-system-demo
VAYA FUTURO: is formed by Luis Aguilar (vocals, guitar), Aldair Cerezo (guitar), Le Ros (bass), Armando Aguilar (Keyboards, vocals) and Miguel Ahuage (drums). They flirt with a great diversity of alternative genres, which strongly influenced their original sound: noise pop or melodic noise with hints of shoegaze and krautrock. Their influences run all the way from current experimental pop acts such as The Flaming Lips as well as the German counterculture of the 60's passing by an endless number of sub genres in progressive and psychedelic rock.
Tickets available here: https://billetto.co.uk/winka-wayno-sound-system-vaya-futuro-acoustic-set
Join A Choir at Paper Dress!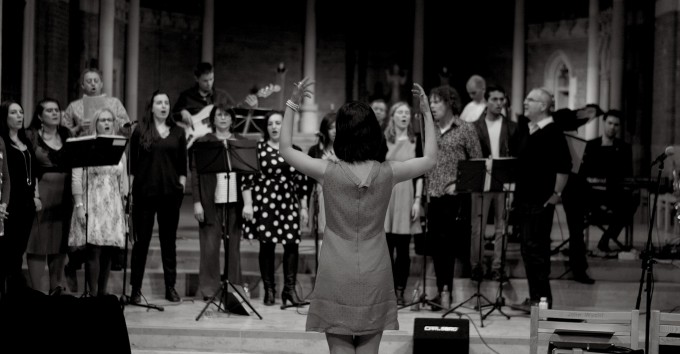 https://londonblueschoirs.co.uk/2016/08/26/hackney-branch/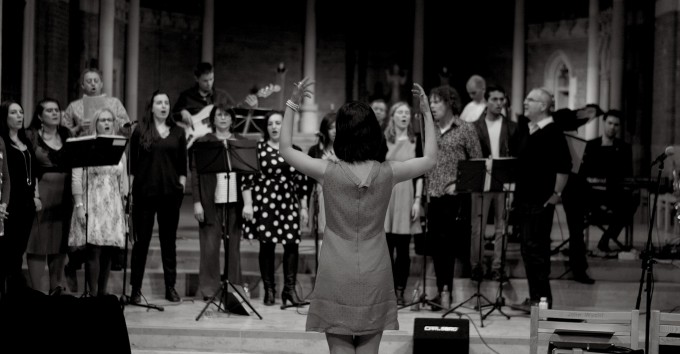 We're delighted to be hosting London Blues Choir for an 11 week course this October…launching with a free taster session on Monday 10th!
There are no auditions and singers of all abilities over the age of 18 are welcome.
 You don't need to be able to read music.

Repertoire:
Original arrangements of songs within the Blues genre including traditional Blues, Motown, Soul, Gospel, Spirituals, Bluegrass and most Pop!
Songs include Tainted Love (Gloria Jones / Soft Cell), The Chain (Fleetwood Mac), Rolling in the Deep (Adele), The House of the Rising Sun (The Animals), A Change is Gonna Come (Sam Cooke).
Performing:
We will eventually do public performances once we have built up our repertoire. There will be opportunities for concerts outside of the venue throughout the year too.
Dates: 11 sessions – First session FREE!
10th October
17th October
24th October
31st October
7th November
14th November
21st November
28th November
5th December
12th December
19th December
Termly fee: £100 (first session FREE!)
Further details and to book head over to their website here!
Prom Night!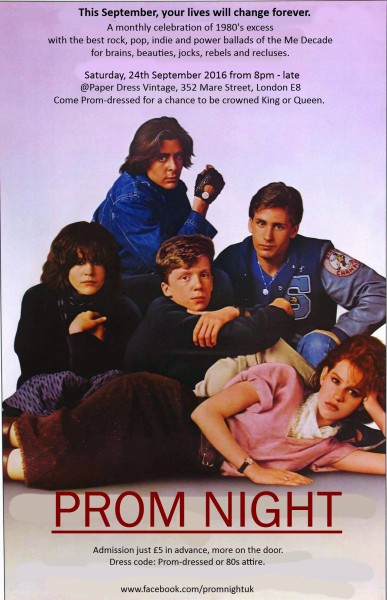 Prom Night – London's finest celebration of 80's excess – returns this September. Expect the best rock, pop, indie and power ballads of the Me Decade, for brains, beauties, jocks, rebels and recluses. Think Pretty In Pink, The Breakfast Club, The Lost Boys, Heathers, Ferris Bueller… You get the idea.
We're enforcing a strict dress code, so come Prom-dressed or 80s for your chance to be crowned King or Queen. And to help you look your best, Paper Dress Vintage are offering 15% off their clothes and accessories for anyone who buys an advance ticket. Just show them your ticket confirmation when you make your purchase. Really, there's simply no excuse not to look fabulous.
£5 tickets available here: http://www.wegottickets.com/event/373081
RSVP to the Facebook event page and invite your friends here: https://www.facebook.com/events/1596977323935142/