Karl Schultz: Lands End To John O'Groats; A Not Dead Dad Show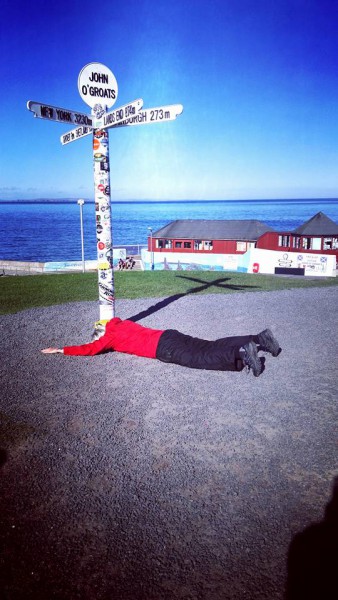 On Tuesday 4th October Karl Schultz will share for the first time on stage the story of his recent 1000 mile walk over 54 days with support in the first half from John Kearns and Fin Taylor.
About the show:
"A journey of a thousand miles begins with a delusional buffoon getting lost in a field because he was too busy recreating the end of Gladiator," as they say.
A real peacock out of water kinda thing.
Look the synopsis will not be perfected in the first event page description box.
But I'd like to pull out of the 3rd person matrix now and invite you to see what will be an extremely fresh (cos I've just done the thing) version of a very funny if raw hitsyouinthefeels show. As well as the epic walk, the show explains how I figured out why I was doing it and what my Dad's very cinematic time as a missionary in Bangladesh in the early 90s has to do with it.
So, quick recap: comedy. That hitsyouinthefeels. Comedy. That hitsyouinthefeels.
JOHN KEARNS & FIN TAYLOR
Are two of the best young stand ups in the world.
John has won the Edinburgh Best Newcomer and Main Prize awards in back to back years and since written and starred in his own radio 4 show, as well a co starring role in Top Coppers on bbc3 and recently featuring on 8 out of 10 cats does Countdown. He's a mate and he's a genius.
Fin, also a mate, has long been known as one of the funniest new comedians on the circuit but this year he took it up about 30 levels and firmly announced himself as potentially one of the best stand ups we're ever likely to produce. Look just read this review. He says it way better. http://www.chortle.co.uk/shows/edinburgh_fringe_2016/f/25624/fin_taylor%3A_whitey_mcwhiteface?review=4533
The night will be a Pay What You Want affair. Free to get in then you pay what you think the night was worth.
The atmosphere is gonna be a bit special so don't miss this. It's just the coolest space for some really personal and entertaining comedy. You've got two future first ballot hall of famers in the first half. Then something fucking epic from me.
See you there.
Karl"