Take Cover! Spoken word open mic..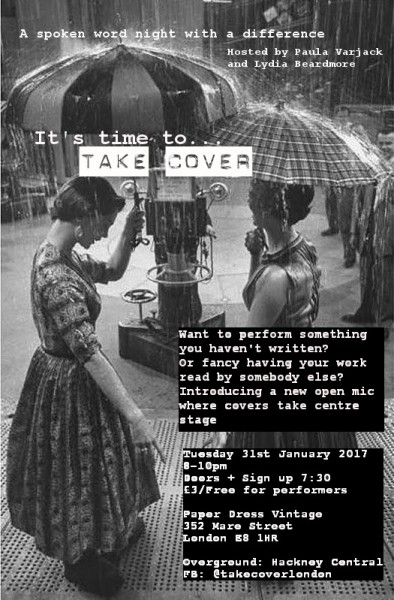 Ever feel like spoken word artists have a lot to say for themselves?
What if there was an open mic where it was forbidden to perform your own work?
What if there was a night where you could perform a piece chosen completely at random?
It's time to take cover.
Take Cover is a new spoken word open mic with a difference.
Open to anyone interested in reading/performing something out loud that they love but haven't written or anyone curious to hear their own writing coming out of another performer's mouth or anyone up for the challenge of performing something with no preparation and chosen totally at random.
Sign up in advance to be part of the 'lucky dip' where you send a piece of writing (monologues, stories, poems) up to five minutes to be read by someone else and must read someone else's in exchange. To sign up please send text to [email protected] or contact us through Facebook @takecoverlondon
Alternatively, sign up on the night with a piece you want to perform but didn't write…anything from Maya Angelou to your grandparents' love letters.
Tickets £3 on the door and FREE for performers.
Doors: 7:30pm
Show: 8:00-10:00pm
RSVP to the Facebook event page and invite your friends here!