YMMT Presents: Redwood, Drawstring, Ian Charles Carter and Morning Tourist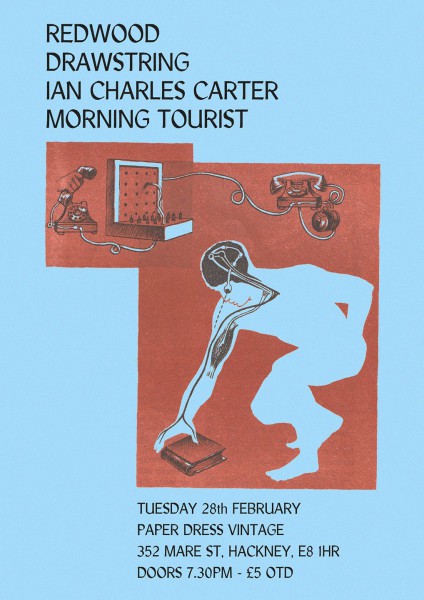 Ymmt Presents:
Redwood and Drawstrings London date of their upcoming UK tour.
Redwood
https://redwooooood.bandcamp.com/album/blood-moon
Drawstring
https://drawstring.bandcamp.com/

Ian Charles Carter
https://www.facebook.com/IanCharlesCarterMusic
Morning Tourist
https://morningtourist.bandcamp.com/releases
Doors 7.30pm
£5 OTD
RSVP to the Facebook event page here and invite your friends!
Poster by Sam Watson
Vintage Fashion Illustration!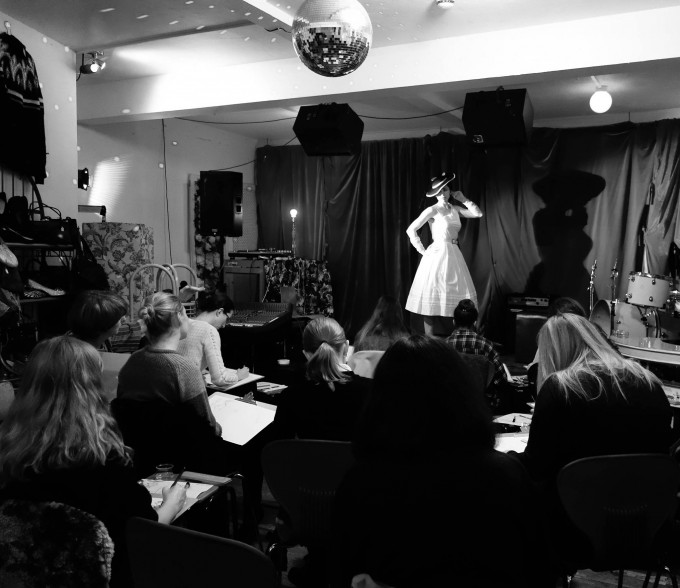 VINTAGE FASHION ILLUSTRATION
Drop in drawing class hosted by Paper Dress Drawing Salon
We will be drawing from a live model, starting with the basics of fashion illustration including proportion, weight and balance.
The class will focus on the fashions within a specific decade, looking at the characteristics of the styles, such as silhouette, waistline, hemline etc
We will explore a range of short and longer poses through a variety of observation techniques and rendition exercises designed to suit the era of the fashions covered in the class.
Limited tickets available £12 in advance / £15 on the door
All levels welcome – no previous experience necessary
About the tutor: Mel Rye has over 10 years of teaching experience. She is Head of Art & Design at St Charles Sixth Form College, and is also a visiting Illustration tutor at Central Saint Martins.
More info about the tutor: https://www.behance.net/melmadethis
Tickets here:
https://billetto.co.uk/en/events/vintage-fashion-illustration-august-9cb0fe-0bdc4b-9cd8e4
Itchy Teeth, Blueprint Blue & Flying Mojito Bros LIVE SHOW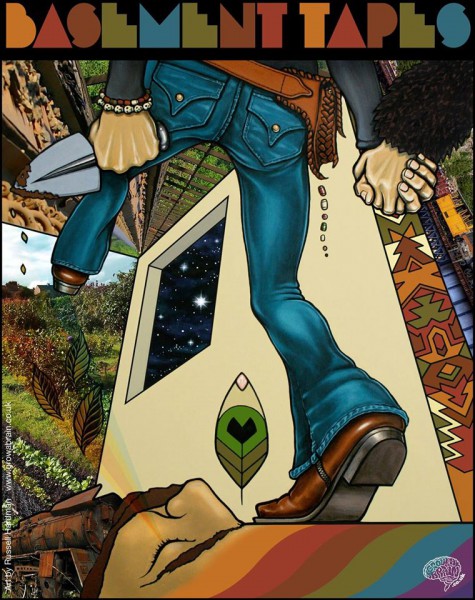 Basement Tapes are back at Paper Dress Vintage for the latest instalment of their monthly residency with grooves to make you move!
This month features live performances from tripped out guitar popsters Itchy Teeth, 60s folk rockers Blueprint Blue and the debut live 'VJ' performance from resident DJs and country disco bandoleros Flying Mojito Bros.
As usual Basement Tapes (Sam Ra & Howlin' Walsh) will be spinning some fine FUNK, SOUL, AFROBEAT, DISCO and much more till late..
Live sets from:
Itchy Teeth
Fresh off the back of a mammoth European tour and their self titled album release in 2016, Itchy Teeth return to London for a homecoming show filled with trademark guitar pop, psych and avant garde. A real Basement Tapes favourite – expect fireworks!
Check out their latest single 'Terrible Thing' here: https://www.youtube.com/watch?v=XztyjlFdPy4
Blueprint Blue
Intertwining raw 60s psych with folk rock, Blueprint Blue are a modern day throwback to Zuma-era Neil Young. Having recently been asked to head over to Texas to play SXSW the band are rasing funds to make this trip a reality. You can donate and check them out right here: http://www.pledgemusic.com/projects/blueprintbluesxsw
Flying Mojito Bros
The debut show from country disco bandoleros and Basement Tapes residents the FMBs is not to be missed! Live visuals tied in with sample triggers cut to some of their renowned remixes of slick late 70s AOR. We are damn excited for this so get to know their remixes before they blow you away live right here: http://www.propermag.com/site/favourite-fives-flying-mojito-bros-2016-05
£5 suggested donation on the door
RSVP to the Facebook event page and invite your friends here: https://www.facebook.com/events/1263317083764797/
Nat & The Noise Brigade / Moonshyne Runners / Giles Likes Tea / AllegraShock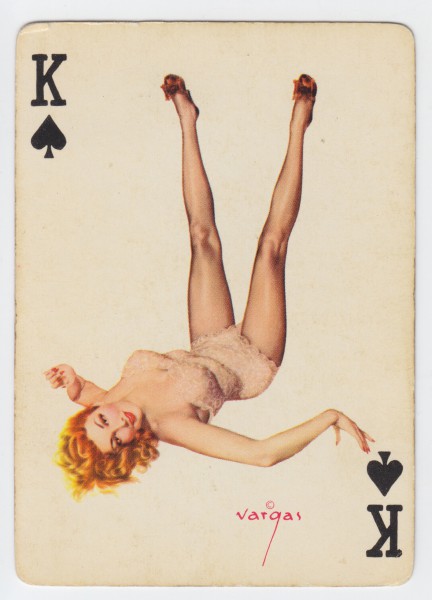 Paper Dress Presents an evening of wonderful live music from our unique shop window stage in Hackney Central. On Friday 24 February we welcome…
NAT & THE NOISE BRIGADE
https://www.facebook.com/NatandtheNoiseBrigade
Hailing from East London, Nat and the Noise Brigade make eclectic, upbeat tunes infested with brass, flutes, and whatever else they can get their hands on.
MISS ROSIE & THE MOONSHYNE RUNNERS
https://www.facebook.com/MissRosieAndTheMoonshyneRunners
Inspired by the great vocalists from the golden age of jazz, Miss Rosie assembled The Moonshyne Runners to resurrect the spirit of swing. With a repertoire rooted in the music of the 1930s and 1940s, this sextet will bring the bounce back to your steps.
https://soundcloud.com/moonshynerunners
GILES LIKES TEA
https://www.facebook.com/gileslikestea/
Gypsy-tinged pop with boy-girl vocals that culminates in a good time.
ALLEGRA SHOCK
https://www.facebook.com/allegrashockmusic
"Mixing the best of the American songbook with clever and original self-penned numbers, Allegra brings the startling beauty of the harp and the human passion of the folk tradition to a generation bored of the predictable.." Tom GK
We're running this event on a 'Pay What You Want' / Donations basis on the door – If you want to read more about why we're doing that then have a quick read here: http://paperdressvintage.co.uk/live-music-manifesto
Suggested donation £5
RSVP to the Facebook event page here and invite your friends!
Keep live music alive!
PD x
Exciting News Part One!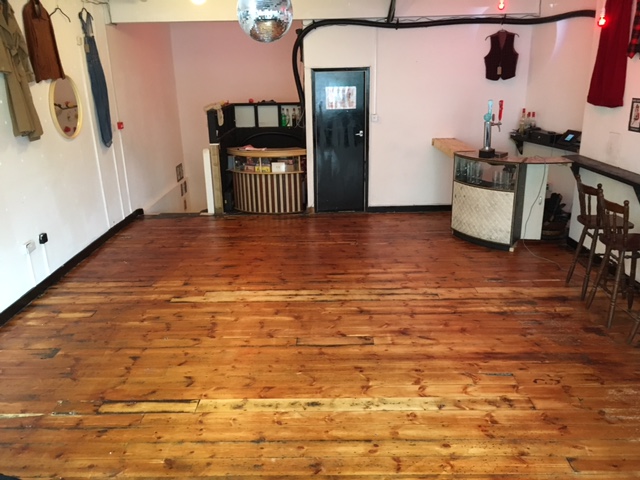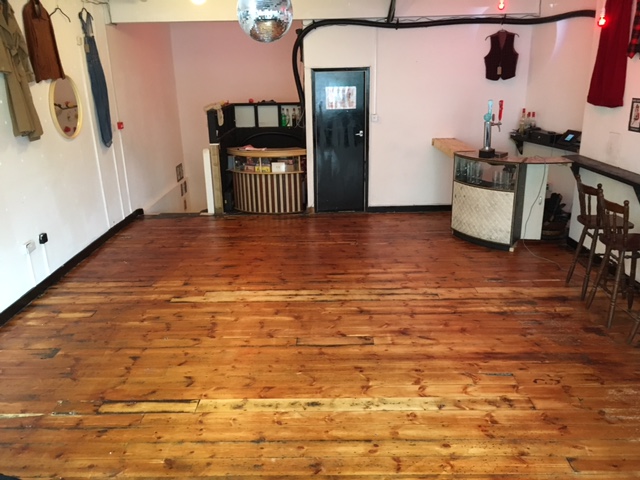 We've been getting our hands dirty for the past few weeks and are delighted to unveil our newly improved & expanded upstairs event space! Look how pretty she is!
We're going to be celebrating that this weekend with our biggest Fill a Bag Vintage Sale ever on Saturday and 2 rocking parties on Friday & Saturday till 2am – come in and say hello and have a look for yourselves.
PD x