Those Unfortunates single launch with The No Sorrows and UEP!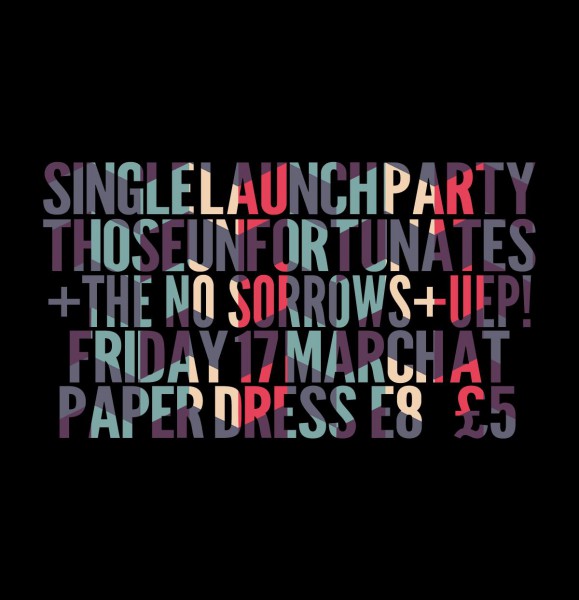 Paper Dress Presents an evening of wonderful live music from our unique shop window stage in Hackney Central. On Friday 17 March we welcome…

THOSE UNFORTUNATES
https://www.facebook.com/unfortunates/
Those Unfortunates launch double A-side single, A Question for Mr Richardson/A Repertory Man, the first release from their debut album, Nothing Isn't Beautiful, which comes out in May.
Those Unfortunates formed in January 2013, almost taking their name from B S Johnson's 1969 'book in a box.' They wear herringbone coats and oxblood shoes without ever really managing to look rakish. Their songs aim for the wit and warmth of bands like The Kinks and Television Personalities. They are self-deprecating, for the most part, and self-contained. They sound harder than they sound.
THE NO SORROWS
https://www.facebook.com/thenosorrows/
Blending the earthy traditions and celestial harmonies of the 60s psychedelic folk boom with the jagged unpredictability of classic indie rock, The No Sorrows have been compared to everyone from Trees to Felt to Michael Head and the Strands, and were described by NME as sounding like 'a mix of early Fairport Convention and Dinosaur Jr in full flight'.
https://soundcloud.com/thuddles
UEP!
https://www.facebook.com/UEP-920636914730697/
We're running this event on a 'Pay What You Want' / Donations basis on the door – If you want to read more about why we're doing that then have a quick read here: http://paperdressvintage.co.uk/live-music-manifesto
Suggested donation £5
RSVP to the Facebook event page and invite your friends here: https://www.facebook.com/events/796633757160813/
Keep live music alive!
PD x