Sing For Samaritans Fundraiser!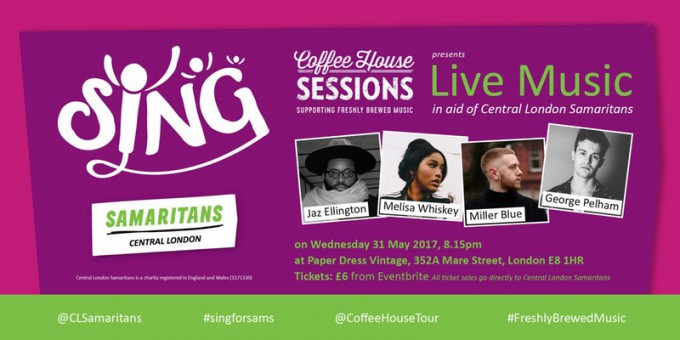 Coffee House Sessions have teamed up with Central London Samaritans to present a night of live music at the magical Paper Dress Vintage, helping to raise funds for Samaritans' London branch.
Tickets here: https://www.eventbrite.co.uk/e/coffee-house-sessions-presents-sing-for-samaritans-tickets-34100880652
Here are a few words from Coffee House Sessions:
"We're delighted to be working with Central London Samaritans to present 'Sing for Samaritans'. They are the founding branch of the national helpline charity, listening to London round the clock, all year round.
Through 'Sing for Samaritans' they raise awareness and fundraise for their service and bring music and singing to different venues across the capital with fantastic choirs and artists.
We've put together a super-talented line up of bands and singer-songwriters from our Coffee House Tour to perform for the evening – please do join us to support this worthwhile cause and enjoy some great new music at the same time!"
Tickets are priced at £6 (+ booking fee) – funding just over 1 phone call to Central London Samaritans.
Featuring live music from:
There aren't many singers who can claim to have nearly broken the internet. Jaz Ellington is one of them. His rendition of John Legend's 'Ordinary People' caused a worldwide storm on Twitter after he performed it on The Voice UK back in 2012, leading to one commentator claiming that the show had finally uncovered a "legitimately exciting talent".
After making it as far as the semi-finals, Jaz withdrew from the limelight in order to work on new material. Having grown up listening to an eclectic selection of musical legends (Doris Day, Stevie Wonder, Jill Scott), all of whom have had an influence on his versatile singing voice, Jaz has subsequently developed a versatile style that inhabits a number of different genres, moving between gospel, jazz, soul, and funk. The influence of legends like Whitney Houston, Luther Vandross and Sam Cooke is also very much obvious in his work, which he first showcased to US crowds in 2016.
25 year-old Melisa Whiskey, real name Melisa Abimbola, was born in Hackney but after her family moved to north London, she would grow up in the same Camden tower block, which would see her have British Drum n Bass legend Goldie as a neighbour – Bray Towers, Camden.
She graduated 2013 and within a year, aged 23, had signed her first publishing deal with BMG without having released a single song. Matt Chalk, the renowned A&R man discovered her and had her working with a slew of the hypest emerging beatmakers in the country. It would be two years however before she would get her first serious feature with Redlight on the track 'Threshold' – but it would be BBC Radio 1 tastemaker Annie Mac's Hottest Record that year.
At the start of this year, her debut track 'Played' would be premiered by BBC R1Xtra's Twin B, who would make it his first Track of the Week. Produced by ADP, who had also worked majorly with Kept & Konan, it signaled the beginning of Melisa's new journey as a solo artist. With her new release 'Sweetest Cake' already premiered again with Twin last week and due to premier online via Fashion & Culture Bible Wonderland Magazine, it's looking like a bright 2017. Bringing a much-needed modern London sound to her brand of soul, shades of Amerie and excitingly, the playful invention of Anderson Paak come through.
Existing casually above the noise, dauntless, unmistakable and mindful, Miller Blue emerges from the smoke and mirrors of contemporary music culture with a perspective so clear and a sound so gently hypnotic, it promises to entice.
Eclipsing, stirring and conscious, Miller's music has already captivated ears and hearts across the country. Since the release of his magnetised debut EP 'Persistence' last year, Miller has played a number of incredible shows across London, Leeds and Manchester including Live At Leeds and Radar London whilst also catching the attention of Radio 1 DJ Huw Stephens.
In reflection of a turbulent and transformative year, Miller Blue is preparing to release his second EP 'Cotton', which promises to demonstrate courageous honesty and compassion. Through the production of each track, Miller finds a cathartic release, allowing him to process emotions beyond his own experience.
George Pelham is a singer/songwriter from London, whose influences range from Prince to John Mayer. He has supported acts such as Rizzle Kicks and Bluey Robinson, held a four month residency at Ronnie Scott's, and played Latitude Festival last summer.
Tickets: https://www.eventbrite.co.uk/e/coffee-house-sessions-presents-sing-for-samaritans-tickets-34100880652
Noteworthy Open Mic & Live Music Jam! Bank holiday special!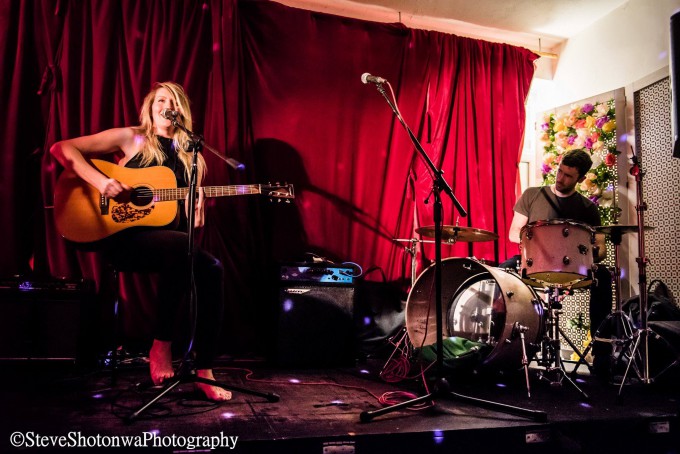 Noteworthy open mic every Sunday for good vibes, wicked live music, jam/freestyle sessions, happy hour all night and a chance to meet some cool cats!
There will also be a *special feature act* each week headlining Noteworthy which will be revealed on their Facebook page here in the lead-up to the show
Noteworth Open Mic Info
The venue has a backline of guitar amp, bass amp, keys stand, and drum kit (bring breakables to avoid disappointment) so full band acts are most welcome.
If you have a full setup please give us a shout before hand if you can so we can prep for you to cut down on change overs.
As usual we're looking to have a jam so any drummers, bass players, guitarists etc give us a shout
Sign up for open mic is from 18:00, get there early if you can to make sure you get on the list, and spread the word.
For more details about the Noteworthy crew take a look at their Facebook page here, or read this glowing review here!
For more details on what to expect on the night this week head over to their page for the latest updates: https://www.facebook.com/noteworthyopenmic/
The Higher Planes, Jouis, John Johanna & Sylvia Stellar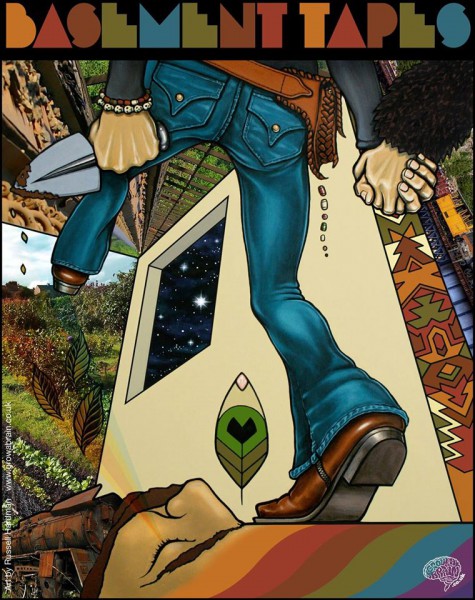 Basement Tapes are back at Paper Dress Vintage for the latest instalment of our monthly residency with grooves to make you move!
This month features live performances from harmony-laden blues-folk 6-piece The Higher Planes, prog/jazz groovers Jouis, devotional bluesman John Johanna and ukelele wonderwoman Sylvia Stellar.
As usual Basement Tapes DJs (Sam Ra & Howlin' Walsh) and The Flying Mojito Bros will be spinning some fine FUNK, SOUL, AFROBEAT, DISCO, RARE GROOVE and much more until 3am.
Live sets from:
The Higher Planes
We are so delighted to have these guys back after a massive set for us last year at Paper Dress. Raw, soulful and downright dirty, The Higher Planes will blow your mind with their harmony drenched psychedelic blues. Prepare to have your mind blown > https://www.youtube.com/watch?v=IjwlW7utm-U
JOUIS
Basement Tapes favourite band. Crepuscular grooves sit at the heart of the most wonderful psych, jazz, prog and folk jams. Their 2014 album Dojo is a masterpiece. Listen here: https://jouis.bandcamp.com/album/dojo
John Johanna
Devotional gospel blues set to the backdrop of 4 track experiments and beutifully crafted acoustic balladeering. 'Deep River' is one of the finest tracks we have heard in years. Listen here: https://soundcloud.com/john-johanna/deep-river
Sylvia Stellar
Ukelele star Sylvia Stellar will be opening up the evening for us. Such a beautiful voice and a perfect way to start the evening with some reworked classics. https://www.youtube.com/channel/UCQsfYEIl7obqbJS0LXe2LjA
Advance tickets available here: http://www.ticketweb.co.uk/event/the-higher-planes-jouis-john-johanna-sylvia-stellar-tickets/278837

RSVP to the Facebook event page and invite your friends here: https://www.facebook.com/events/1660554357584800/
Des Was A Bowie Fan ft. Seafoxes, Megaflora, David Frank + Broder Daniel special club till late!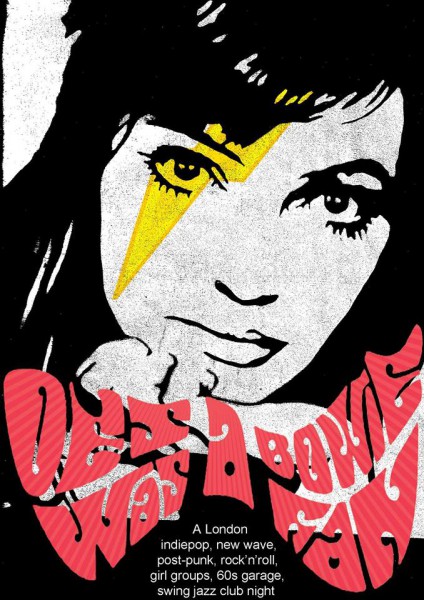 Here comes the second of our summer series of Des Was A Bowie Fan pre-club gigs at Paper Dress Vintage, rolling from 8pm till 11 with bolts to the heart from the outside of everything, welcoming to the club the ace Megaflora, Seafoxes and David Frank.
Megaflora are an indiepop band with a melancholy sparkle and propulsive beat pitched somewhere between Los Campesinos! and Belle and Sebastian, with an insanely brilliant, Life Without Buildings-esque rhythm coming up on the blindside. Their mini-album Redwoods is available via their bandcamp and on 12″ vinyl from the band.
https://megaflora.bandcamp.com/releases
Seafoxes play intimate dreampop with wildly pretty Celtic folk inflections, velvety harmonies and a summer-sweet sadness. Their debut 6-track mini-LP 'It's probably nothing, but…' was released in July, 2016.
https://soundcloud.com/seafoxesmusic
David Frank is usually found straddling a cacophony of bass and drums as the singer / keyboard player in DWaBF favourites T.O.Y.S. This is his first solo gig, playing a bunch of new songs with a sprinkling of 60s psych-Pop charm and a gentle, introspective lyricism.
https://soundcloud.com/user-607352976/one-drop-of-water
Entry: £5 at the door
Then the lights go out, and the walls come tumbling down -http://bit.ly/2r4Qr4X
Expect to hear (at the club): ♥ BD * The Cure * Dexys Midnight Runners * Pulp * Belle and Sebastian * Brigitte Bardot * The Smiths * Serge Gainsbourg * The Ramones * The Ronettes * The Raincoats * Veronica Falls * The Shangri-Las * Slowdive * Aretha Franklin * The Temptations * Blondie * The Supremes * Le Tigre * Bowie * Beach House * Little Richard * The Fall * The Field Mice * Flowers * Camera Obscura * The Pastels * Johnny Cash * Jackie Wilson * Talking Heads * Joy Division * Martha and the Vandellas * The Magnetic Fields * The Monochrome Set * The Beach Boys * Tullycraft * Pet Shop Boys * Art Brut * Dusty Springfield * Depeche Mode * Broder Daniel * Rita Pavone * New Order * Jens Lekman * Jonathan Richman * Jesus and Mary Chain * Candi Staton * Kim Weston * Sonic Youth * The Indelicates * New York Dolls * Flowers * The Four Tops * The Flirtations * Ritchie Valens * Meilyr Jones ♥
Prescott Album Launch + The Evil Usses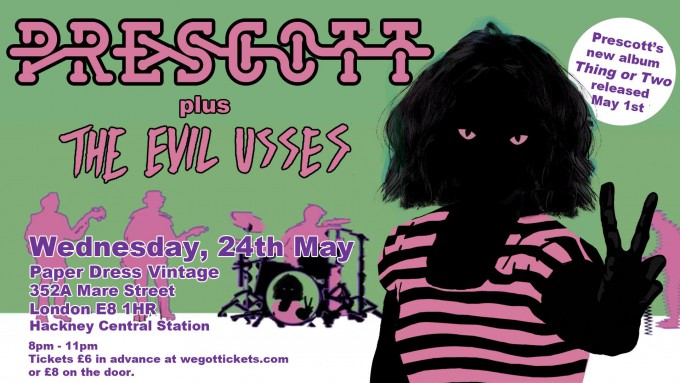 Prescott's second album, Thing Or Two, is unveiled at their first London show this year. Support comes from Bristol's The Evil Usses.
Prescott is a London­-based instrumental group, verging on supergroup, featuring Kev Hopper (Stump, Ticklish), Frank Byng (This Is Not This Heat, Snorkel), Keith Moliné (Pere Ubu) and Rhodri Marsden (Scritti Politti).
Limited advance tickets available here: http://www.wegottickets.com/event/397319