Exploding Head Sessions Launch ft. Claw Marks, Brunch, Revenue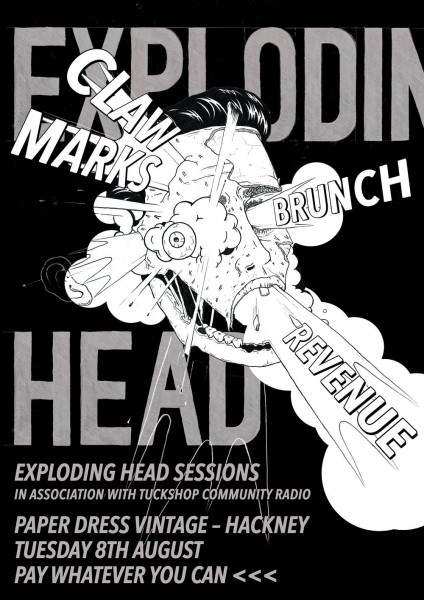 We're delighted to announce the first Exploding Head Session, here's what they have to say about what's planned:
It's the launch night so will be a total party and we've only gone and booked three absolutely stellar bands:
Claw Marks: We've seen Claw Marks a number of times now and they're without doubt one of our favourite live bands.
These guys tear up every venue they play at with a combination of ferocious playing and mesmerising hooks.
With a new album in the pipeline, if you've not seen them before then you absolutely must come down to the show
https://soundcloud.com/clormarx
Brunch: The first time we saw Brunch live was at the 100 club where we were blown away by their modern grunge aesthetic. They were so good in fact that we genuinely can't remember who headlined that night. Loud guitars, gruff but tuneful vocals, plenty of glorious distortion and a killer debut album with a guitarist who can also pull off a couple of moves. These south London boys are not to be missed
https://brunchmatters.bandcamp.com/album/big-water
Revenue: One of the most exciting new bands to emerge in the last year or so. Tim has been lucky enough to work with them in the studio on both their first E.P and on their upcoming release. Their live shows are played at a blistering pace and leave little time to breath. Singer, James, spends as much time writhing around on the floor as he does on his feet. Pounding drums, driving basslines and spiky guitars all meld together to form the perfect blend of punk and post-punk
https://whippingboyrecords.bandcamp.com/album/revenue-cs
Door will be pay whatever you can with all proceeds going to the bands.
RSVP to the Facebook event page and invite your friends here!