SESAC x Karousel Showcase!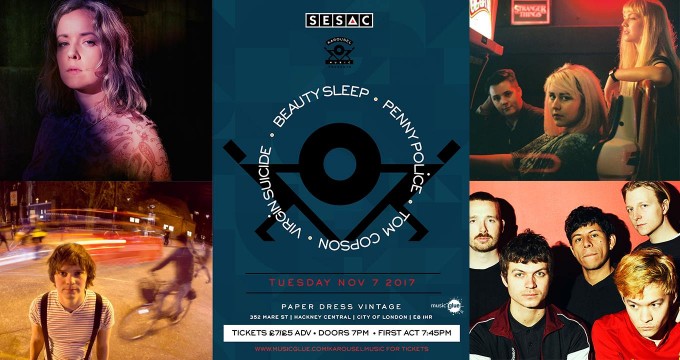 Feat: Penny Police | Beauty Sleep | Virgin Suicide | Tom Copson
Limited advance tickets available here: https://www.musicglue.com/karouselmusic/events/8bc37e20-9a11-0135-426a-421cbef26dbb

Here's what they have in store for you this time:

This is our last East London showcase of 2017 with our great friends at SESAC. Tuesday November 7th sees two acts from Denmark – few places are exporting so much incredible music at the moment, and Penny Police and Virgin Suicide are right up there. We've been working with Penny Police for 3 years now, and seeing the development of her into an act ready to take on the world has been one of the great privileges of working at Karousel. We've yet another blinding act from Northern Ireland, from the stable of Lyndon Stephens' Champion Sound Management – Beauty Sleep, and the locals are represented by the superb americana-folk artist Tom Copson.
Artist and manager friends are invited to come along and meet those hotshots at Music Glue in the general networking hangout beforehand at 6pm. They can come and tell you more about their super offer for artists, from free websites to online stores, ticketing and much more. We're huge fans of Music Glue and use them for all our shows and artists. Also coming along are our friends at Richer Sounds' Richer Unsigned – if you'd like to talk to them, us, SESAC or Music Glue, please RSVP here: https://goo.gl/forms/aD9ILn4nxrYUh9VU2
100% of the ticket proceeds goes to the acts, so you know when you come to these shows you're directly supporting the best new acts.
https://open.spotify.com/user/karouselmusic/playlist/3y9NyoAsFYIbN4EZhM5Feo
Tickets for the show here: https://www.musicglue.com/karouselmusic/events/8bc37e20-9a11-0135-426a-421cbef26dbb
SoundsCreative Presents The Greeners (11am show)
SoundsCreative presents Tea + a gig - a monthly morning series of acoustic gigs for parents who want to see a great daytime gig and babies with discerning musical taste!
Tea + a gig brings to the stage an eclectic mix of talented & emerging musicians from the London world, jazz and folk music scene.
11am (arrive from 10.30am to get a seat and your free tea!)
£10 on the door/ £8 advance with free tea included!
Tuesday 7th November 2017
The Greeners
Blending satirical lyrics with soaring melodies, The Greeners use multiple instruments and intricate harmonies to build their highly engaging folksy-pop sound.
Listen:
Book now:
https://billetto.co.uk/e/tea-a-gig-daytime-gigs-for-parents-babies-with-discerning-musical-taste-tickets-208221
More: