Red Velvet W/ Lia Mice, Jazzi Bobbi, Ash Tres & Skeletor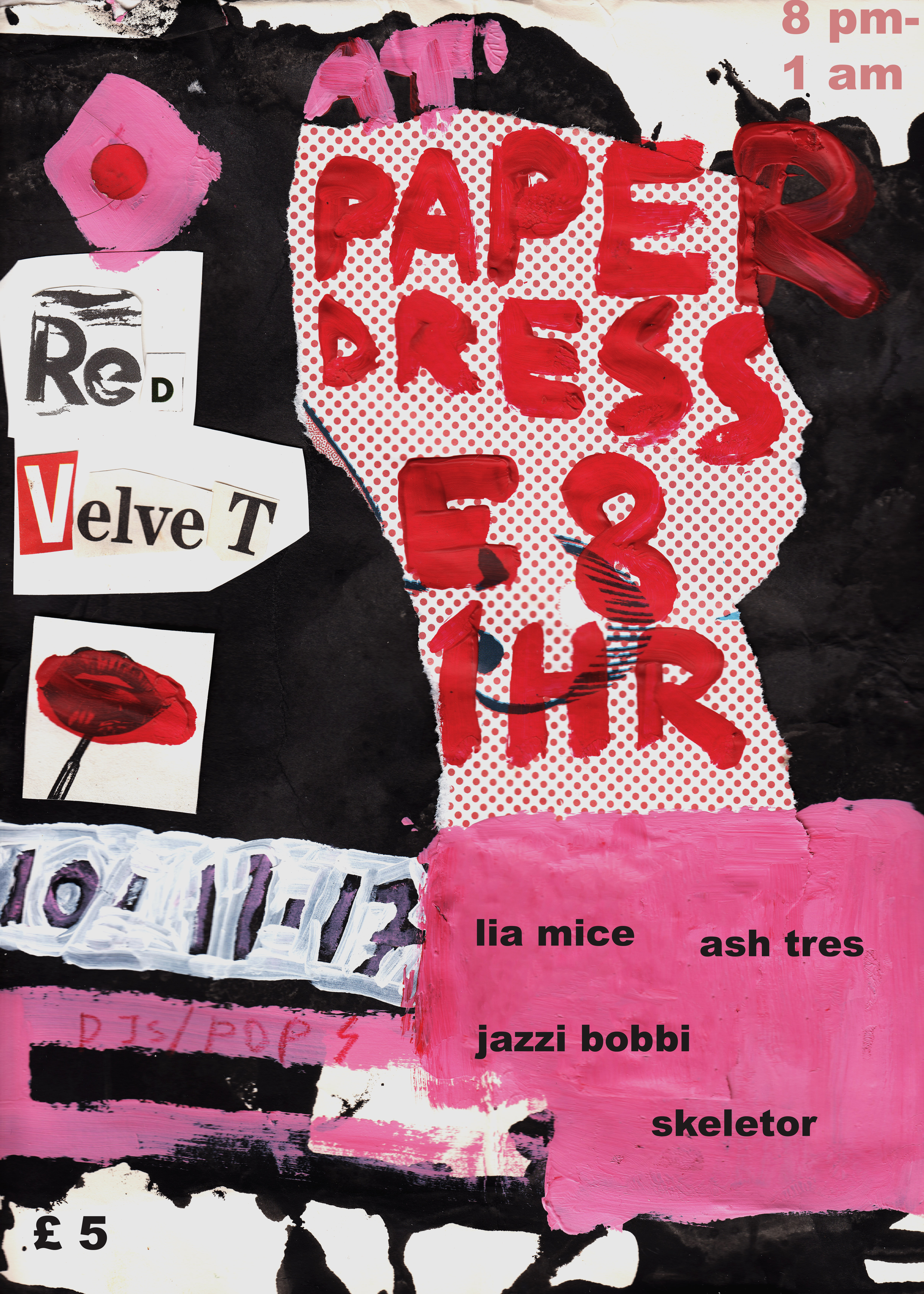 Get ready to vibe out to the 80s with Red Velvet, featuring Lia Mice and Jazzi Bobbi, and prepare your hedonistic urges for the night with sets by DJs Ash Trés and special guest Skeletor.
Tickets here: https://www.ticketsource.co.uk/date/HFDGEF
– Lia Mice –
https://www.facebook.com/lia.mice
Crowned "one of the pioneers of experimental pop" by Live And Die In Music, Lia Mice is the resident DJ at ELECTROLOGHTS.AV, and a doctoral candidate at the MAT Centre for Digital Music, Queen Mary London.
Drawing inspiration from electronic pioneers BBC Radiophonic Workshop, Laurie Anderson, Harald Grosskopf and Suzanne Ciani; analog hardware live performers Laurel Halo, Karen Gwyer, Container and Eric Copeland; and artist-researchers Holly Herndon and Atau Tanaka, The Thousands describe the result as "a trip down the rabbit hole, a through-the-looking-glass vision achieved with weird, dissonant harmonies".
– Jazzi Bobbi — 
https://www.soundcloud.com/jazzibobbi
Songwriter/Producer/Multi-instrumentalist based in London
— DJs —
– Ash Tres –
https://twitter.com/ash_tres
https://www.soundcloud.com/ash-tres
Dubbed the dub and funk sherrif of Nottingham, Ash Tres brings a touch of class to his tailored sets. Having toured all over europe and having just finished a Croatian tour this summer, Ash Tres is prepaired to bring a little summer back to London for November.
– Skeletor [CREEPS] — 
We've been so lucky as to aquire a special working visa for our DJ from the land of Eternia. The master of magic and leather, resident of CREEPS at Dalston Superstore & our special guest, Skeletor will be wrapping up the night on a high note.
"Expect high hedonism and Whip out your leather, latex and bondage gear"
Advance tickets available here: https://www.ticketsource.co.uk/date/HFDGEF
RSVP to the Facebook event page and invite your friends here: https://www.facebook.com/events/1931340327192468