LONDON IN STEREO X WE GOT TICKETS PRESENT GUESS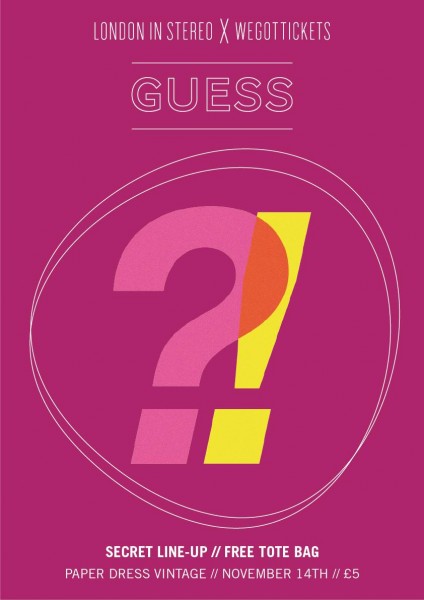 LONDON IN STEREO X WE GOT TICKETS PRESENT GUESS
Tickets: wegottickets.com/event/418940
Earlier this year we hosted the first guess and it was a roaring success, a secret line-up, free tote bags, free pizza, cheap booze. What more could you want?
This time we're ramping it up with a This must be for you x London In Stereoexhibition private view (more about the exhibit here: facebook.com/events/133956483900000)
This time we're going to have
– Some insanely good bands
– Free Goody Bags
– Free Pizza (if you get down early)
– cheap booze
– friendly faces
– extra treats and surprises
Tix: wegottickets.com/event/418940
London In Stereo Present: GUESS #2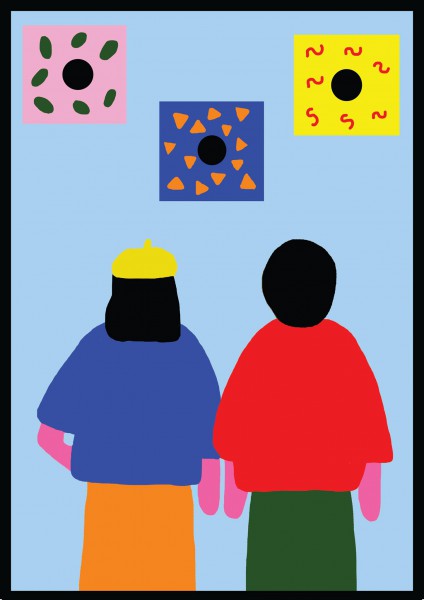 London In Stereo are throwing another party at Paper Dress!
A surprise line-up (which is 100% amazing, we promise) a goody bag AND it's the private view of the brand new exhibition we're putting on with This Must Be For You (full details below!)
How many reasons do you need??
Very limited advance tickets available here: https://www.wegottickets.com/event/418940
About the exhibition:
This November This must be for you is teaming up with London In Stereo and Transgressive Records to present their second in a series of Disappearing Exhibitions.

A variety of musicians, tattoo artists, illustrators & photographers are producing one-off record sleeves for releases from Transgressive's brilliant roster. These will be on exhibit at A-side B-side Gallery from 14th-18th Nov, and on the final night attendees are invited to take the artwork (and it's accompanying vinyl) home for free. The purpose is not only to spread human kindness, but also encourage the idea that art should be accessible to all. (And don't worry – for those who do not get an original piece, there will also be plenty of one-off pin badges and prints available for free).
Contributing artists (check them out on instagram)

Hugh Schulte – @gengahr
Ed Nash – @toothlessband
Frank Wright – @blaenavon
Iris McConnell – @girlrayband
Sophie Moss – @girlrayband
Joshua Atkins – @joshuaatkins
Alice Corner – @alicecorner
Beatrice Bloomfield – @float_art
Karl Fitzgerald – @karlfitzgeraldart
Elliott Lane – @elliottlane
Laura Lenihan – @lauralenihantattoo
Dana Kaarina – @danakaarinart
Ruby Thompson – @rubyamythompson
Louisa Stickelbruck – @louisastickelbruck
Julius Klaus – @djoohl
Tanya Teibtner – @tanya.teibtner
Louise Borinski – @louiseborinski
Robert Radziejewski – @robert.radziejewski
Joe Farrell – @joefarrelltattoo
Joaquin Ardiles – @joaquinardiles