Exploding Head Sessions ft. Modern Rituals, Abjects & Curfew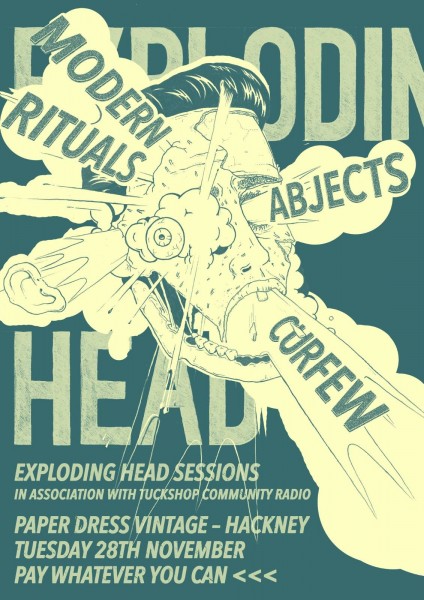 Exploding Head Sessions fourth and final lineup of the year…here's what's in store:
Our headliners for this special night are going to be the incredible Modern Rituals. Fresh off the back of a split record and tour with our launch night heroes Brunch, we're over the moon to have Modern Rituals come play for us. These guys are the absolute best when it comes to noisey, melodic alternative rock. They're also absolutely incredible live and we can gurantee the room will be bouncing when they take to the stage!
https://modernrituals.bandcamp.com/releases
Main support comes from one of our long time favourite bands in Abjects. These girls are phenomenal live and Tim has also been lucky enough to work with them in the studio. Their live shows are always full of energy as they smash out their back catalogue of garage punk hits. We've been wanting to get them down to play for us for ages so we're totally stoked about being able to confirm them!
https://abjects.bandcamp.com/
Opening the show for us will be one of the newest bands on the block. Curfew are so new they don't even have social media accounts yet! What I can tell you is that this is Paul from Virgin Kids' new band which means it's guranteed to be amazing. Word on the street is that if Omni and Gang of Four got together in the practice studio, Curfew would be the result. If that doesn't do it for you then its' unlikely we're going to get on.
As always, it's pay what you can on the door with 100% going to the bands.
It's our last one of the year so please come down and see us off in style!
RSVP to the Facebook event page and invite your friends here!