Philip Kane & the Expendables + Nigel Burch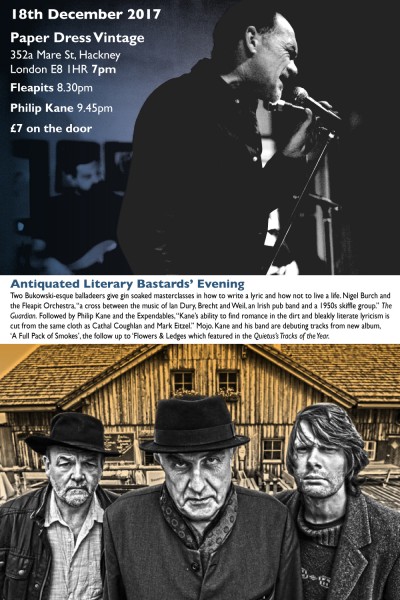 Antiquated Literary Bastards Evening: two Bukowski-esque balladeers give gin soaked masterclasses in how to write a lyric and how not to live a life. On first, Nigel Burch and the Fleapit Orchestra, "a cross between the music of Ian Dury, Brecht and Weil, an Irish pub band and a 1950s skiffle group." (The Guardian).
Followed by Philip Kane and the Expendables, "Kane's rare ability to find the romance in the dirt and bleakly literate lyricism is cut from the same cloth as Cathal Coughlan and Mark Eitzel." (Mojo Magazine). Kane and his band are debuting tracks from their new album, his fifth, 'A Full Pack of Smokes', the follow up to 2016's 'Flowers & Ledges', the title track of which featured in the Quietus's Tracks of the Year.
Limited advance tickets available here: https://www.eventbrite.co.uk/e/philip-kane-and-the-expendables-nigel-burch-tickets-40027228518