★★Factory de Joie★★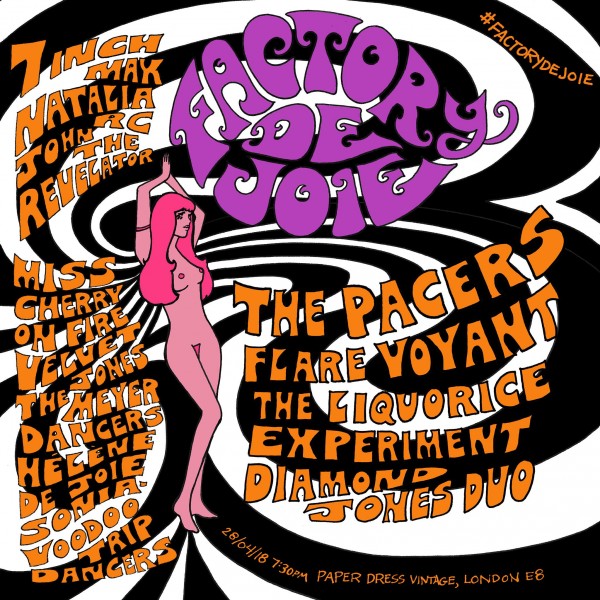 ★★Factory de Joie★★ returns to Paper Dress Vintage, Hackney, on Saturday 28th April!
Join us at our psychedelic playground of hedonism & good old fashioned rock 'n' roll!! Inspired by the 60s, 70s and Warhol's Factory.
Live music, burlesque & Go-Go dancers, projections and DJ's to keep you dancing 'till dawn…
Limited advance tickets available here!
**STARRING**
Live music from:
The Pacers
Flare Voyant
The Liquorice Experiment
Diamond Jones Duo
Burlesque & Go-Go Girls:
Miss Cherry on Fire
Velvet Jones
The Meyer Dancers
Helene de Joie
Sonia Shahid – Voodoo Trip Dancers
DJs:
7inch Max
Natalia RC
John the Revelator
CHEAP ADVANCE TICKETS ON SALE NOW (more on the door!): https://www.designmynight.com/london/bars/hackney/paper-dress-boutique/factory-de-joie-1?t=tickets
RSVP to the Facebook event page and invite your friends here!
Circulus, Sam Beer, Green Walker + Richard Norris (DJ Set)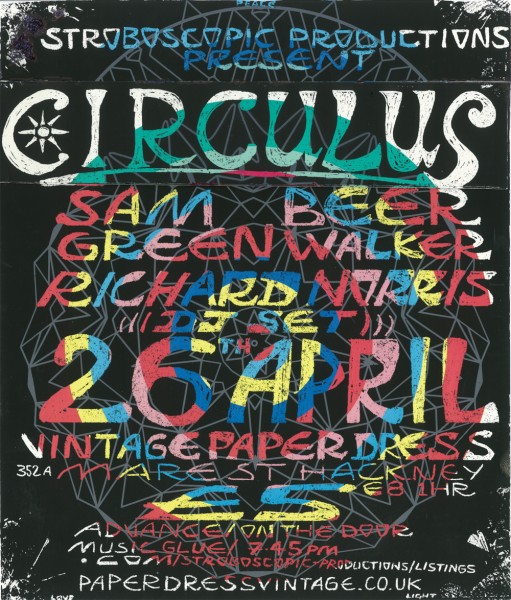 Limited advance tickets available here!
CIRCULUS Circulus are back after a lengthy time away! From their tabards, lutes, Moogs and crumhorns, this is the sound of band with one foot in the past and one in the future. They were the band that re-invented the folk revival of recent years, gaining critical acclaim, for their albums, simply put they are Britain's number one medieval space rock folk outfit. We're very proud, nay honored, to host Circulus' first show in London for nearly a decade, where they shall be exclusively debuting tracks from their brand new album 'Birth.' Rejoice!!! https://en-gb.facebook.com/CIRCULUS-157272170793/
SAM BEER Sam Beer is a beautiful singer songwriter/producer based in London, who also happens to play with the rather excellent band TreeTop Flyers. He will be gracing us with his gorgeous voice and mercurial guitar playing, treating us to his breathtaking folk-rock songs of love, life & loss. Hurrah!https://www.facebook.com/TreetopFlyersBand/
GREEN WALKER Green Walker brings his New Spirit Music to open proceedings on the night. Fusing cosmic ambient nature with songs and ancient beat textures, he will awaken the dormant voices of our drone ancestors! Om!
RICHARD NORRIS (DJ Set) Richard Norris is a being of many colours that shines oh so bright! A music maker, producer & remixer of noble repute, he shall set our hearts alight with the finest recorded selections, lovingly handpicked from his legendary collection. He's gonna play some amazing TUNES!!! He, along with Erol Alkan, are the transmutant psyche lords Beyond The Wizards Sleeve, whose debut album 'The Soft Bounce' received much deserved acclaim for it's kaleidoscope of imaginative outpourings. As The Time & Space Machine, he has remixed the likes of Temples, Jagwar Ma and Warpaint.
Live Circuit Presents: The Family Dog, Mice Ön Mars, Scarletts & Mother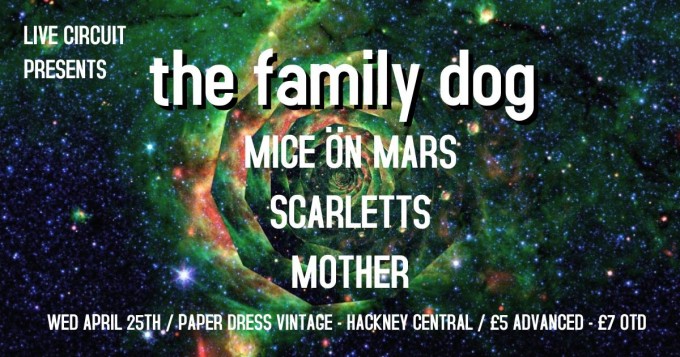 Live Circuit presents 4 up and coming acts on Thursday 25 April..
The Family Dog
Four Brothers from Barnet, sounds like steely , the band , laughing dogs, white denim & early kings of leon, with a british youth fuelled zest
Mice Ön Mars
Aggressive post-punk with hints of garage. Sounds like being trapped in a cellar with bats hanging from the ceiling and rats spewing from every nook, with a hint of Fairy Liquid
https://soundcloud.com/mice-on-mars
Scarletts
https://scarlettslondon.wixsite.com/scarlettsuk
Mother
Mother are a four-piece Psychedelic-Indie Rock band from Brighton. With influences reaching from The Beatles, Pink Floyd, The Stone Roses and Mac Demarco.
£5 Advance / £7 OTD
RSVP to the Facebook event page and invite your friends here!
Vintage Fashion Illustration!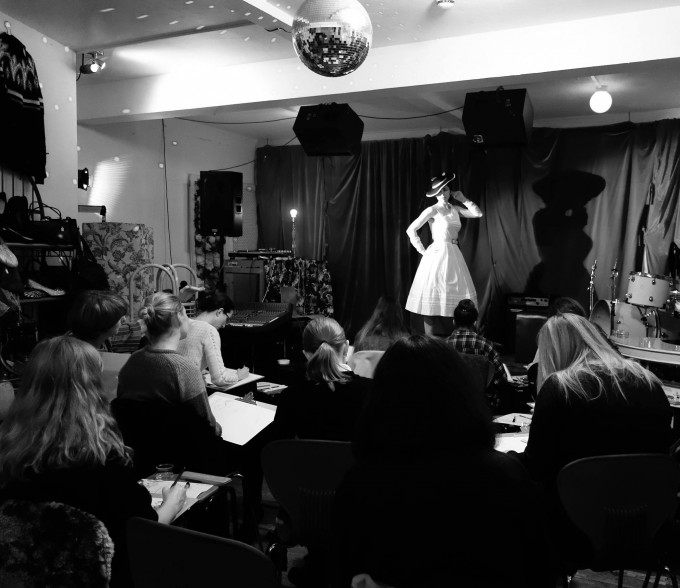 Drop in drawing class hosted by Paper Dress Drawing Salon
We will be drawing from a live model, starting with the basics of fashion illustration including proportion, weight and balance.
The class will focus on the fashions within a specific decade, looking at the characteristics of the styles, such as silhouette, waistline, hemline etc
We will explore a range of short and longer poses through a variety of observation techniques and rendition exercises designed to suit the era of the fashions covered in the class.
£12 in advance / £15 on the door
All levels welcome – no previous experience necessary
About the tutor: Mel Rye has over 10 years of teaching experience. She is Head of Art & Design at St Charles Sixth Form College, and is also a visiting Illustration tutor at Central Saint Martins and Ravensbourne. 
More info about the tutor: www.melrye.co.uk
RSVP to the Facebook event page and invite your friends here!
Los Pepes, Werecats & guests TBA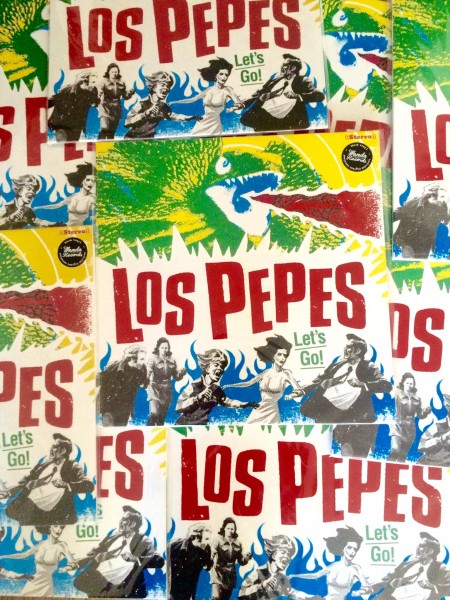 Join us on Saturday 21 April with a special headline performance from Los Pepes to celebrate drummer Kris' 30th birthday! Also on the bill are special guests punk rockers Werecats and more to be announced!
Plus special guests DJs!
Later on we'll be running till 3am and hosting Dirty Water Records DJs!
LOS PEPES
https://www.facebook.com/lospepesmusic/
Los Pepes – The loudest powerpop band on earth…the Motörhead of powerpop! No hit wonder 60s and 70s garage pop melodies drowning in a wall of punk rock guitar. Good Vibrations records served up with a Testors punch in the face. Songs about love, antipathy and getting up to no good. They'll stick in your head and leave your ears ringing.
WERECATS
https://www.facebook.com/werecatsband/
Punk rock!
Plus special guests to be announced!
£5 ON THE DOOR
RSVP to the Facebook event and invite your friends here!
7.45pm – 3am