Substance Presents: Zoe West & the Hanging Baskets + special guests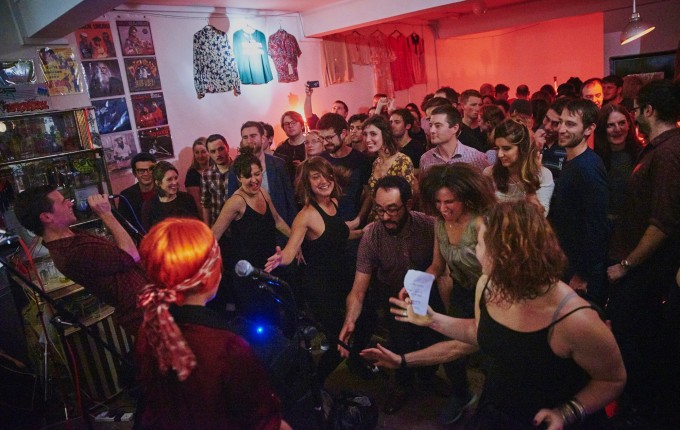 Substance at Paper Dress
Featuring – Zoe West & The Hanging Baskets + Brother Mine + Bentcousin
Limited advance tickets available here!
A brand new venue for Substance . We will be booking one off gigs for only a select few …………
The Line up ….
Zoe West & The Hanging Baskets 
Hailing from all over the UK, Zoe & The Baskets have been playing together for just over a year in and around London. Their lyric-driven indie pop has reverberated around empty rooms across the country, and more recently some half full ones (a couple of weeks ago our girlfriends came). Having been a gigging singer-songwriter for around five years, Zoe started an Actor-Musicianship degree at Rose Bruford College, and met the rest of the band.
Vocals, Guitar: Zoe West
Violin, Backing Vocals: Adriana Moore
Lead Guitar: Ben Rose
Bass: Eben James
Drums: Jack Blake
https://www.facebook.com/zoewestandthehangingbaskets/
Brother Mine . 
A brand new band …. Massive guitars …
Bentcousin
bentcousin are twins pat and whalesun.
曲がったいとこ
bentcousin make cutecore and acid punk.
bentcousin embrace charm, glamour, lies and magic
bentcousin are here to make music mischievous again
'bentcousin want to play with your aunt, to try on her clothes, don't say we can't.'
everyone is pretending – we love that!
https://www.facebook.com/Bentcousin
£5 in advance / £8 OTD / £5 N.U.S (OTD only)
http://paperdressvintage.co.uk
Facebook: Paper Dress Vintage
@paperdressed
Instagram/paperdressvintage
Peaness + Charm Pit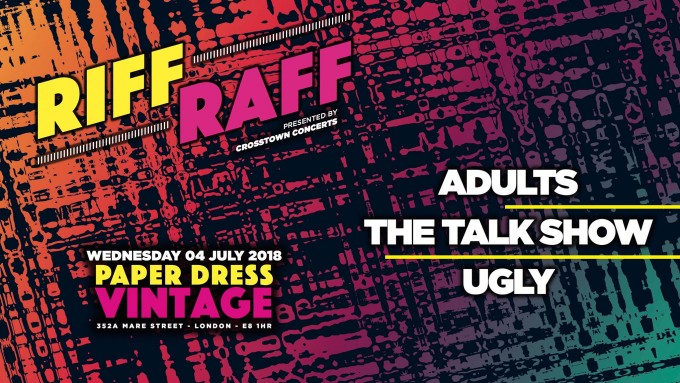 Peaness return to London to headline Paper Dress on Thursday 19 July with support from the magical CHARMPIT!
Limited advance tickets available here!
Mt. Joy plus special guests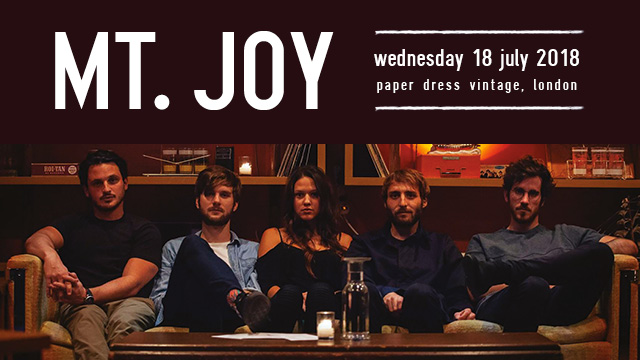 A special headline show from American psych folk rockers Mt. Joy
Plus supports to be announced
About the band
Mt. Joy started off as a rekindling of shared musical ambitions between Philadelphia high school friends Matt Quinn (vocals, guitar) and Sam Cooper (guitar). Reunited in Los Angeles thanks to the ebbs and flows of adult life, the pair met multi-instrumentalist Michael Byrnes through a Craigslist ad. They named themselves Mt. Joy as an ode to a mountain in Valley Forge National Park near Sam's childhood home, and together, with Byrnes' roommate Caleb Nelson producing, they recorded three songs and sent them out into the world, hoping for the best. "I knew I still wanted to write songs, but the realities of life made that dream seem pretty impossible," Quinn says.
Much to the band's amazement, "Astrovan" accomplished the impossible. Without initial promotion or fanfare, the song took off on Spotify, racking up 5 million streams to date. "The irony of 'Astrovan' was that song was really about being stuck in a life and wanting to have the opportunity to pursue a dream, and in an instant it gave us that opportunity. " Quinn says. Mt. Joy quickly transitioned from a part-time calling into a full-fledged band rounded out by Byrnes on bass, Sotiris Eliopoulos on drums and Jackie Miclau on keyboard.
Come 2017, Mt. Joy hit the road, and hit it hard: They played tour dates alongside the likes of The Shins, The Head and The Heart, The Lone Bellow, and Whitney, and popped up at some of the summer's biggest festivals, including Bonnaroo, Newport Folk Festival, Lollapalooza and Made In America. "We were put on some big shows very quickly," Quinn says. "The growth for us has been exponential – we've really just become a family that's constantly pushing each other and the live show to be great." They eventually caught the attention of Dualtone Records and began work on their debut album with producer Jon Gilbert (The Kills).
Steeped in folk-rock tradition and powered by the intuitive creative connection between Quinn and Cooper, the songs on 'Mt. Joy' depict Quinn wrestling with his own conscience, where the mundane and the fantastic collide as he processes tragedy, society, and love. Opener "I'm Your Wreck" describes "monsters in (the) closet, using up the wi-fi" as it cycles from its desperate, spiraling verses to its swinging, stubbornly optimistic coda, while the loping, plaintive chords of "Younger Days" meditate on a frayed psyche and the fear of choosing the wrong path. "Sheep," with its collapsing, hoarse-voiced cry of "freedom was paid in blood," is a post-Trump salvo on the responsibilities of the fortunate to overcome political and social despondency. And on "Silver Lining," perhaps the album's brightest moment, Quinn surveys the damage of hard drugs and the vicious cycle of addiction, as the song's melancholic sentiment kicks into its fervid, defiant chorus, all shout-along vocals and trilling guitars.
Taken together, the self titled 'Mt. Joy' LP is a startlingly open document, wracked with the anxieties and fears that come just as life seems to start working out. It's a natural reaction from a wary band like Mt. Joy – the result of a sort of professional vertigo, as they've gone from virtual unknowns to hot young commodity in little over a year. But there's a sense of hope underlying everything, girded by the fact that the Mt. Joy LP is an impressive, honest portrayal of a young band facing that moment where dreams become reality, and finding beauty in the exhilarating uncertainty of it all.
Gong-Oh Festival! All Dayer ft. Lit Fm, Bandini, Victor Marichal & more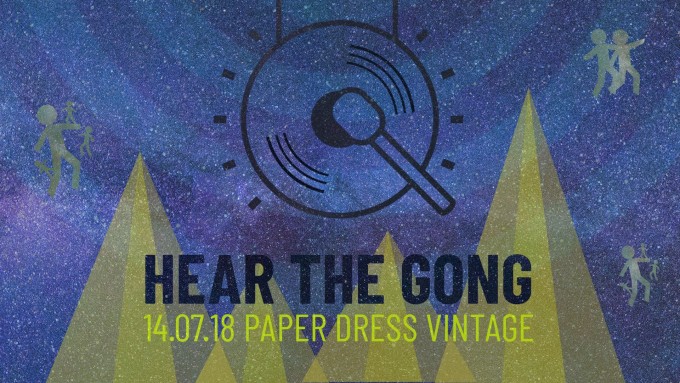 HEAR THE GONG!
On Saturday 14th July, Paper Dress Vintage will be hosting GONG-OH FESTIVAL, the very first festival brought to you by the emerging artist collective and record label GONG-OH RECORDS!
Join us for an entire day of live music, storytelling, performance-art, photography, and come celebrate the birth of an exciting new collective : join the community of GONG-OH artists!
Doors open 2pm! Entry £5 before 6pm (with burger included!), £8 after.
RSVP to the Facebook event page and invite your friends here!
2pm – Victor the Story Sailor
https://www.victorthestorysailor.com
Musical storytelling for children : dive-in a world of musical games and playful interactive stories!
3pm – Jazz Brunch with Mariska Martina.
http://mariskamartina.com/
Expect mouth-watering BBQ and ear-soothing melodies.
4pm – Huw Joseph music, our favourite Aussie MC will be working his magic downstairs during the BBQ.
5.30pm – Presentation of GONG-OH Records by its founders!
6pm – Gabriel Kazz.
https://www.gabrielkazz.com
'Uplifting folk rock'
7pm – Jane Silver.
https://janesilver.bandcamp.com
'psychedelic-folk'
8pm – The Man and The Lake
https://themanandthelake.com
"Wild and poetic Adriatic folk-rock"
9pm – Victor Marichal
https://www.victorvox.co.uk
'A midnight collision between blues, jazz and storytelling'
10pm – Bandini
www.bandinimusic.com
"An enigmatic musical storyteller at the crossroads between gypsy rock, jazz and blues"
11pm – Lit FM
https://www.litfmmusic.com
'Soul, funk, disco 9 piece fusion ensemble'
All day :
Upstairs – Photography exhibition by Carlo Polisano.
Downstairs – Art exhibition by Mariska Martina.
This is a family-friendly festival, there will be something in it for everyone.
Cold beers, BBQ and festive glitter masks guaranteed :)
And don't forget the musical storytelling for your little ones at 2pm!
Presented by Gong-Oh Records.
http://www.gong-oh.com
__________
GONG-OH is an innovative record label created by a collective of emerging European artists based in the UK.
Founded by childhood friends Alessandro and Mattia, two native Italians actively involved on the London and Bristol music scenes, GONG-OH emerged from a shared vision.
Tired of witnessing the constant struggle of talented yet isolated musicians around them, the two friends envisioned an alternative to the old mechanics of the music industry and dreamed a united collective of artists: GONG-OH was born!
The essence of GONG-OH (an Italian take on the Chinese "Gung-Ho") lies in the simple meaning of its two words : "Work Together".
GONG-OH is a community of artists working together, learning from each other and sharing skills in order to build exciting and durable careers in the ever-changing landscape of the music Industry, bringing to light beautiful and inspiring music in the process.
The Imaginary Hat, King Cassady + special guests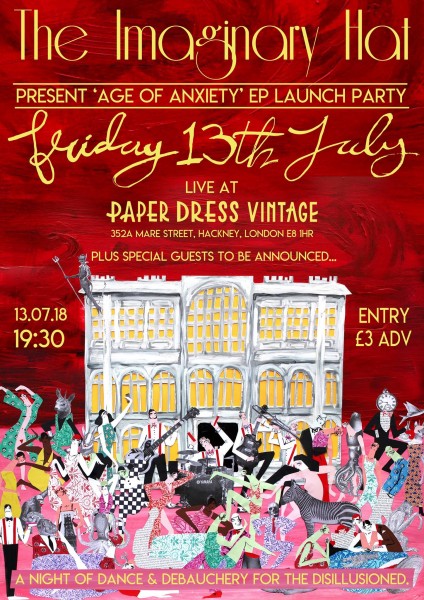 The Imaginary Hat are delighted to announce the launch party for their new EP, hosted at Paper Dress Vintage in Hackney.
Limited advance tickets just £3 available here!
Pre-orders of CDs include FREE ENTRY to the show:
https://theimaginaryhat.bandcamp.com/album/age-of-anxiety
Tickets also available in the link above for the non-physical music consumers.
Special Guests:
King Cassady – King Cassady blend a high energy cocktail of gypsy jazz and flamenco for you folks to dance to.
+ More acts to be announced…
RSVP to the Facebook event page and invite your friends here!