Live Circuit Presents: GETRZ, The Green Brothers, Tokyo SexWail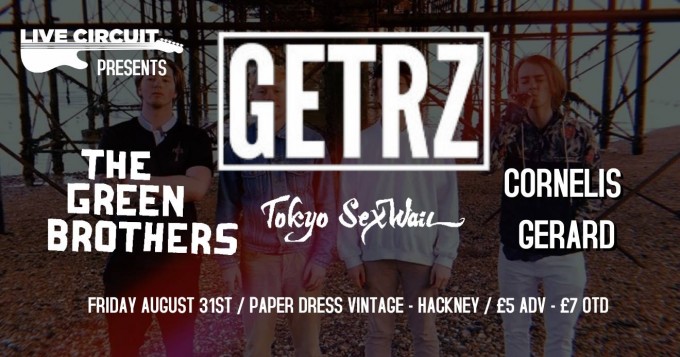 Live Circuit Presents an evening of fresh new music..
Limited advance tickets available here!
GETRZ
GETRZ are an indie/punk 4-piece from Swindon, Wiltshire.
The Green Brothers
Three Piece Indie/Alternative Band from Essex
Tokyo SexWail
From the outskirts of London and the outcast of society there comes a band forged from a pure passion of making music that's meaningful and unique. Tokyo SexWail are punchy, political, poetic and surreal. Imagine The Doors, Rage Against The Machine and a razor toothed Kate Tempest made passionate love in the doorway to The House Of Commons simply to say a big F**K YOU TO THE ESTABLISHMENT! And produced a hard-core psychedelic lovechild that is Tokyo SexWail. The name says it all.
Cornelis Gerard
Punk poet / funk-rock machine, laying down grooves and moves with a slight attitude. Helping you to celebrate being alive and to stay cool forever.
Tickets £5 Advance via TicketSource / £7 OTD (Cash only)
RSVP to the Facebook event page and invite your friends here!
$AU$AGE$, Roman, DROOL, Barry + David Shrigley DJ set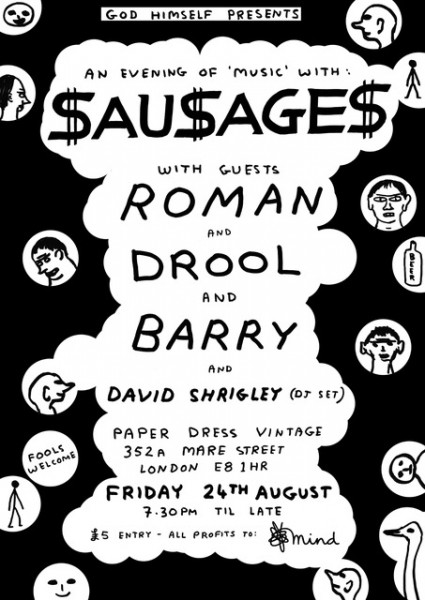 $AU$AGE$ return to Paper Dress for a night brought to you by God Himself!
With continual mental health issues within the music industry, $AU$AGE$ and their good friends, ROMAN, DROOL & BARRY, are here to put on a night in support of this cause with all profits going to the charity Mind.
Alongside the donated entrance fee of £5, on sale they'll be limited edition screen printed T-shirts and posters of the f**king awesome poster design by artist DAVID SHRIGLEY, who too will be joining the night on the decks, so make sure you bring some cash and snap up some merch!
Info on the night's entertainment –
$AU$AGE$ – Fronted by Andy Knowles (Franz Ferdinand, Johnny Marr & The Healers, The Fiery Furnaces), $AU$AGE$ are a four piece with clear influences from post-punk, art rock to brit pop.
However, their energetic performances and songs that rarely break 2-minutes soon give an impression that $AU$AGE$ don't take genres, or anything for that matter, too seriously. Good guys, good music. Who cares? I mean, they called themselves $AU$AGE$.
LISTEN TO THEIR E.P. ROCK GODS HERE –
https://thebandsausages.bandcamp.com/releases
https://twitter.com/SAUSAGESTHEBAND
https://www.instagram.com/thebandsausages/
https://open.spotify.com/album/69FiDNHUVgjEYYHlHTcvc4?si=pyDYxOuJReCYgnfF1G8q5w
ROMAN – Roman is a technicolour creature formed in New York city in the blistering hot summer of 1982. Bowie discovering Eno's synthesisers with with tutelage by Bryan Ferry. With added Iggy.
This guy will make you dance.
www.romanknows.com
https://twitter.com/roman_knows
https://soundcloud.com/romanknows
DROOL – are an evocative London alt-rock outfit who deftly mix late 80's alt-rock with 60's melodic structures. Described as "An expansive rock sound that wouldn't be out of place in a gothic cathedral with acid trip coloured stain glass windows", by The Zine magazine, there are not to be missed.
https://www.facebook.com/droolband/
https://www.instagram.com/_droolmusic/
https://soundcloud.com/drool_music/sets/drool-1
BARRY – are a consciousness raising Queer beat combo. Southwarks answer to the B-52s. A must see!
https://www.instagram.com/barrytheband/
https://www.facebook.com/barryband/
DAVID SHRIGLEY – is an artist best known for his distinctive drawing style and works that make satirical comments on everyday situations and human interactions. In September 2016, his 'Really Good' sculpture was unveiled in Trafalgar Square, for the Fourth Plinth Commission and currently has an on-going presentation in the Gallery at Sketch café here in London.
Shrigley was also a Turner Prize nominee in 2013, following his major mid-career retrospective at the Hayward Gallery, London entitled 'Brain Activity'.
Basically…..he's not doing to bad for himself and is a total dude, so say hello to him!
http://davidshrigley.com/
Be there or be square………and no one wants to be square.
RSVP to the Facebook event page and invite your friends here!
Foxcunt / Argonaut / Panic Pocket / Layzervag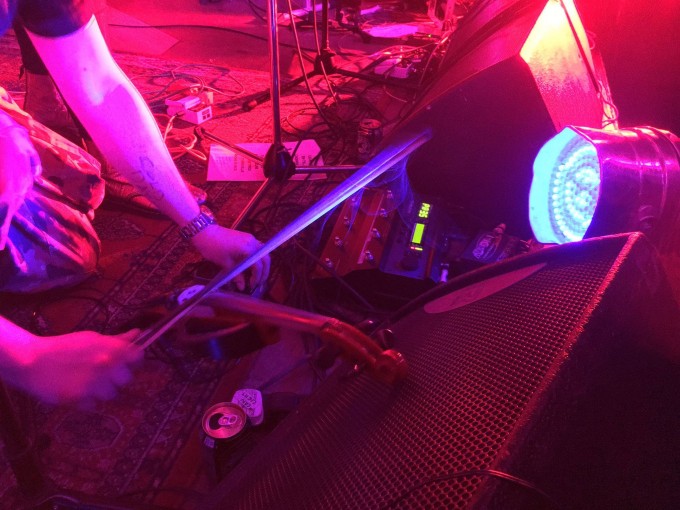 Foxcunt:
ART, PUNK, CIDER, RIOT
Argonaut: Alternative DIY Sock Rock
Panic Pocket: catchy songs about trash men, bad bosses and being creepy on the internet
Layzervag: conceptual art feminist noise project. may have a second song at some point
£4.40 advance (including booking fee), £5 on door
advance tickets available from: http://www.wegottickets.com/event/442100
Jenny Moore's Mystic Business / Rubie / Regrouping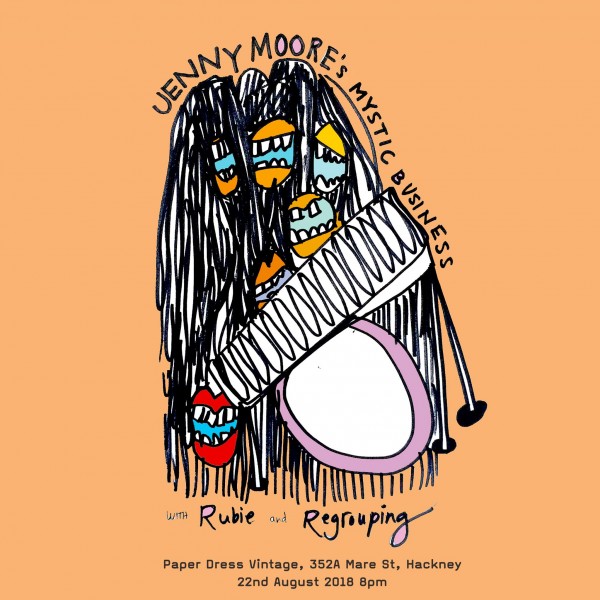 JENNY MOORE'S MYSTIC BUSINESS
➩
RUBIE
➩
REGROUPING
a summer mid-week gig of friends so catch the feeling
8pm-11pm, £5 otd
➩➩➩ JENNY MOORE
Jenny Moore is a composer, drummer, singer & artist and her Mystic Business is a shifting ensemble of percussionists and voices. Deep unison chants to psycho-sexual choral pieces to sardonic xylophone pop, JMMB is a post punk blast through self-made mythology and joyful cynicism. Tentacles, harmonies, black holes and singing bowls. Repeat.
vimeo.com/270045843
soundcloud.com/jenny-moore-1
jennymoore.bandcamp.com
@aftonsam
➩➩➩ RUBIE
Rubie is a binary cleaver, both a sad spotlit songstress and a de-male-ing of the out there, ambient and jazz-inflected. They are sailing across soup through gender storms, learning to captain.
www.rubierooo.com
@rubierooo
soundcloud.com/rubieroo
facebook.com/rubierooo
➩➩➩ REGROUPING
A new band of old friends sketching out simple fragments of music and words. Circular shoegaze prog noodles.
RSVP to the Facebook event page and invite your friends here!
Live Circuit Presents: Arable Desert, She's Seventeen, Burly Her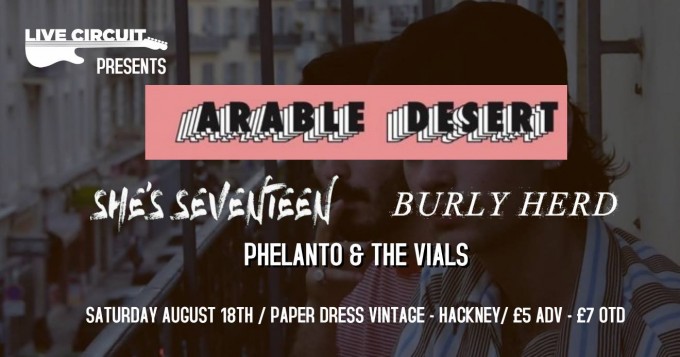 Live Circuit Presents 4 of the best up and coming bands London town has to offer
Limited advance tickets available here!
Arable Desert
Formed in London but sound as though they're from the depths of the Californian outlands, Arable Desert are killing the independent garage rock scene with their blend of fuzzy, spaced-out psychedelia.
She's Seventeen
She's Seventeen are an indie/alternative rock band from South London, UK.
Currently play gigs in and around London, we have also released and EP named 'Lies & Deceit' on all major platforms.
They play are range of music between punk and indie rock.
Burly Herd
Cinemascopic soundscapey alt pop.
FACEBOOK: www.facebook.com/burlyherd
LISTEN: www.soundcloud.com/burlyherd
TWEET: @burlyherd
Phelanto & the Vials
With a play on Radio X and support from Communion, Phelanto & the Vials' melancholic alt/indie has turned a few heads over the past year. This year will see them release the follow-up to their 2017 debut album 'Perudo'.
Tickets £5 Advance via TicketSource / £7 OTD (Cash only)
RSVP to the Facebook event page and invite your friends here!