The Line of Best Fit Presents: Haerts + Swimming Tapes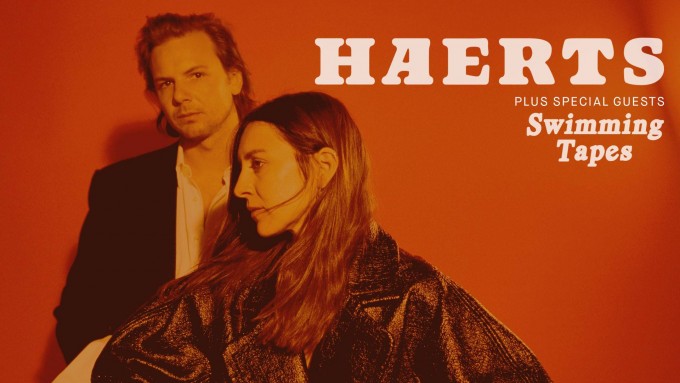 Brooklyn based HAERTS make their eagerly awaited UK debut at London's Paper Dress Vintage on September 17 alongside very special guests Swimming Tapes.
Very limited advance tickets available here!
The lifelong musical and personal partnership that is the band HAERTS consists of Nini Fabi (voice, production) and Benny Gebert (piano, guitar, production) and a bevy of other talented musicians that expands up to a searing six piece for live performances. Having completed a transformational period, the band have partnered with the extremely well respected Arts & Crafts Records (Broken Social Scene, Overcoats, Liza Ann, Feist) for the release of new music in 2018.
Forming originally in their hometown of Munich Germany, the duo moved to the creative cauldron of Brooklyn, NY in 2010 to pursue their shared musical vision.
Finding success almost immediately with their first singles and the EP Hemiplegia in 2013 then band then released their self-titled major label debut album "HAERTS" in 2014 to wide critical acclaim.
The band received glowing praise from multiple press outlets including the New York Times, Consequence of Sound, The Line of Best Fit, Paste Magazine, Billboard, Noisey, Baeble, Yours Truly, the Independent and others as well as featured coverage from NPR world café, KEXP, Sirius XMU and performed on Late Night with Seth Meyers. The band also toured extensively including featured festival slots at Coachella, Governor's Ball, Bonnaroo, Austin City Limits, Shaky Knees, Bunbury and many others.
Now, after having retreated in the Hudson Valley, HAERTS are back with their best music yet, new shows and large commercial synchs including their new anthem "Your Love", which is included in the official soundtrack for season 2 of the massive worldwide Netflix phenomenon "13 Reasons Why" out May 18th.
Advance tickets here: https://www.seetickets.com/event/haerts/paper-dress-vintage/1247699
Big Scary Monsters Big Day Out!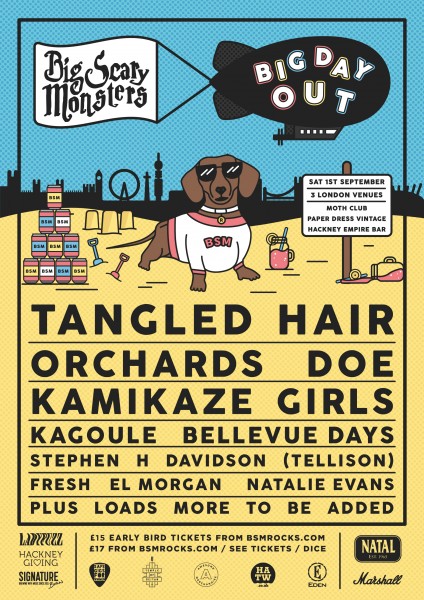 We're welcoming in the lovely people behind excellent UK indie label Big Scary Monsters on Saturday 1 September for a big old knees up! Here's what they've got say about what's in store:
We're extremely proud of our roster of UK artists and the scene here in general, so we wanted to put something together to celebrate that.
BSM's Big Day Out pulls together 20 of our favourite artists across three brilliantly unique East London venues – MOTH CLUB Paper Dress Vintage and Hackney Empire Bar – each within a couple of minutes stroll, for what we hope will be everything the name suggests.
For us, community goes beyond the music and so we're very pleased to partner with a handful of wonderful organisations including Safe Gigs for Women, Heads Above The Waves and Hackney Giving, who we'll be donating a percentage of all ticket sales to. In addition to this our friends Signature Brew will be providing lots of lovely liquid refreshment while Temple of Seitan offer all attendees a discount on their delicious vegan treats, from their restaurant just yards away from our venues.
We've spent a lot of time curating what we think will be a perfect day of live music and fun. We've even organised the world's greatest closing party, which we'll be telling you about nearer the time…
A very limited number of early bird tickets priced at £15 go on sale at 10am on 6th June via bsmrocks.com, with general sale (£17) starting at 10am on the 8th. Pick one up – along with some lovely merch and music bundles – and we'll see you on Saturday 1st September.
_ _ _ _ _ _ _
THE LINE-UP:
Tangled Hair
Kamikaze Girls
Orchards
Doe
Kagoule
Bellevue Days
Stephen H Davidson (Tellison),
El Morgan and the Divers
Natalie Evans
More TBA
_ _ _ _ _
Early Bird Tickets £15 on sale at 10am on 6th June via www.bsmrocks.com
General Sale Tickets £17 on sale at 10am on 8th June.