Chris Hornsby (Album Launch Show) + special guests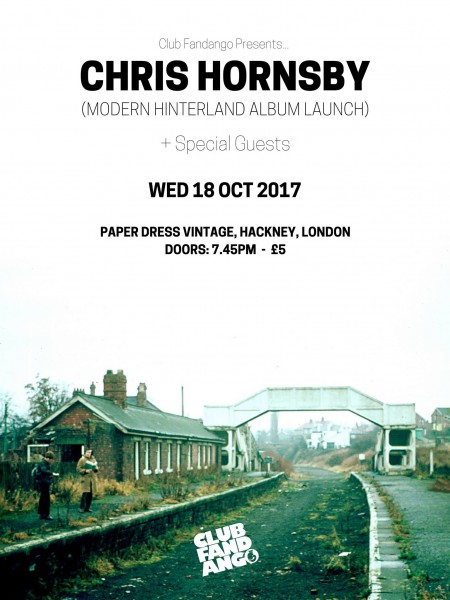 CLUB FANDANGO PRESENTS
CHRIS HORNSBY (MODERN HINTERLAND ALBUM LAUNCH)
+ Special guests:
DOORS 7.30pm
TICKETS £5 ADV
WeGotTickets: www.wegottickets.com/event/412446
SEE Tickets: www.seetickets.com/event/chris-hornsby/paper-dress-vintage/1134187
'Modern Hinterland' Album Pre-Order: goo.gl/qPyrgv
'Helium' Single Out Now via All Digital Stores
'Helium' Lyric Video: https://youtu.be/0IqYlkxEcac
Chris Hornsby is a songwriter, singer, and player of various instruments, hailing from a small dot on the map west of Newcastle. After a few years figuring out what sort of sound fits his songs, Chris recorded his debut album 'Modern Hinterland' (Released on 29th Sept) guerilla style- variously between a London flat, a drum hovel and a caravan on the howling North East coast in the depths of winter. 13 songs loosely tied together by threads of love, loss and the vicissitudes of real life. Chris has drawn comparisons to contemporary singer-songwriters such as Damian Jurado and Bon Iver as well as artists such as John Martyn and Van Morrison.
Modern Hinterland is released on Label Fandango on 29th Sept. The first single to be taken from the album is 'Helium' which Chris says is 'an allegorical song where the singer returns from a highly uncomfortable flight to a woman who makes it all ok. I like giving songs a place, or a scene. Although the scene in this case is fictional the sense of being uplifted after a very difficult experience is real. I wrote this just after meeting my wife.'
www.chrishornsby.co.uk
www.facebook.com/chrishornsby
www.soundcloud.com/chrishornsby
https://open.spotify.com/track/3Hl26A9FSJ49PXi9HloBxm
__________
www.clubfandango.co.uk
www.paperdressvintage.co.uk/
TICKETS £5 ADV
WeGotTickets: www.wegottickets.com/event/412446
SEE Tickets: www.seetickets.com/event/chris-hornsby/paper-dress-vintage/1134187