Des Was a Bowie Fan ft The Death of Pop, Drömstad + Arkless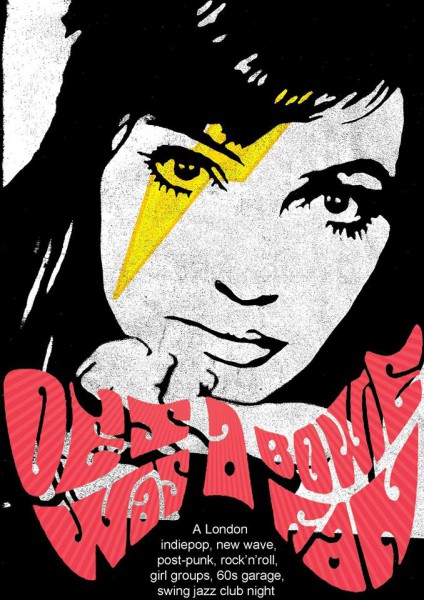 Here's the first of a bunch of sweet summer nights on the Des Was A Bowie Fan dancefloor at Paper Dress Vintage, the blue touch paper lit by a trio of Pop bands wired to the stars.
Bringing the Shivers Inside between 8pm and 11pm with a mix of janglegaze, dreampop and "twinklegaze" will be The Death Of Pop, Drömstad and Arkless.
The Death Of Pop have a swirling, atmospheric and summer-sweet sound with lyrical touches that play on your heartstrings. The band themselves call it "janglegaze", dancing in the spaces between My Bloody Valentine, The Beach Boys and Teenage Fanclub. New single 'Pain is Needless' comes out on April 15th.
https://soundcloud.com/the-death-of-pop/pain-is-needless
Drömstad have a sound of howling Pop empathy that gets into your bones; a euphoric, melancholic jangle and a burning lyrical interior, matching the serpentine dreaminess of Slowdive with a vivid, sharp-edged soul.
https://soundcloud.com/dromstad/leave-it
Arkless play sweetly rollocking nocturnal "twinkle-Pop" that cuts, burns and sparkles with melody and poetry. Their 'Arkless' mini-LP, released on Barely Legal Records, is available via their Bandcamp.
https://arkless.bandcamp.com/album/arkless
Then at 11pm, Kerouac's bandanna wraps round the lampshade, Dai Dominoes adjusts his false teeth, and the dancefloor blazes to the sounds of Indiepop, New Wave, Post-Punk, Synth Pop, Riot Grrrl, 60s Soul and Rock'n'Roll till 3am.
All flaming limbs at the front line x
Expect to hear: ♥ Dexys Midnight Runners * Slowdive * Veronica Falls * Pulp * Belle and Sebastian * Brigitte Bardot * The Smiths * Serge Gainsbourg * The Ramones * The Ronettes * The Shangri-Las * Aretha Franklin * The Temptations * Blondie * Flowers * The Supremes * Le Tigre * Bowie * Beach House * Little Richard * The Fall * The Cure * The Field Mice * Camera Obscura * The Pastels * Johnny Cash * Jackie Wilson * Talking Heads * Joy Division * Martha and the Vandellas * The Magnetic Fields * The Beach Boys * Tullycraft * Pet Shop Boys * Art Brut * Dusty Springfield * Depeche Mode * Broder Daniel * Rita Pavone * New Order * Jens Lekman * Jonathan Richman * Jesus and Mary Chain * Candi Staton * Kim Weston * Sonic Youth * Tcha Limberger and His Budapest Gypsy Orchestra ♥
"A post-Peel, post indie market-place discotheque in the spirit of the pirates, fags and runaways"
Gig + clubnight: £5 advance:
http://www.wegottickets.com/event/398657
Club-only (after 11pm): £4 / £6
Membership: https://deswasabowiefan.com/membership/
For cheaplist entry after 11pm click 'going' on the Facebook event page
Advance club-only tickets: (coming soon)