Des Was a Bowie Fan ft The Hearing, Chemtrails & Fightmilk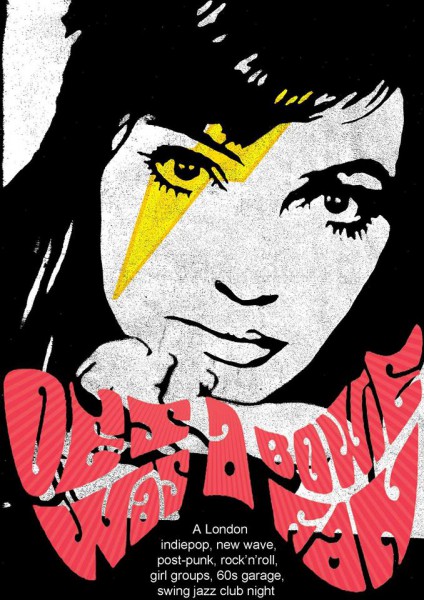 Here's the late-August Des Was A Bowie Fan at Paper Dress Vintage, so late that it's in September, augmented with steamy synth-Pop from Finland and roaring Gothic garage Pop and indiepop soul from London Town.
The Hearing plays sensual and dreamy Pop in the shade of synth with an air of sweet suspense, crackling beats rolling into shimmering vocal harmonies in a melodious moonlight drama. It's the solo alias of Helsinkian musician Ringa Manner. The first Hearing LP 'Dorian' was released in Finland via GAEA Booking & Records in the autumn of 2013, followed by a second, 'Adrian', in April 2016. This coming weekend, if you're in the wilds of Ripley, there's a taster when she plays at Indietracks 2017 -https://www.youtube.com/watch?v=H-EKyj69gdU
Chemtrails are a garage Pop band with a stunning Gothic charm, blazing and shimmering epically in the margins between Blondie and Veronica Falls. Their track 'Deranged' is number 1 on the September DWaBF mix. Their first EP, 'Love in a Toxic Wasteland, came out in December of 2016, with their second, 'Headless Pin-up Girl' following this March via PNKSLM Recordings. A first LP is scheduled for Autumn – https://adoseofchemtrails.bandcamp.com/album/headless-pin-up-girl-ep
Fightmilk have a bunch of songs that jump out of the blocks like Dai Rollo at open tap, bouncing along on the back of swirling guitar lines and beats with a soulful lyrical sweep; impulsive and seriously affecting power Pop from the outside of everything. First EP 'The Curse of Fightmilk' came out in July of 2016, with their new EP, 'Pity Party' self-released this very month with artwork from DWaBF favourites Wolf Girl – https://youtu.be/fHlv9XEpFks /https://fightmilkisaband.bandcamp.com/
Maybe one more band will be added.
The club roars after till 3am – indiepop, new wave, post-punk and Northern Soul beneath the dresses. See you in the mixer.
"A post-Peel, post indie market-place discotheque in the spirit of the pirates, fags and runaways" – Llewelyn Bowen
Expect to hear: ♥ Dexys Midnight Runners * Pulp * Belle and Sebastian * Brigitte Bardot * The Smiths * Serge Gainsbourg * The Ramones * The Ronettes * The Raincoats * Veronica Falls * The Shangri-Las * Aretha Franklin * The Temptations * Blondie * The Supremes * Le Tigre * Bowie * Beach House * Little Richard * The Fall * The Cure * The Field Mice * Camera Obscura * The Pastels * Johnny Cash * Jackie Wilson * Talking Heads * Joy Division * Martha and the Vandellas * Magnetic Fields * Elvis Deppressedly * The Beach Boys * Pet Shop Boys * Art Brut * Dusty Springfield * Depeche Mode * Broder Daniel * Rita Pavone * New Order * Jens Lekman * Jonathan Richman * Jesus and Mary Chain * Candi Staton * Kim Weston * Sonic Youth * Slowdive * Flowers * The Four Tops * The Flirtations * TV Girl * Ritchie Valens * Meilyr Jones ♥
Entry:
Gig + Club: £5 advance / £5 door
Advance tickets – http://www.wegottickets.com/event/411774
Club-only: £4 / £6
Cheaplist and free membership via [email protected]
Club only advance tickets (valid after 10.30): http://www.wegottickets.com/event/411775