DHP Presents: KOLARS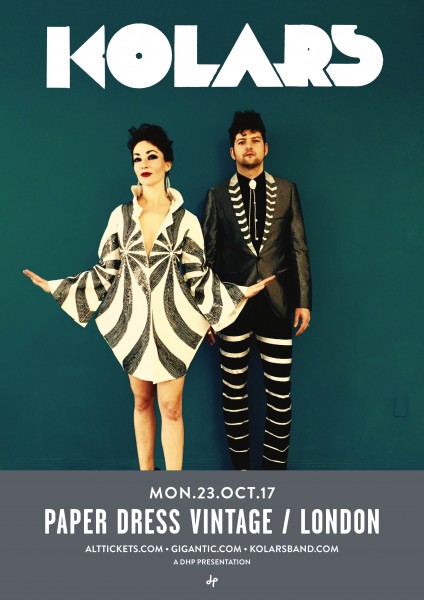 We're delighted to be hosting a special headline show for US band Kolars on Monday 23 October. Limited advance tickets available here:
http://www.alttickets.com/kolars-paper-dress-vintage-2017-10-23-19-00
KOLARS is a band of two members.
Rob Kolar sings and strums his rollicking guitar, Lauren Brown uses her whole body as a percussive instrument.
THE BOTTOM LINE: "The dynamic duo is eclectic in every sense of the word. Kolar, who can only be described as a cosmic Elvis, sang with gusto while his counterpart provided the raw power that kept their steam engine sound chugging along. And with a musical style ranging from what they term 'Desert Disco' to 'Space Blues' (which is just as entertaining as it sounds), there was never a dull moment on stage."
KOLARS has created a sonic world that straddles self-described genres such as Desert Disco, R&Beyond, Space Blues, and Glam-a-billy . Rob produces, mixes, and writes the material. His studio experimentation is incorporated into the live show. Lauren has invented her own drumming style. She tap dances rhythms with her feet atop a bass drum while simultaneously playing a stand-up kit. She uses this dance to transform beats into natural extensions of her movement. The two perform with energy, sweat, and excitement, thrilling audiences with their unabashed exuberance.

http://www.alttickets.com/kolars-paper-dress-vintage-2017-10-23-19-00