Exploding Head Sessions ft. Great Ytene / Vinyl Staircase / Dancehall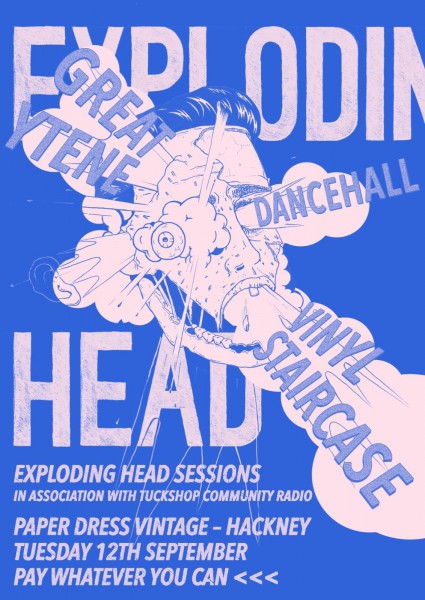 Exploding Head Sessions in association with Hoxton FM are back on Tuesday 12 September!
Following on from our our awesome Session One launch we are super excited to announce the next wicked lineup for Session Two:
Great Ytene – We saw these guys at The Victoria a while back and became instantly mesmerised by them. They are completely hypnotic in their performance and you can't take your eyes off them for a minute.
Combining lush sonic soundscapes with pounding, rigid rhythms they suck you in for the entire set.
They released an album in February on the awesome Faux Discx and it is still on heavy rotation in our playlists.
https://greatytene.bandcamp.com/
Vinyl Staircase – We caught them supporting L.A Witch at The Lexington and were totally drawn in by their rich sonic textures and expert song writing.
These guys are really starting to make waves with their lush, psyche sound.
Their track German Wings has, understandably, been featured everywhere and we really can't wait to see what they produce next.
https://soundcloud.com/vinyl-staircase
Dancehall – Really don't know how we managed to convince these guys to open the show for us but we're so excited they are. Tim's band have played with them before and were totally blown away by their energy and excitment.
Dancehall write awesome punk and so much more. It's emotional, it's intelligent, it's catchy, it's exactly everything you want it to be!
https://dancehall.bandcamp.com/
Can't even believe how excited we are about this night!
As usual, it's pay what you can on the door – all proceeds go to the bands!
RSVP to the Facebook event page and invite your friends here!