Exploding Heads Sessions ft. USA Nails / Spoilers / Death Traps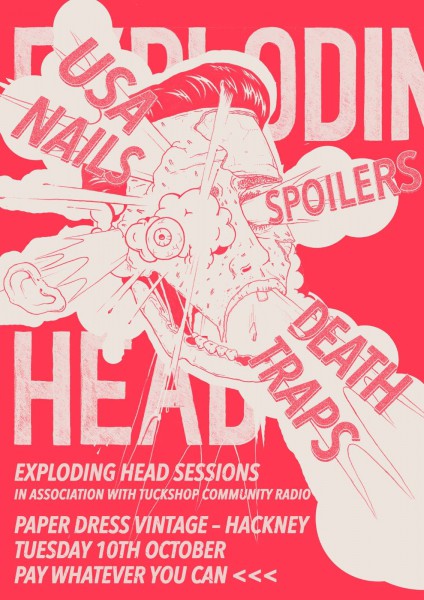 Exploding Head Sessions are back for another live session at Paper Dress on Tuesday 10th October and here's what they have to say about the 3rd instalment!
Two awesome sessions already been and gone and session three is shaping up to be an absolute stormer!
USA Nails: Ever since we first saw them at a Fluffer Pit Party a few years back these guys have been one of our favourite live bands. They're loud, they're brash and they're noisey as hell! Over the course of three blistering albums they have really set themselves apart and this promises to be an amazing show.
https://usanails.bandcamp.com/
Spoilers: Delighted to have these guys down and doing a session for us. Another band that Tim's band have had the pleasure of playing with. They play upbeat, spiky, guitar driven punk rock and always deliver incredibly tight, furious live performances. Definitely not one to be missed!
https://wearespoilers.bandcamp.com/music
Death Traps: "It's my party and I'll play if I want to". Death Traps is our very own audio dude Tim's band! Having added a second guitarist to their ranks they've made their sound even more expansive and dynamic. With a new E.P just released and new tracks to be debuted at the show this will be the perfect time to see them
https://deathtrapsuk.bandcamp.com/album/e-p
As always, it's pay what you can on the door – all proceeds go to the bands.
RSVP to the Facebook event page and invite your friends here!