Made-Up Promotions Presents: A Smashing Wednesday at Paper Dress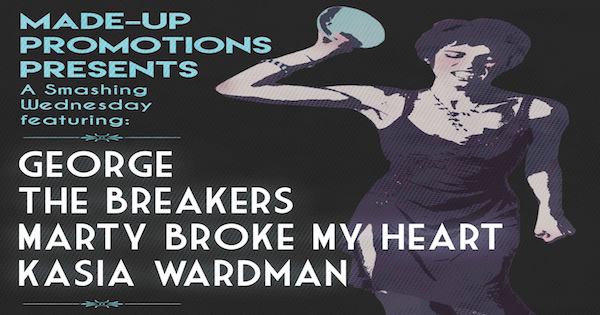 Anxious? broke-up? Don't fret. Come and join us for a splendid evening of alt.folk/rock brought to you by George & friends and hosted at Paper Dress.
£5 Entry
Line Up:
4-piece band consisting of Russell Dench (vocals/guitar), Jose Cano (lead guitar), Dave Boland (bass) and Elias Silva (drums) whose unique and emotionally-direct sound owes much to the influences of 50's and 60's rock'n'roll, Pixies, Nirvana and David Bowie.
Duo consisting of Alessia Bocconi (lead singer/songwriter) and Maciek Rek (guitarist/arranger) whose music is taken from a wide range of styles including: singer & songwriter, blues, soul and jazz. It is characterised by gritty, soulful vocals accompanied by warm electric guitar tones.
Marty Broke My Heart are an upcoming 4-piece consisting of Debbie Dee (drums), Ines South (vocals), Jacki Ager (guitar), and Marina Magi (bass). The band has a passion for all sorts of music, and a unique sound that shifts through dance, blues, rock and grunge genres.
Kasia Wardman is an award winning singer songwriter from Milton Keynes whose unique voice and melodic style has won praise from many artists and reviewers alike. She is an artistic storyteller with over 200 original songs in her repertoire, and draws influences from Sting, Jessie j, Ed Sheeran, James Bay, Phil Collins, Kate Bush and many more.
RSVP to the Facebook event page here and invite your friends!