Nice Nights Record Launch Party!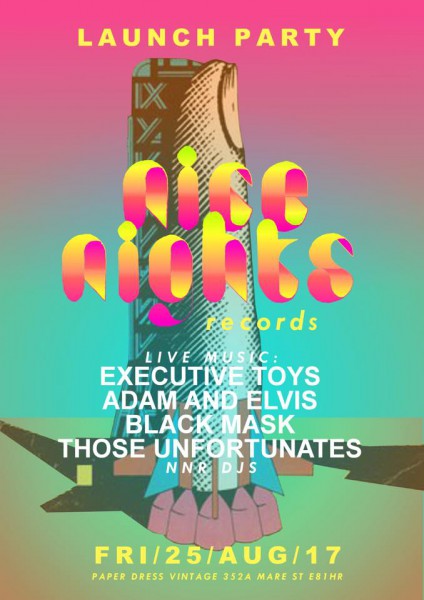 We're delighted to welcome the lovely people behind Nice Nights to host a show at Paper Dress this August bank holiday weekend. Here's what they have to say about what's in store!
"S'been a while.. but Nice Nights is back! And this time it's a record label too. 
To celebrate this fact and also invite into the world the first of it's offspring (our very own Executive Toys with their debut album), we are having a launch 'do', so without further a-'do', here's what hapnin:
LIVE:
Executive Toys
Adam & Elvis
Those Unfortunates
Black Mask
+NNR DJs
£4 otd
—————//////——————–
EXECUTIVE TOYS - Album Release special.
Tick, tock, tick, tock, squawk…
From the scum of the great water, in the sludge, shiny happy little toys did remain. Many years passed. ..the toys arrived, in boxes, sweet glittery pills, shiny, sparkling, addictive..
At first their charm was seductive, here a hypnogogic chorus from a Boston séance. There, a dreampop boxcar shampoo hook, sleepy Athens, Georgia style. But over the horizon, grinding T-Bone steak Chuck Berry rock n roll chops as big as your arm. EVERYWHERE, cold, lonely Wire synth washes, sprinkles, jabs and Prefab lilts Sprouting. At closer inspection there was cheese awwwn everything……Stories from before, during and after the days of the great plains were dreamed, modern day ghosts arrived in numbers, and from the barely safe vantage point of the cockpit of our super yacht, we watched on..
"I like it" – Artrocker Radio
"A sunny trip of psychy synthy goodness"- Musicbornonline
'Infectious, bizzare, wonky tunes' – MCR Radio.
https://soundcloud.com/executive-toys/sunken-crate
____________________________
THOSE UNFORTUNATES
Those Unfortunates are a fourpiece band from London. They wear herringbone coats and oxblood shoes without ever really managing to look rakish. Their songs aim for the wit and warmth of bands like The Kinks and Television Personalities. They are self-deprecating, for the most part, and self-contained. They sound harder than they sound.
Their debut album, Nothing isn't Beautiful was released in May 2017; it has been described as 'just beautiful by 6Music DJ Gid Coe, and "charming narrative of a small but meaningful life" by Shindig magazine.
https://facebook.com/unfortunates
https://youtube.com/watch?v=ezmfKfmYwMw
_______________
BLACK MASK
Invert your vision and look at the pink ooze inside. Listen. A trio of humanoids wishing to play you music about peace and love and crime and melting – broken synthesizer and frantic drums accompany desperate vocals.
https://facebook.com/Bl4ckMask/
________________
ADAM & ELVIS
Bonded not only by blood but a taste for finding humour in the macabre, Patrick and Tom Malone are brothers whose sibling intuition extends to a penchant for songs as melodic as they are bizarre. Cut-throat guitars, dirty bass lines and contorted synthesisers are their tools as the brothers pen hook-filled numbers with strange, poetic lyrics, often influenced by the stark realism in the wordplay of Patrick's heroes Leonard Cohen and Charles Bukowski.
Cut-throat guitars, dirty basslines and contorted synthesisers are their tools – VENTS MAGAZINE
"Big Pixies-sized singalongs and subversive choruses which threaten to match the early charm of The Teardrop Explodes" – ARTROCKER
'this band are strange and not to be trusted!' – LOUDER THAN WAR
https://facebook.com/adamandelvis
https://soundcloud.com/adam-74/hanging-tree-1
RSVP to the Facebook event page and invite your friends here!
£4 On The Door x