Paper Dress 10th Birthday Weekender!
Celebrating 10 years of pretty dresses & riotous parties! We'll be throwing a birthday weekender on Friday 3rd November & Saturday 4th November and we'd be delighted if you'd join us!
We've got some of our favourite bands & DJs of all time lined up to make it extra special…
Tickets for Friday here
Tickets for Saturday here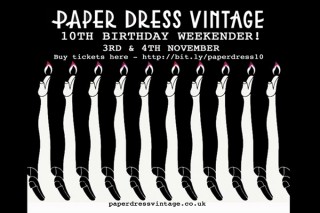 On Friday, we're thrilled to announce a triple-headed fearsome beast of a show full of Blues Gospel Rock n Roll in the form of Miraculous Mule, The Future Shape Of Sound, & Bare Hunter
12-piece brass punk ska instrumentalists BRUNK will kick off the musical proceedings as we set off our own little fireworks to get the party off to a noisy and joyful start ! There'll be a free shot of Jagermeister for guests on arrival (whilst stocks last) and there will, of course, also be cake!
And our favourite go-go dancing pals The Meyer Dancers will be doing their thing to help us celebrate the big 1-0 in style.
Keeping things rocking and rolling on the decks are our old friends Fritz Buzzsaw & Adam Diddy Wah aka Heavy Sugar who'll be spinning Rock n Roll, Trashy Surf, Tittyshakers, Stompin Rockabilly, Jumpin Rhythm & Blues and 60's Beats till 3am!
Tickets for Friday here
|||||||||||||||||||||||||||||||||||||||||||||
On Saturday, the spirit of the Thin White Duke himself will be joining us as joint-headliners in the form of ace Bowie-tribute act Cats From Japan. Plus, the one.. the only.. The Bikini Beach Band – If you're not familiar expect technicolor instrumental surf-noir, lounge & flamboyant rock'n'roll. With added Fez.
Our good friends The Pacers will be kicking off the evening's entertainment. We couldn't have a Paper Dress birthday weekend without some garage rock & psychedelia on the bill! Tune in here.
And a Paper Dress birthday wouldn't be the same without The Action Men

DJ Worth Wagers will be spinning some red hot soul 45s to get the party started whilst Basement Tapes DJs will be spinning the best Funk, Afro Disco, R'nR' & Rare Groove all night long!
It will also literally be our biggest party ever as we take over the building next door to host 2 extra rooms for one night only where we'll be creating a tin foil wonderland hosted by Barbarella Disco Dome with a special guest headline DJ set from Damon Martin (Disco Bloodbath)
Plus plenty more surprises!
Tickets for Saturday here
Hope you can join us!
Love all at Paper Dress x