Sublime Music Presents Bella Spinks + special guests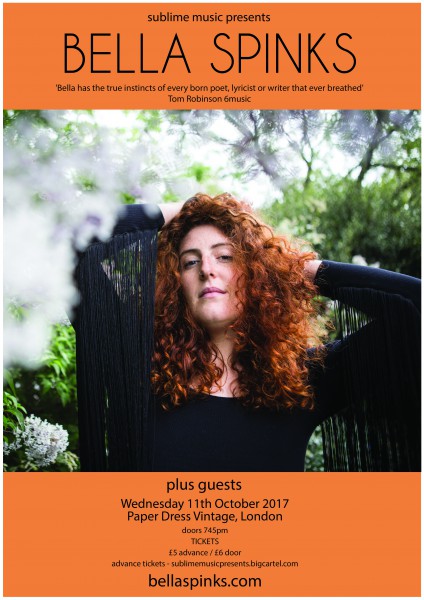 Sublime Music Presents Bella Spinks and guests
 Wednesday 11th October
 Doors 7.45pm
£5 advance / £6 door
Advance tickets – sublimemusicpresents.bigcartel.com
https://www.facebook.com/events/116641902368633/
Bella Spinks is a 24 year old singer/songwriter from Brighton. She played her first gig at Brighton's Concorde 2 at only 12 years of age. Fusing her characteristic piano style and inventive vocals she has drawn comparisons to Joni Mitchell, Kate Bush, Carole King and Regina Spektor.
Her next single 'Noble Lie' is due in November 2017 .The story of the song is based around a concept called 'the myth of metals' which Plato suggested as a way of keeping society in check…the idea being that everyone was born with a certain amount of different metal within them and that alone would determine what your life was like, what work you could do and who you could fall in love with…
Her debut album to be released in February 2018 on Sublime Recordings was produced by Matt Ingram [Laura Marling Lianne La Havas Denai Moore] with string arrangements by Tom Hobden [Noah and The Whale].
To date she has supported Ellie Goulding, The Staves, Rae Morris, Ron Sexsmith, Sea of Bees, Viv Albertine, Laetitia Sadia, Alex Winston, Basia Bulat, The Apache Relay and Foy Vance.
'Bella has the true instincts of every born poet, lyricist or writer that ever breathed'
Tom Robinson 6music
Listen to Bella here: https://open.spotify.com/artist/20vkXuGzqrnGN8zzQXKBnB
Special guests to be announced.
Tickets here: sublimemusicpresents.bigcartel.com