The Alternative Folk Fest!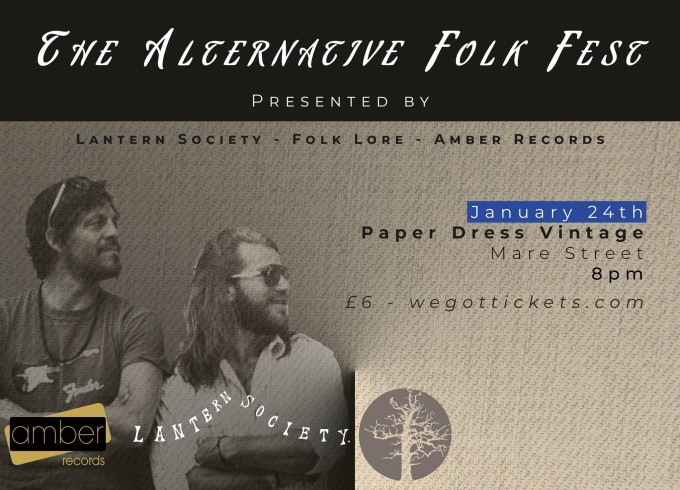 Four live folk acts curated by Folk Lore & The Lantern Society!
Advance tickets available here
Gabriel Moreno & The Quivering Poets
Gabriel is a Gibraltarian Poet and singer songwriter who has been performing for the past 20 years in Gibrlatar, Peru, Italy, Spain, USA and The United Kingdom. He exports his own strand of poetical singer songwriter music in the vain of the troubadours, Fabrizio D'Andre, Cohen, Brassens, etc. in 2015 he joined up with The Quivering Poets, Barbara Bartz, Pablo Kajon, Pablo Yupton, Adam Beattie and Sergio Contreras Acosta, (some of the most unique and talented instrumentalists and artists in the London and Barcelona alternative music scene)
Matt Arthur
https://soundcloud.com/mattarthur
Samuel Nicholson 
Samuel is a 25 year old London-based singer/songwriter hailing from Edinburgh. Currently at the mercy of the locals in any open mic night he can find he is most happy with a guitar in his hand and his eyes at the ceiling. Often defaulting to melancholy he offers an emotive perspective through resonant guitar parts and weathered vocals, throwing finesse out the window for honesty. Released on the 19th August a couple of years ago, his debut record entitled 'If You Be My' (which he is very, very excited about) offers a raw introduction to not only his inner conflicts but equally his take on the world that moves before him.
Laura Frances
Laura Frances has is a new and haunting voice. A dark, baritone Joni Mitchell baring herself in her songs with a refreshing depth and brevity. She conjures mystical images in the vein of Leonard Cohen and delivers them under misty melodies from a world where everything is ethereal and half hidden. She made her debut at The Lantern Society in March 2016 and is making a name for herself as one to watch.