1234 Presents: Suitman Jungle (single release), Human Music +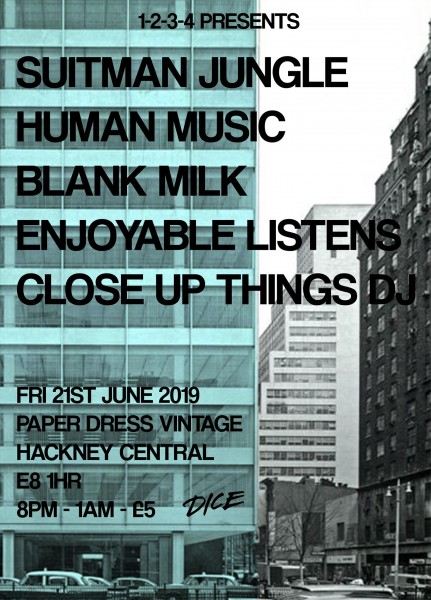 1234 Presents: Suitman Jungle, Human Music, BLANK MILK, Enjoyable Listens and Close Up Things DJs till 2.30am
Limited advance tickets available on DICE here.
Suitman plays live jungle and drum & bass mash-ups using a stand-up cocktail kit and SPD-SX.
Single release show!
//www.youtube.com/watch?v=L3EQFWzyuuk
Music 4 Humans
//soundcloud.com/humanmusicmusic
Industrial-Rant-Rave
…music for no-one
Think of every bad break-up you've ever had, slap those thoughts into music, and jump-shout & party on the debris…and forget about them and their blank milk.
Break-ups are the new weekend!
A bloodstained fur coat floating on the undulating beat of street talk.
//soundcloud.com/enjoyablelistens/sets/a-professional-selection
Close up things DJ until 2.30AM