Karousel x SESAC January Showcase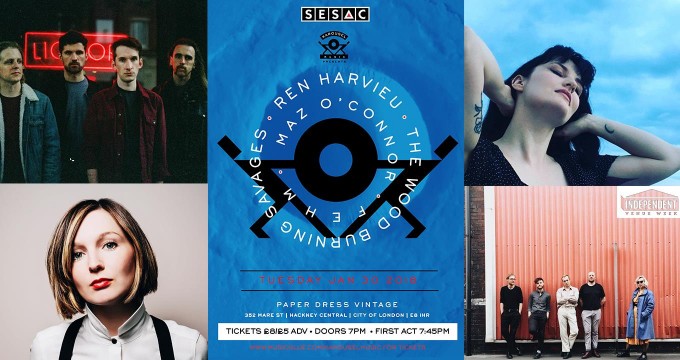 Karousel Music and SESAC are back with the first of their regular industry showcase for 2018, and this one is extra special as part of Independent Venue Week. Fans are welcomed with open arms too… as ever. See you there!
Playlist: //open.spotify.com/user/karouselmusic/playlist/4Xs2NiMEINa2G10PsDkQgx
Tickets £5 Advance, £8 on the door. All proceeds to the acts.
FEATURING:
/// REN HARVIEU /// 
"Harvieu is the kind of Salford lass you can imagine a young Morrissey raving about… a fully formed star." – THE GUARDIAN 5/5

"accessibly sumptuous…between easy-listening seductress and torch-song belter, her voice is soulful and dreamy with just a tang of something muskier in its sweetness." – THE DAILY TELEGRAPH 4/5
"Hers is an arresting voice, soft and sweet, but dark in hue and sharp with melancholy, like a vinegar smoothie…. this is an impeccable debut." – NME
"Ren Harvieu is the real deal as an artist and performer, but also as a person…" – LOUDER THAN WAR
Ren Harvieu is a darkly enigmatic singer/songwriter from Salford, Manchester. Her top 5 UK debut album 'Through The Night' showcased her supple yearning voice and leant towards 60's pop, country & soul. She has performed with an eclectic array of artists including the legendary Tom Jones, US rapper Nas and with the BBC Philharmonic Orchestra.
She's currently putting the finishing touches to her follow up album with songwriting partner Romeo Stodart of The Magic Numbers, it promises to be something truly special.
/// THE WOOD BURNING SAVAGES ///
"In Paul Connolly they have one of the next generation's great rock frontmen." – Tom Robinson, *BBC Radio 6 Music*
'Ferocious intelligence, primitive abandon and excoriating tendencies! In troubled times, the world needs punk rock heroes – The Wood Burning Savages are punk rock heroes!'- *Stephen McCauley, BBC Radio Ulster*
Formed in Derry City, Northern Ireland, The Wood Burning Savages are a fast paced punk rock band who proudly wear the rebel spirit of their hometown on their sleeves. With pulsating riffs and a sharp political edge, comparisons being drawn to Manic Street Preachers, The Clash and Queens of the Stone Age is not unusual.
Lauded for their frenetic live shows, each night serving up a full-blooded cocktail of breakneck guitars and frenzied anthems, they are led by enigmatic frontman and songwriter Paul Connolly. With each track The Wood Burning Savages share gritty real life tales of disillusion and indignation, giving a voice to a generation more marginalised and divided than ever before.
Recent shows include slots with fast rising rock acts The Amazons, VANT and Fangclub, alongside a hometown show with cult Irish guitar heroes And So I Watch You From Afar. Having played the BBC Introducing Tent at Glastonbury, the band have went on to play riotous sets at festivals throughout Ireland and beyond, taking in festivals in Scotland, Poland and Germany. They band will also join Death From Above to support them on the Irish leg of their European tour in 2018. Their music has even been embraced by the world of wrestling with Philadelphia grappler 'The Product' David Starr selecting 'We Love You' as his entrance theme!
/// MAZ O'CONNOR ///
'Maz O'Connor's ace, apart from her remarkable songwriting talent, is her captivating voice ****' (Q MAGAZINE)
'There is an inquiring intelligence as well as an emotional sensibility at work here…she plays and sings beautifully *****' (SONGLINES)
Maz's most recent album "The Longing Kind" (2016) was hailed by press and pundits alike and established her firmly in the roots scene as a force to be reckoned with. Performances on the UK festival scene followed as did numerous accolades. Hailing from the north of England, Maz O'Connor's immigrant, Irish descendants' roots are repeatedly present in her music. Combine this with a journey through the literary halls of Cambridge University, where Maz gained an honours degree in English Literature, and a relocate to the East End of London where she now lives and works, and one begins to understand the diverse influences driving this engaging singer- songwriter.

A paradox exists in Maz's music. From her folk origins she carries a simplicity of song, a frankness and rawness that recall the starkly beautiful Cumbrian landscape of her childhood. At the same time, her considered and perceptive lyricism explores complex relationships between people and their surroundings, often presenting the modern city as a microcosm. She possesses the rare ability to create a whole world in a single song.Never one to rest on her laurels Maz has recently begun to explore a more contemporary soundscape. Collaborations with producers from the world of electronic pop music have lead to an exploration of shadowy, Scandinavian-esque, sonic spaces that accentuate simplicity, and set a scene for new repertoire that will be unleashed on the world in 2018.
/// FEHM /// 
Turmultuous and brooding, FEHM present a contemporary ferocity through retro '80s synths and vibrant soaring vocals' THE LINE OF BEST FIT
'Enthralling, continually evolving, intense vision of pitch black, post-punk that ripples with intelligence' CLASH MAGAZINE
'A slice of melancholy brilliance' TOO MANY BLOGS
'urgent and powerful post punk' GOD IS IN THE TV
FEHM are a five piece post-punk band from Leeds who are part of Leeds ever evolving close knit DIY community. They started off as a 3 piece with Paul on vocals, Amy on bass and Chris on drums, Darren (synth) and Ben (guitar) joined earlier this year and this has seen the band take a turn into darker, more brooding, synth led, post punk.
The band combine influences such as The Sound, The Birthday Party, The Chameleons, New Order, and Lowlife to create music that is "startlingly brisk and wholly stark, (of which) the intensity of the delivery is married to a flood of fresh ideas" (CLASH MAGAZINE).
Their debut EP 'Circadian Life', released on Art is Hard Records last year was described by DIY as 'Cut through with searing white heat…a fearsome stride forward for the three piece'.
RSVP to the Facebook event page and invite your friends here!
Stitch! Alternative Comedy Night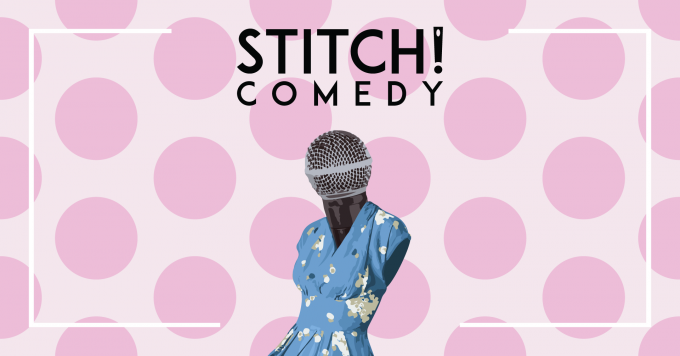 Threesome Comedy are back with another night after their sold out show with us last year! A hand-sewn alternative comedy night above a vintage clothes shop in Hackney.
Adorn your loudest outfit and we'll serve up a tasty night of sketch, stand up and clowning all for £3 or PWYW on the door. We promise it'll be silly.
LINEUP: 
ADAM LARTER
AMANDA LITHERLAND
HELEN DUFF
FAYE TREACY
SAM LAKE
THREESOME
DOORS: 7.45pm
TICKETS: £3 adv to guarantee entry / PWYW on the door
RSVP to the Facebook event page and invite your friends here!
VENUE:
Paper Dress Vintage
352a Mare St
Hackney
London
E8 1HR
Label Mates: Los Bitchos, Purs, Strange Collective, Mohit + More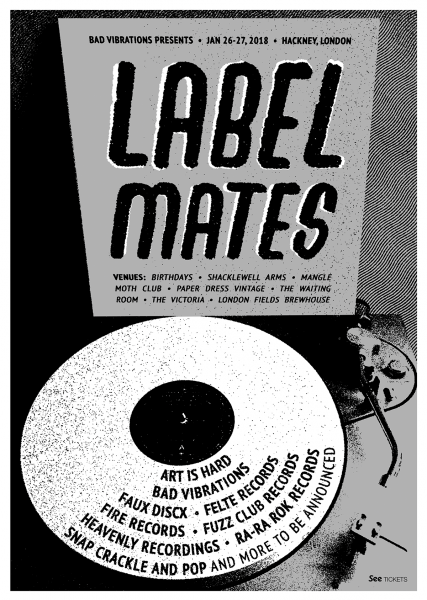 We're delighted to announce that Paper Dress Vintage will be one of the venues for the return of Label Mates. The following labels are in tow and loads more of them to be announced!
Here's what we have going on at Paper Dress on the night..
Blak Hands Records Presents..
– Los Bitchos 
– Purs
– Strange Collective
– Mohit 
– Antelopes 
Tickets for the whole event are priced at £5.
Keep an eye on the Facebook event page for lineup & more details to be announced!
City Shanty Band, Chaps Choir, Isak's Island, Left In Colour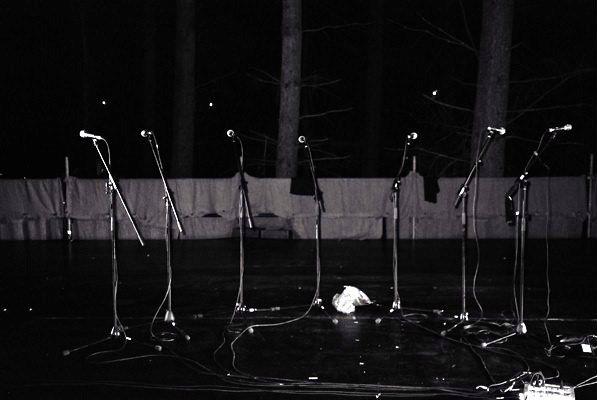 Join us on the final Friday of January for this humdinger of a show as we welcome two mighty male vocal groups to Paper Dress for an awesome double header, plus support from 2 fresh new bands to get the party started.
CITY SHANTY BAND
//www.facebook.com/CityShantyBand/
Ahoy! We are the City Shanty Band an 11-member shanty band described by the Daily Mail as a "hackney-based a cappella group" which is wrong because we've got an accordion and a drum – silly fascists.
We sing a mix of original compositions and traditional sea shanties with an urban twist. Urgh! Urban twist is a horrible way of describing anything. Basically, we change the lyrics a bit to make them relevant and shit, yeah?
CHAPS CHOIR
https://www.facebook.com/ChapsChoir/
The Chaps sing songs from across the world, combining surprising choices with deft arrangements, always with an added chappist twist. Prepare for pop song re-hashes snowy hunting calls, Manhattanite observations, self-aware pirates and, well, lots of men singing.
Since the choir first gathered, the Chaps have sung in The Royal Festival Hall, The Roundhouse, Natural History Museum, appeared at Daylight Music, Port Eliot, Citadel, The Young Vic Theatre and return regularly to their local Islington venue The Union Chapel.
ISAK'S ISLAND
//www.facebook.com/IsaksIsland/
//soundcloud.com/isaks-island
LEFT IN COLOUR
//www.facebook.com/leftincolourband/
£4 in advance / £5 on the door
RSVP to the Facebook event page here and invite your friends
Keep live music alive!x
Stay Healthy in 2018 with Paper Dress Yoga!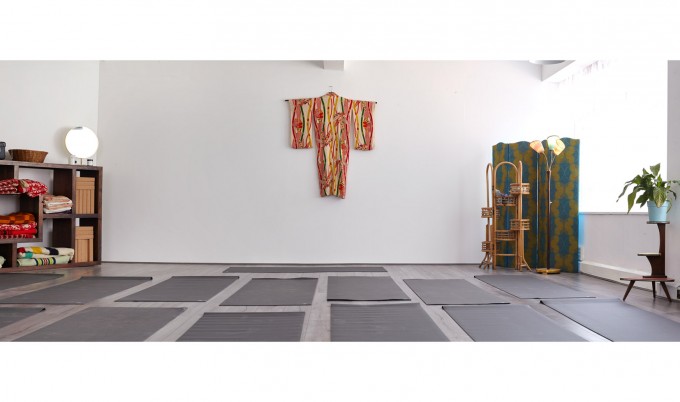 Our sister business, Paper Dress Yoga, is offering a great introductory deal with 10 days of unlimited yoga for just £20. They run 4 daily classes next door with some top yoga professionals…more details here, and take a peak at their beautiful studio at the same time, with all the vintage charm you'd expect from Paper Dress!
Yoga is great for the body and the mind, make yourself feel better about going out drinking, dancing and having fun..