Havisham's Whores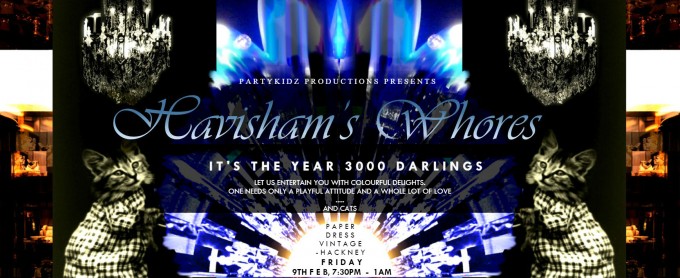 A new drag and performance night hosted by Havisham's Whores. Here's what they have in store for you glamorous people…
It's the year 3000, busted are here and so are the cats, billions of them…
On a peaceful patch of land, the doors of Havisham's Whore House will soon be opened to the public for the biggest party since Prince's resurrection in the year 2482
This celebration is a sparkly party on an interdimensional scale. The reunification of an ancient friendship will inject happiness into the hearts of all. This is the party foretold in the lights, as fortune favours the mystical *Bali Rara* and his heroin hostess *Havisham*.
She has invited the best entertainers from over 76 galaxies: clowns from *Cirque de la BLAH* will be hosting games and the coveted FINDERS KEEPERS treasure hunt, spoken word and bible bicthin' from the fabulous *Liquorice*. All topped off with musical earwigging from the enchanting *Sleephawk* and much more. 
Bring an open heart and let your mind be opened for you.
This is an exclusive networking event aimed at city dwellers who believe silliness is a serious business. Boreoffs need not attend. 
DRESSCODE: Just do you — there will be an essence of *spangle* in the air
RSVP to the Facebook event page and invite your friends here!
£7.50 in advance, £10 on the door