Session Six – BEACHTAPE/Cold Boys/Hobby Club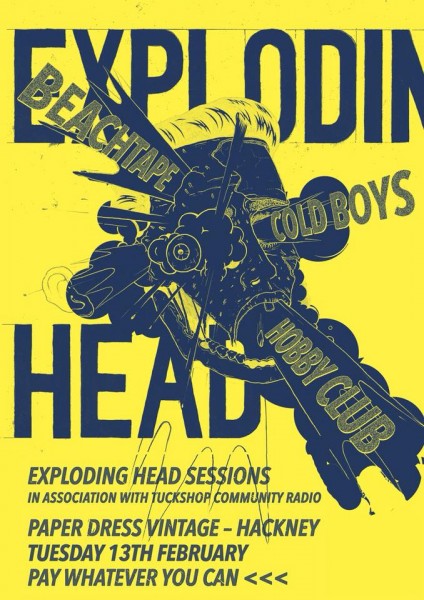 Exploding Head Sessions are back for #6! Here's what's coming up this month..
When we first heard Brighton band BEACHTAPE there was no doubt in our minds that we had to try and get them down for an Exploding Head Session and viola, here they are headlining our next show!
Lightly distorted jangly guitars seamlessly float alongside dreamy melodies propped up by bumbling basslines that will get your head nodding and your foot tapping in a haze of summer splendour. PNKSLM loved them so much they put out their EP and after you see them, you will spend your whole valentines day thinking about this quartet of young Brighton bedroom pop dreamers.
//beachtape.bandcamp.com/
Cold Boys hail from London. South London to be specific and have been causing delirium on the streets of Deptford with their breezy diy indie anti pop. Their latest release on Donut records tells us that these guys are a force to be reckoned with and with this being their first show of 2018 it really is one not to be missed.
//soundcloud.com/cold-boys/mint-bay
Hobby Cub are pure Jangly Pop and we love them. This remarkable two piece have crafted their own sounds blending the likes of Orange Juice with The Smiths to create the most perfect of bedroom pop experiments. Check out their first single "bedroom". We guarantee it will make your day.
//hobby-club.bandcamp.com/
As usual it's pay what you can.
RSVP to the Facebook event page and invite your friends here: //www.facebook.com/events/571966439817388/