The Cesarians, John Hegley, The Dyr Sister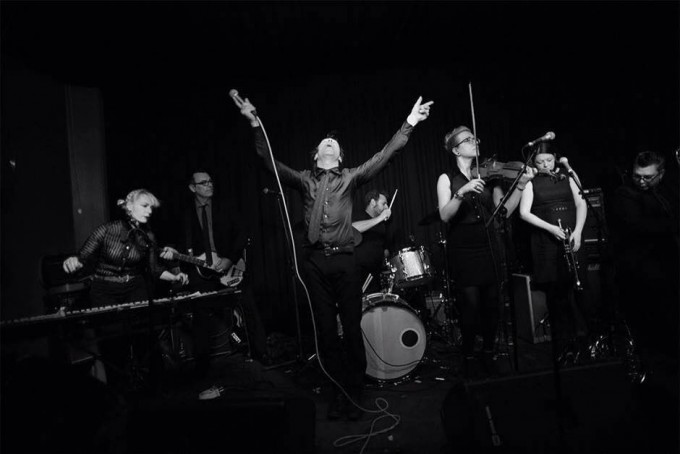 Anti Valentines night with 3 live acts!
Limited advance tickets available here: //www.wegottickets.com/event/428553
The Cesarians– Unveiling their slightly tweaked line up The Cesarians buoy up their spectral but soulfully intense high drama pop noir with some adroit dirt and aural itchiness and compelling sonic grit. Following critically acclaimed albums produced by Craig Leon and Teo Millar, the 'wrong rock/odd pop' maestros now channel a rather more electronica hinged furrow with a little less brass and a wee bit of Velevetine guitar but no let up in the intensity and emotional maelstrom they effortlessly kick up…not to mention sensational songcraft. Songcraft often predicated on the maddening, saddening, unhinging side of love. Adroit this chill Valentines evening. Admirers of Nick Cave, Jacques Brel, Kris Kristoffersen, Bowie will all enjoy these dark eyed romantics, but all manner of things resonate in their wonderful body of work from The Fall to Pink Floyd to Suede… 

John Hegley– The absurdist yet (when you think about it) eminently sensible raconteur, songsmith, Poptician and ukulele beat poet comes back to Hackney as very special guest of The Cesarians tonight. What a wonderful thing, this St Valentines Night, to celebrate all aspects of love the John Hegley way, with playful, wry, hilarious and sometimes achingly thought provoking verse.
The Dyr Sister– The Dyr Sister is really called Sally and is a classically trained Violist and Pianist who once played in the City of Hull Youth Symphony Orchestra, becoming the principal violist and also spent 7 years in the Hull Philharmonic Orchestra. She also played in a number of string quartets and other small string groups. Sally has been performing loop pedal shows since late 2011 under the name of Salbo Baggins with her trusty viola, a mandolin and an array of things from her kitchen telling Fairytales for the Modern Gentleman to audiences in and around Hull. In early 2013 Sally ran away from her real persons job and became a travelling minstrel in Mexico for a few months… this experience was the death of Salbo Baggins and The Dyr Sister was created ready for her return to the UK. Since her return The Dyr Sister has been building up her out of town performances and is currently in the process of recording her debut album.
Plus Duncan De Morgan
Love and Hate Disco Til the wee wee hours provided by special guest DJs and or Tony Bugbear (Soho Radio)