Psych Folk From Around The World!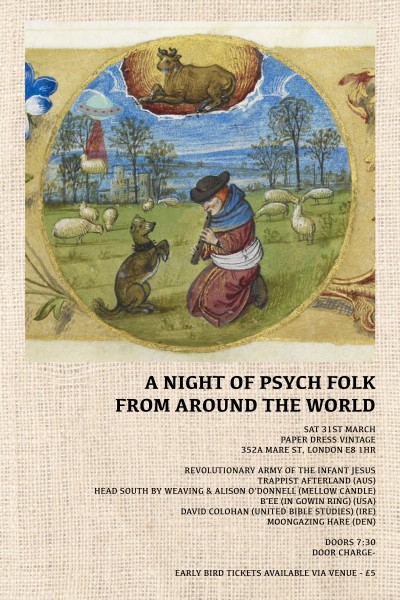 A NIGHT OF PSYCH FOLK FROM AROUND THE WORLD!
Join us on Easter Saturday for a wonderful night of psych/folk and experimental music by some of the undergrounds most critically acclaimed acts.
It's very rare to have so many of the worlds folk stalwarts on one bill. Tonight is the exception.
EARLY BIRD TICKETS SOLD OUT! Limited advance tickets available here: //www.wegottickets.com/event/434117
REVOLUTIONARY ARMY OF THE INFANT JESUS (UK)
//www.facebook.com/REVOLUTIONARYARMYOFTHEINFANTJESUS/
TRAPPIST AFTERLAND (AUS)
//www.facebook.com/trappistafterland/
HEAD SOUTH BY WEAVING & ALISON O'DONNELL (MELLOW CANDLE)
//www.facebook.com/headsouthbyweaving/
B'EE (GOWIN RING) (USA)
DAVID COLOHAN (UNITED BIBLE STUDIES) (IRE)
MOONGAZING HARE (DEN)
//www.facebook.com/moongazinghare/
About the acts..
///THE REVOLUTIONARY ARMY OF THE INFANT ST JESUS
Revolutionary Army of the Infant Jesus is an experimental music collective that was formed in Liverpool, England in 1985 by founding members Leslie Hampson, Jon Egan, and Paul Boyce. Their name is a reference to the terrorist group in Luis Buñuel's final film, That Obscure Object of Desire
The group's music is a blend of folk and sacred music, industrial and ambient sounds, and samples that has drawn comparisons to neofolk artists like Current 93 and Death in June, as well as artists including Dead Can Dance, Godspeed You! Black Emperor, Henryk Górecki, and Arvo Pärt. The group incorporates Christian imagery and symbolism into their music, and specifically draws inspiration from the Eastern Church,
/// TRAPPIST AFTERLAND
Trappist Afterland was formed in 2010 and is the Psychedelic folk project fueled by the religious ruminations of songwriter and multi instrumentalist Adam Cole (oud,guitar,Lute,tanpura plus an ever evolving line up of old friends and musical sympathizers.)
Although the influence of folk music from various sectors around the world can be heard in Trappist Afterland's music (The British folk revival, 70's acid folk, Gamelan music, Middle Eastern music, Indian raga) they still maintain a unique and almost otherworldly quality, that sounds unlike anyone else.
With lyrical explorations delving into Gnosticism, Christian mysticism and other esoteric themes, Trappist still manage to keep their music firmly grounded in the present while maintaining a timeless quality.
/// HEAD SOUTH BY WEAVING & ALISON O'DONNELL
Singer, musician, writer of songs & soundscapes. Collaborator in a number of bands across folk, trad, alternative & crossgenres. Long career going back to Mellow Candle as a teenager. Student of United Bible Studies. Songs are meaningful and frequently pastoral and poetic, sung with passion and heart.
Joined on the night with Alison is Winchester's answer to Jimmy Campbell. Head south by Weaving mainstay Graeme Lockett evokes classy songwriting with a twist of the macabre from the British folk tradition.
/// B'EE
Rarely mentioned in articles and reviews without an adjective, B'eirth has been called "mysterious," "reclusive," "nomadic," "effusive," and "singular." Much of this attention is due to his cultivated image as a modern-day troubadour and preferring instruments with Renaissance roots.
B'ee is proficient at playing a myriad of instruments, including guitar, cittern, harps (both mouth harps and folk harps), harmonica, recorder, reeds and flutes. He is largely self-taught (though says he has didactically studied "16th century polyphony"). He designs and fabricates his own stringed instruments.
As a live performer, B'ee is commonly associated with his easily recognizable pear-shaped and double-necked guitars. The later is a guitar/cittern hybrid made by B'eirth himself in 1998, which he calls the Stringed Spade. It is, in his own words: "a standard 6 string on the top neck and 9 strings in 5 courses (low course single) on the lower neck. I wanted the combination so as to avoid changing instruments between songs during performance. Occasionally I play both necks during one song and sometimes use the cittern neck as resonant strings while the top neck strings are sounding." [1]
/// DAVID COLOHAN
An eerie loveliness that should really be soundtracking a Werner Herzog film; indeed Popol Vuh's work provides a useful reference point for Raising Holy Sparks as, similar to Vuh, the music herein is almost religious in its solemnity and grace.'
/// MOONGAZING HARE
"I dreamed that the hall was filled with wild swine and my true lover swimming in blood"
Advance tickets available here: //www.wegottickets.com/event/434117
Pink Mist Presents: Doe, Brunch + Flirting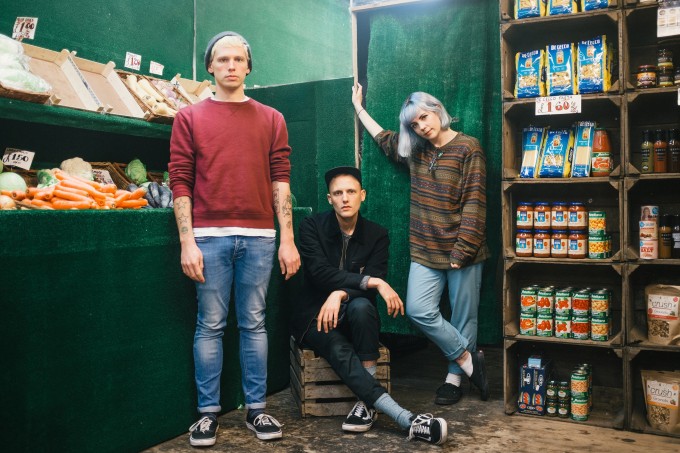 PINK MIST PRESENTS:
Doe 5th Birthday Show
With Brunch & Flirting
Limited advance tickets available on DICE here
Since forming in early 2013 Doe have built a UK following with their unique brand of 'wonky alt-pop' (Clash Magazine). The band's influences are rooted in 90s indie-rock, but their songwriting style and lyrical content place them very much in the present. Off-kilter time signatures, intertwining guitars and the vocal-interplay between guitarist Nicola Leel and drummer Jake Popyura stand as clear markers of a band completely at ease with themselves. Their songs pack power but are also loaded with a wry sense of humour.
In September 2016 Doe released their debut full length 'Some Things Last Longer than You', produced by Matthew Johnson (Hookworms / Suburban Home Studio). The album impressed critics and made it on to several end of year lists, most notably landing at 6th place on ABC News' Best Albums of the Year. The Quietus branded STLLTY 'the kind of record that will stir and inspire you during moments of existential crisis'.
Live, Doe are a formidable presence and bring a frantic energy to every performance. Fresh from a trip to the US to play SXSW Festival and a handful of shows around New York, they will be debuting new material at their first London show in 6 months.
£6 ADV - Doors 8:00pm – 18 +
RSVP to the Facebook event page and invite your friends here
Easter parties & shop opening hours!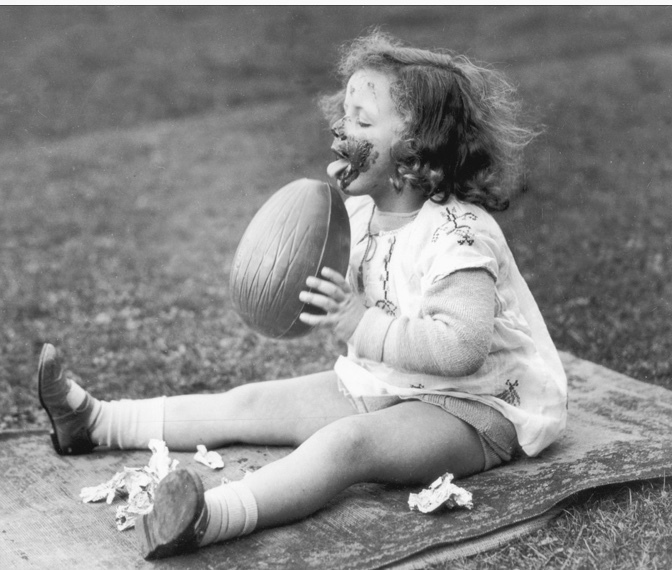 Happy Easter stylish people!
Easter is traditionally a big party weekend and we're keeping up that tradition in fine Paper Dress style with a series of exciting live music events over the Easter period, see below for our full listings – hopefully we'll see you for a drink and a dance over the next few days!
The boutique will be open as normal on Good Friday & Easter Saturday (10am – 7pm) and then closed on Easter Sunday till 4pm and closed all day on Easter Monday.
Good Friday – Pink Mist Presents: Doe's 5th Birthday! Plus special guests Brunch & Flirting.
Easter Saturday – Psych Folk From Around the World!
Easter Sunday – Homemade Disco Presents: Rattle, Myles Manley, Sweet Williams, CAD
Happy chocolate munching x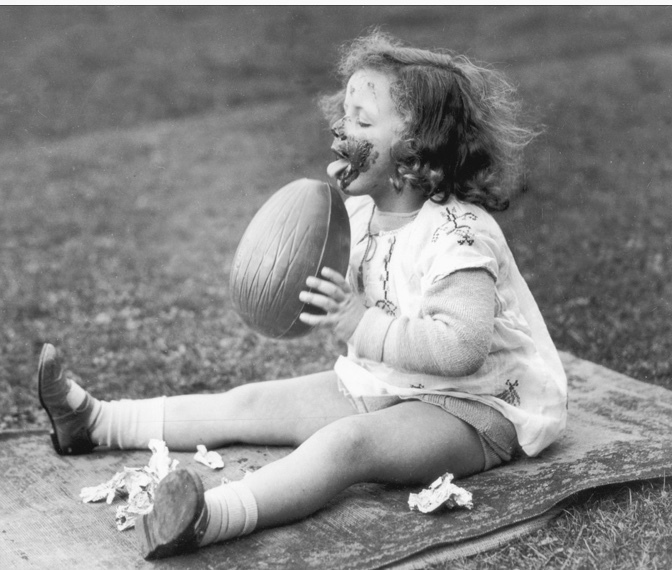 Live Circuit Presents: Beach For Tiger, Screams From The Sun, Feral Youth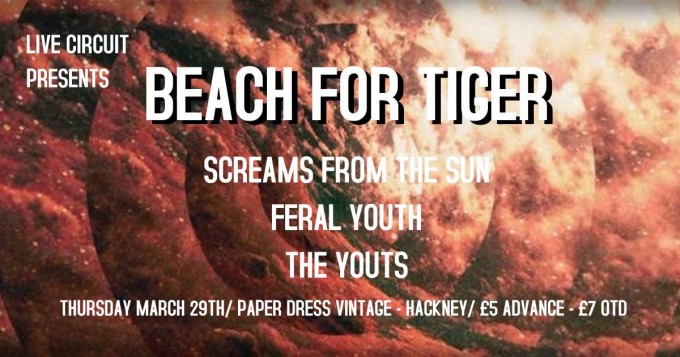 Live Circuit Presents are back with an epic 4 band line-up as we warm up for Easter Weekend!
Beach For Tiger
Psych Rock
'Beach For Tiger seem ready to turn day-dreaming into an art form' – CLASH
//soundcloud.com/beach-for-tiger
Screams From The Sun
|| Alternative synth pop/rock duo from London ||
//www.facebook.com/screamsfromthesun/
Feral Youth
Dreamy grunge 4-piece based in Brighton.
Debut EP 'Sugar' out now on all major streaming services!
//feralyouthband.bandcamp.com/releases
//soundcloud.com/feralyouth/sets/sugar-1
The Youts
4 Piece indie/punk rock band from London
//soundcloud.com/theyouts
Tickets £5 Advance / £7 OTD
RSVP to the Facebook event page and invite your friends here!
Jukebox Headaches Present: A Great Fall Premiere
Jukebox Headaches Present a special film premiere of their new short film A Great Fall
These days, Alan lives alone, barely moving from his armchair, in a room which is gradually fossilising. When erstwhile associate Jonny shows up asking questions, the pair find the complex dynamic between them shifting, as Alan exploits the weak points in the troubled ex-singer's fractured psyche for his own ends.
Unconventional, unsettling and blackly comic, A Great Fall is the second short from Jukebox Headaches, the creative partnership between Jez Leather and Jonny Cola. It both follows and prefigures Restricted Vision, which has screened at underground festivals across three continents.
We'll be screening both films.
Pay what you like.
RSVP to the Facebook event page and invite your friends here!