Wart Biter / Left Hand Cuts Off The Right Double Tape Launch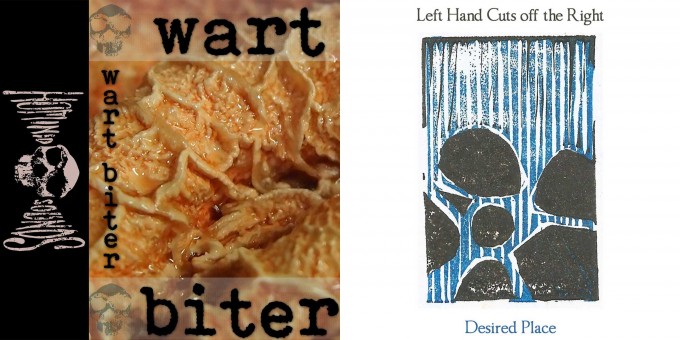 A special Hominid Sounds tape launch spectacular, celebrating the release of cassettes from Wart Biter and Left Hand Cuts off the Right.
Both groups appear on the night and are joined by Wayne Adams aka Johnny Broke.
Wart Biter – Tom Fug (Luminous Bodies, Gum Takes Tooth), Colin Webster (Sex Swing, Dead Neanderthals), and Mat Pod (Alien Sex Fiend) join forces to create a jazz-fueled noise racket. Sax and heavy electronics with pulsing rhythm. Their debut cassette 'Wart Biter' will be released on Hominid Sounds in early 2018.
Left Hand Cuts Off The Right – Robbie Judkins (Casual Sect) creates introspective and other-worldly sounds. His latest release 'Desired Place' focuses on a dark period of his life, yet creates a feeling of calm, hope and optimism. 'Desired Place' will be released on cassette by Hominid Sounds in early 2018.
Johnny Broke – Wayne Adams (Ladyscraper/Shitwife/Death Pedals/Bear Bites Horse Studio/Hominid Sounds) gets around like the town bike. As Johnny Broke he's pedalling 9 tracks of hyper-neon synthesised acid-funk, radder than a cyborg in shades pulling a bunny hop on a volcano. 
RSVP to the Facebook event page and invite your friends here!
FREE ENTRY
Paper Dress Vintage
352a Mare St
London E8 1HR
Door 745pm
Close 1am