Gris-De-Lin Album Launch + Chesca Dolecka + John J Presley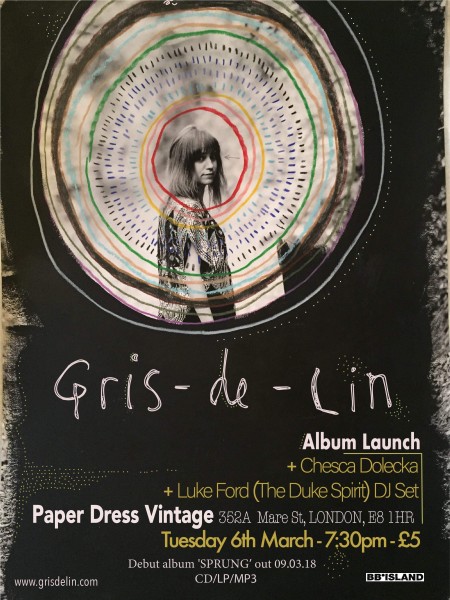 Noisy Little Birds present a night of live music to celebrate the release of Dorset artist Gris-de-Lin's debut album. There will also be a live set from Chesca Dolecka and DJ set from Luke Ford (The Duke Spirit).
7.30pm
Tickets £5
Limited advance tickets available here: //www.brownpapertickets.com/event/3341459
GRIS-DE-LIN
Multi-instrumentalist Gris-de-Lin's music is a heady mix of post-rock, blues and alt-folk peppered with warped electronics; the songs are narrative and lyrical.
Her debut album 'Sprung' was recorded in a nursery school, and saw her playing virtually all of the instruments herself. Working with producer/engineer Chris Hamilton (Torres/Kite-Base) she also drafted in Rob Ellis (P.J.Harvey/Anna Calvi) to play drums on several tracks.
Live she alternates between instruments and recent tours have seen her play shows in Italy, Germany, Switzerland, Australia and New Zealand. Her live band features John J Presley, Andy Zammit (Gemma Ray) and Philip Wrixton (Second Smile).
Her debut album 'Sprung' is being released by BBIsland on 9th March.
www.grisdelin.com
www.facebook.com/grisdelinmusic
CHESCA DOLECKA
Chesca Dolecka and Daniel Maiden-Wood (Anna Calvi, John J Presley) started their new project in 2017, binding Chesca's sparce sonic landscapes, with her filmic voice and Daniel's unmistakable drum style. The space in -between is as important as the song, and in that space they create a sound of apocalyptic romance, like Scott Walker's "nite flights" for the 21st century.
//soundcloud.com/chescadoleckaband
//facebook.com/chescadoleckaband/
JOHN J PRESLEY
John J Presley – an English gent with a penchant for fuzz:
"21st century blues, his songwriting contains a feral bite, the sound of a rising talent howling at the moon." Clash
"…a beautiful noise that at once grips and beguiles, as befits a natural-born storyteller." The Quietus
"The vocals remind you of Tom Waits or Johnny Cash, while the guitars have the same drive, as Jack White's or the Black Keys do, only much dirtier. Plus there is a very strong folk element to it, which makes it just that much more intriguing and a bit poetic, whilst never losing its energy." MusicNTing Blog
www.johnjpresley.com
//www.facebook.com/pg/John-J-Presley-180387252007865
Limited advance tickets available here: //www.brownpapertickets.com/event/3341459