Tweak!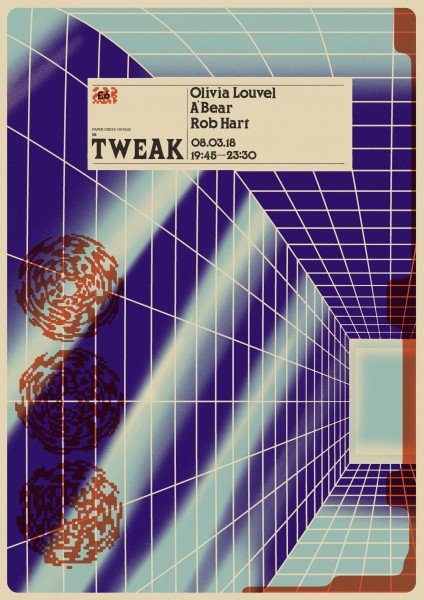 Tweak #1
An AV electronic experimental evening to unite the unique underground dreamers.
Tweak is a place in space for weaving together sonic visionaries and the quirkier artistic forces of nature from around the globe.
"a fine adjustment to a mechanism or system."
Tweaking, blurring, blending, stirring.
LINEUP:
Olivia Louvel Brighton, UK
olivialouvel.com
Presenting a new set from her project 'Data Regina' inspired by the reigns of Mary Queen of Scots and Elizabeth I.
Olivia Louvel is a French-born, British composer, producer and artist whose work draws on voice, computer music and digital narrative.
"A multimedia suite by composer Olivia Louvel digs deep into the psychic warfare between two 16th century British Queens" The Wire. For morewww.dataregina.com
Videos:
'Good Queen Bess' vimeo.com/194082940
'Infiltrate' vimeo.com/194087426
A'Bear- London, UK
"I gave up trying to be normal and found myself doing strange and awesome things"
Synthy/vocal/techno/experimental/rap/rainbow workout- heart-to-the-core- from my solar plexus to yours:::::
//soundcloud.com/abearsounds
//twitter.com/janineabear
Rob Hart- London, UK
robhartav.com
Rob Hart is a sound artist and filmmaker. His live improvisations incorporate homemade electronics, amplified textures, feedback loops and surreal personal monologues. Meanwhile, loops of Super-8 film are distorted and degraded in real-time to create striking and unexpected images.
Visuals by HARMERGEDDON
From the unwanted, unheard and unseen we create instruments, events, sound piece, installations and videos.//www.facebook.com/harmergeddon/
//twitter.com/Harmergeddon
//harmergeddon.tv/
//harmergeddon.bandcamp.com/
DJ's
Lia Mice
//www.facebook.com/lia.mice
End all work
//soundcloud.com/endallwork