Paper Dress Presents x Babalonia ft The Discount Orchestra, AE Hutch, Brudini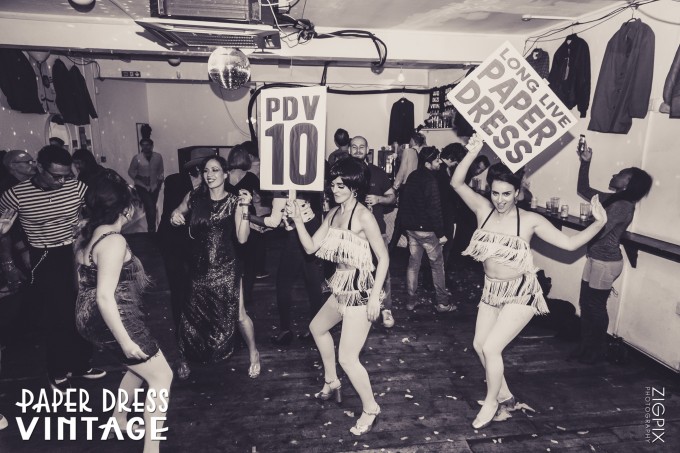 Join us on Saturday 10 March for an evening of wonderful live music from our unique shop window stage in Hackney! After the live music is done we'll be running till 3am hosting Latin Funk Afro club night BABALONIA!
Performing live we have…
THE DISCOUNT ORCHESTRA
//www.facebook.com/thediscountorchestra/
From the raw, visceral energy of Gypsy-Punk, to the feet-twistingly manic tempo of Speed-Folk, The Discount Orchestra provide a high-octane, seven-piece blend of eclectic dance-floor stomp, guaranteed to get you bouncing. Hard-grifting rhythms, topped with melodical oddities.
Formed in South London in 2011, The Discount Orchestra take their inspiration from London's dark, anarchic corners. Conjuring tales of love, loss, and post-apocalyptic survival, over a soundtrack that dances between genres. They've honed their live show at packed gigs and sold-out festivals over the last 4 years (Bestival, Wilderness, Boomtown) and have earned their reputation as a band to watch.
With a line up of Sax, Trombone, Accordion, Fiddle, Drums and Bass, topped off with a combination of vocal styles, their riotous blend of Balkan influenced music incorporates elements of Folk, Gypsy, Ska, and Circus, with a healthy dose of Punk, and is perfect for a late night of raucous entertainment.
Their debut EP 'And She Dances' is out now on Batov Records.
AE HUTCH 
//www.facebook.com/AE-HUTCH-1438053649754874/
Enter the world of AE HUTCH and find primary colour crackling through sonic blackness. Relentless and subsiding, awash with modular synth bleeps and 303 acid lines. Echos find focus- a mirage on the Kosmischer super highway.
//www.youtube.com/watch?v=9metGWsFjUI
BRUDINI
//www.facebook.com/brudinimusic

After the live music we'll be running a club night hosted by BABALONIA featuring DJs spinning Latin, Funk, Carribean, Afro and Disco Street Sounds till late! More info about what's happening there here: //www.facebook.com/events/169867870306059/
£5 on the door all night long
RSVP to the Facebook event page and invite your friends here!
Keep live music alive!