Exploding Head Sessions – Frauds/Human Pet/Casual Sect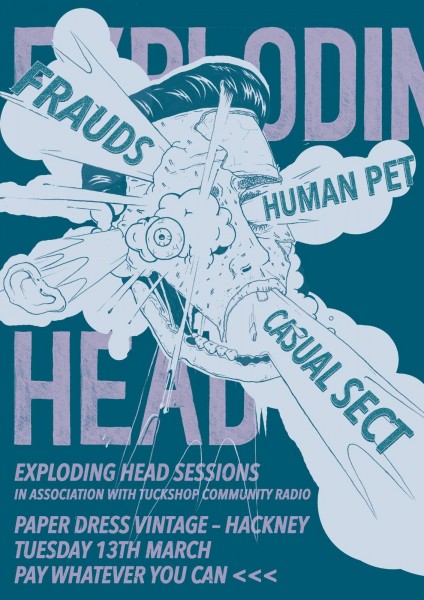 Exploding Head Sessions bid farewell with a hummdginger of a final show at Paper Dress..here's what they have to say about it
"Session Seven brings with it the end of an era as it will be our final session at Paper Dress Vintage! 
The guys at Paper Dress have been incredible in supporting us get this off the ground so please come down and help us say goodbye in style!
Luckily for you, we've put together one of our most exciting lineups so far.
Frauds – It's always amazing how much noise a 2 piece band can make and they don't come much noisier than Frauds. Their explosive live show will be the perfect finale for our time at Paper Dress. //fraudsfraudsfrauds.bandcamp.com/
Human Pet – One of the most exciting bands to emerge in recent years. Tim engineered their show at The Victoria last year and spoke to them straight afterwards about doing a session for us. They've just released their debut single and 2018 is looking set to be a massive year for them.//soundcloud.com/humanpet
CASUAL SECT – Kicking things off the right way will be Casual Sect. These noisey AF punks play thrashy scuzz that will blow you away. Their 2017 album, released on the always awesome Hominid Sounds, is a certified belter. //casualsect.bandcamp.com/releases
We highly recommend bringing ear plugs for this one!
As always, it's pay whatever you can on the door – 100% of the proceeds go to the bands."
RSVP to the Facebook event page here!