★★Factory de Joie★★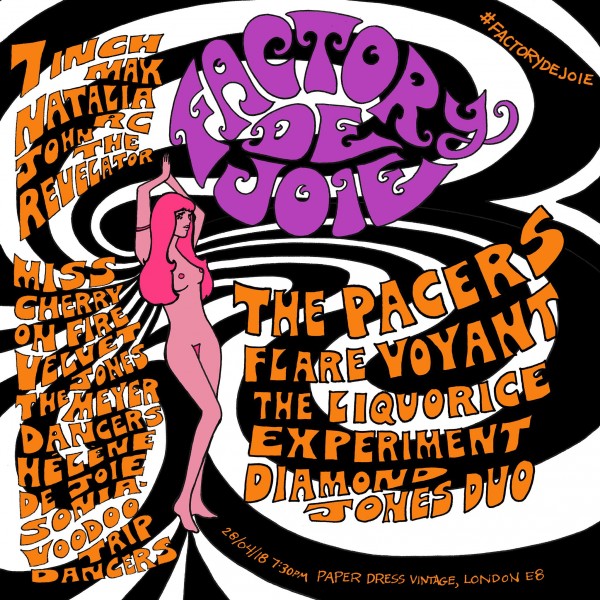 ★★Factory de Joie★★ returns to Paper Dress Vintage, Hackney, on Saturday 28th April!
Join us at our psychedelic playground of hedonism & good old fashioned rock 'n' roll!! Inspired by the 60s, 70s and Warhol's Factory.
Live music, burlesque & Go-Go dancers, projections and DJ's to keep you dancing 'till dawn…
Limited advance tickets available here!
**STARRING**
Live music from:
The Pacers
Flare Voyant
The Liquorice Experiment
Diamond Jones Duo
Burlesque & Go-Go Girls:
Miss Cherry on Fire
Velvet Jones
The Meyer Dancers
Helene de Joie
Sonia Shahid – Voodoo Trip Dancers
DJs:
7inch Max
Natalia RC
John the Revelator
CHEAP ADVANCE TICKETS ON SALE NOW (more on the door!): //www.designmynight.com/london/bars/hackney/paper-dress-boutique/factory-de-joie-1?t=tickets
RSVP to the Facebook event page and invite your friends here!
Parallel Lines Presents Post Louis + special guests!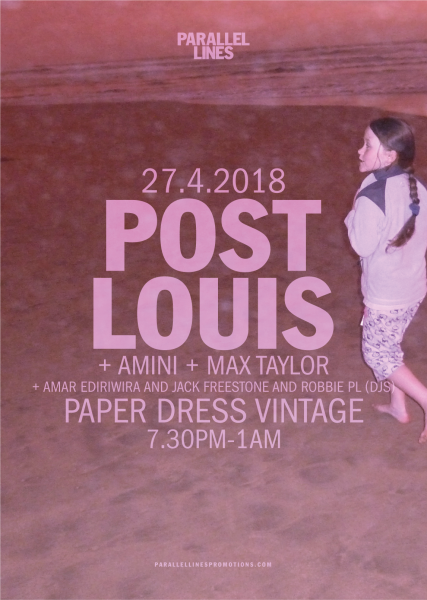 Post Louis will be having a party at Paper Dress Vintage with Amini, Max Taylor + Amar Ediriwira and Jack Freestone and Robbie PL (DJ) on Friday 27 April till late..
RSVP to the Facebook event page and invite your friends here!
Circulus, Sam Beer, Green Walker + Richard Norris (DJ Set)
Limited advance tickets available here!
CIRCULUS Circulus are back after a lengthy time away! From their tabards, lutes, Moogs and crumhorns, this is the sound of band with one foot in the past and one in the future. They were the band that re-invented the folk revival of recent years, gaining critical acclaim, for their albums, simply put they are Britain's number one medieval space rock folk outfit. We're very proud, nay honored, to host Circulus' first show in London for nearly a decade, where they shall be exclusively debuting tracks from their brand new album 'Birth.' Rejoice!!! //en-gb.facebook.com/CIRCULUS-157272170793/
SAM BEER Sam Beer is a beautiful singer songwriter/producer based in London, who also happens to play with the rather excellent band TreeTop Flyers. He will be gracing us with his gorgeous voice and mercurial guitar playing, treating us to his breathtaking folk-rock songs of love, life & loss. Hurrah!//www.facebook.com/TreetopFlyersBand/
GREEN WALKER Green Walker brings his New Spirit Music to open proceedings on the night. Fusing cosmic ambient nature with songs and ancient beat textures, he will awaken the dormant voices of our drone ancestors! Om!
RICHARD NORRIS (DJ Set) Richard Norris is a being of many colours that shines oh so bright! A music maker, producer & remixer of noble repute, he shall set our hearts alight with the finest recorded selections, lovingly handpicked from his legendary collection. He's gonna play some amazing TUNES!!! He, along with Erol Alkan, are the transmutant psyche lords Beyond The Wizards Sleeve, whose debut album 'The Soft Bounce' received much deserved acclaim for it's kaleidoscope of imaginative outpourings. As The Time & Space Machine, he has remixed the likes of Temples, Jagwar Ma and Warpaint.
Live Circuit Presents: The Family Dog, Mice Ön Mars, Scarletts & Mother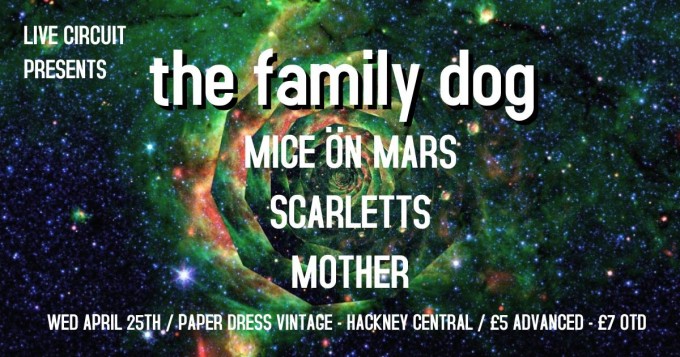 Live Circuit presents 4 up and coming acts on Thursday 25 April..
The Family Dog
Four Brothers from Barnet, sounds like steely , the band , laughing dogs, white denim & early kings of leon, with a british youth fuelled zest
Mice Ön Mars
Aggressive post-punk with hints of garage. Sounds like being trapped in a cellar with bats hanging from the ceiling and rats spewing from every nook, with a hint of Fairy Liquid
//soundcloud.com/mice-on-mars
Scarletts
//scarlettslondon.wixsite.com/scarlettsuk
Mother
Mother are a four-piece Psychedelic-Indie Rock band from Brighton. With influences reaching from The Beatles, Pink Floyd, The Stone Roses and Mac Demarco.
£5 Advance / £7 OTD
RSVP to the Facebook event page and invite your friends here!
Gon von Zola Launch Party | Patsy Clone | Jackie Boom-Boom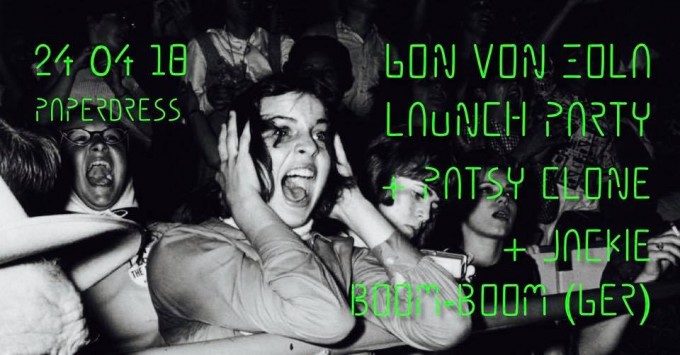 GON VON ZOLA SINGLE LAUNCH PARTY!
£5 advance ticket / £6 on the door
Ticket link: //www.seetickets.com/event/gon-von-zola-single-launch/paper-dress-vintage/1211676
GON VON ZOLA

Out of the box, right in your face!
New band, new single, new video!
Recorded at Gon von Zola's home studio in Highgate North London, co-written with his friend Sue Denim in North Wales, 'Blue Is..' is an upbeat, happy, danceable song with an unexpected dark undertone. Strongly influenced by the surrounding Welsh waters, the lyrics, in homage to Virginia Woolf, describe a woman who puts stones in her shoes and drowns herself to escape reality. While this might mean death for any normal person, this character is clearly enjoying herself at the bottom of sea. With its mentions of flooded caves, invisible friends and treasure chests, Gon von Zola evokes images of adventure, paying tribute to 80s classic 'The Goonies', as well as Guillermo del Torro's horror drama 'The Orphanage', two of his favourite movies.
Plus special guests…
Two down on their luck retail heels with a taste for the good life and a nostalgie de la boue. One deals out tales of depravity and duplicity all wrapped up with a neat bow of delinquency accompanied by his partner on the tin cans and wordsmithery.
When the moment hits, the zest from the west on the sideways electro-cello abounds, and when present all the way from Germany we've got Mighty Joe Young, the sexiest German ever to wield a synth (sorry Kraftwerk)
These may or may not come.
Here them rumble, hear them roar…. The mighty Patsy Clone!
JACKIE BOOM-BOOM (GER)
//soundcloud.com/user-284189415
Youtube: //bit.ly/2qa4M1U
Insta: //www.instagram.com/jacquelineboomboom/
Bandcamp: //jacquelineboom-boom.bandcamp.com/
Jacqueline Boom-Boom is A Creature of Love, Light & Music. As such, Jackie is fueled by the Love within; lit up with its magic Light; and guided by a Soul burning with infinite fire to write, sing & perform joyous/otherworldly/formula-breaking electronic dance Music! Rising like the phoenix (fresh and colorfully happy as a rainbow of glitter), The Creature comes from an already recognizable tradition of delivering unpredictable performances in small underground clubs and dives bars in 'its' beloved home, Leipzig!
Flying crazily all around 2018 on a singing-performance journey, Boom-Boom will dazzle us with homemade stage sets and costumes, powerful vocals that defy definition, and crazy little surprises at each show. 'The Jacqueline Boom-Boom Show' is a place and space where we feel, sing, hear, and share infinite Love for one another, for all of nature and for the whole Universe!
Look out for the fresh new album "Take Me Jackie, Take Me To Planet Love…" to be released in mid-April 2018 on bandcamp.
RSVP to the Facebook event page and invite your friends here!