Say What? A Night of Words from Women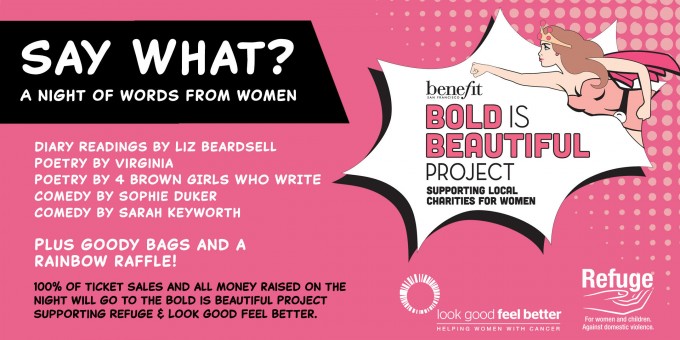 Say What? A Night of Words from Women
Help raise funds for the Bold is Beautiful Project empowering women to make bold moves and have big dreams. 100% of ticket sales* and all money raised on the night will go to Refuge supporting women and children against domestic violence and Look Good Feel Better supporting women with cancer.
There is a banging line up of entertainment hosted by The Duchess aka JoJo Tyhurst with diary readings from Liz Beardsell, poetry from Virginia and stand-up comedy from Sophie Duker and Sarah Keyworth.
Friends will be making an array of sugar highs to be enjoyed and donating their time, services and gifts to create the rainbow raffle including a print by award winning illustrator Robbie Porter, an hours consultation with leading interior agency Cavendish Studios, a date package to Backyard Cinema, a Paper Dress Yoga gift voucher, a one on one Makeup Lesson & Brow Wax with Benefit Cosmetics Makeup Artist Laurretta Power and £100 worth of Benefit Makeup.
Taking place on Tuesday 3rd April at Paper Dress Vintage on Mare Street in Hackney from 7pm – 11.30pm
Tickets include a Benefit Cosmetics Goody Bag.
Say What? event charity target: £1000
A little bit about the line up:
Liz Beardsell
Liz Beardsell has written a diary every day of her life since she was 12 years old (now 36). That's over 8,700 entries. She started sharing her diary entries when asked what she was good at for her 'committee' at New Year's Eve holidays with friends and last year did her first public reading at The Book Club. No names have been changed.
Virginia
Virginia was born in Venezuela but now lives in London. She is a regular performer at Spoken Word London and has been published in Gut Feelings Zine, HerHeartPoetry, Dead Beats Blog, ByMePoetry, and The grey Scene. Follow her poetry on Instagram @afraidofvirginia
4 BROWN GIRLS WHO WRITE
4 BROWN GIRLS WHO WRITE are a collective made up by Roshni, Sharan, Sheena and Sunnah. They are friends and share their poetry with each other via WhatsApp and email. They love and support each other and this will be their third performance.
Sophie Duker
Sophie Duker is a stand-up whose face recently graced her very own Comedy Central pilot. You may also have heard her funnies in the following places: the British Broadcasting Co-orporation (Famlam, BBC2; The Now Show, R4) and Cartoon Network (The Amazing World of Gumball).
Sarah Keyworth
Originally from Nottingham, Sarah Keyworth is fast becoming a regular on the London circuit and has recently supported Stewart Francis on tour. Her material is a mix of honest anecdotal storytelling about her Midlands upbringing, made surreal with the occasional addition of a silly observation. She delivers sharp lines with a cheeky smile and moments of sudden deadpan that leave the audience wanting more.
*Minus Eventbrite ticket fees
4 Week GoGo Dancing Course!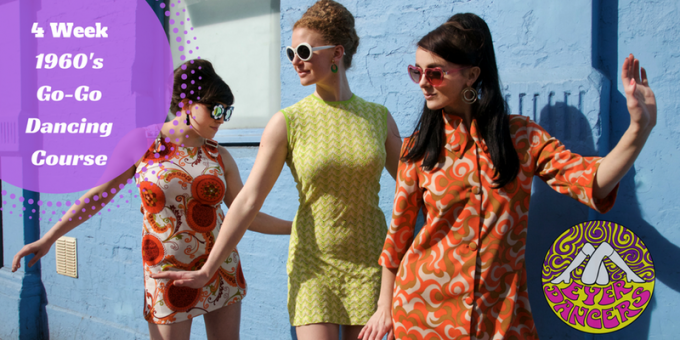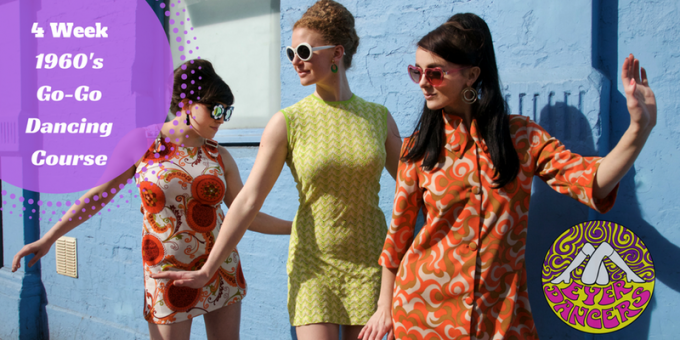 Groovy people, Do you like 1960's dancing and music?
It's the Summer of Go-Go LOVE!
This June come join The Meyer Dancers, London's "Go To" Go-Go Dance Company for four weeks of 1960's Go-Go dancing. Weekly Styling tips, Friendly atmosphere, and show case your new moves at our special Summer sharing for friends and family at Paper Dress Yoga, East London's favourite haunt.
*We are a sisterhood so whether you come by yourself, with a friend or a group we know you'll feel part of the gang!
* A chance to shimmy, shake, and learn original 1960s Go-Go moves
* Learn two fun routines
* A weekly Summer workout to great 60s music
* A friendly and supportive environment, perfect for beginners and improvers
* Learn weekly 60's styling tips: From beehives, to cut crease lids and cats eye flicks
* Get fit and feel empowered
Together we will be working towards an End of term sharing – for your friends and family – Sat 23 Jun, 19:00-21:00 at Paper Dress Yoga.
What did our previous participants say?
"I had the best time learning Go-Go dancing with the Meyer Dancers! Would highly recommend the 4-week course"
"The Meyer Dancers are a wonderfully welcoming, encouragingand professional troupe"
"The 4 week Go-Go course was amazing, lovely friendlyatmosphere!"
"Amazing teachers, really fun and enjoyable course"
100% of participants who answered us and were on the course said they would recommend to a friend.
Course Dates:
Sat 2 Jun (15:00-16:30)
Sat 9 Jun (15:00-16:30)
Sat 16 Jun (15:00-16:30)
Sat 23 Jun (15:00 – 16.30) (Evening showing 19:00 – 21:00)
Who are The Meyer Dancers?
The Meyer Dancers are London's 'Go-To" 1960's Go-Go Dance Company. TMD have been performing their exciting Go-Go act for 5 years having performed alongside legendary 60's bands such as The Sonics, Geno Washington, The Trashmen and at several festivals such as Glastonbury, Lovebox, Isle of Wight, Wilderness, Secret Garden Party and 60's festivals in Europe! TMD have also featured in movies directed by Woody Harrelson and award-winning director John Ridley. They also teach Go-Go at hen parties and birthdays! The dancers are inspired by the strong, feminine women in the movies of Russ Meyer and can be sure to shake up the dancefloor with their groovy moves! They perform everything from mod, to Ye-ye, and psychedelic to suit the party!
The price of the 4 week course is £80 + booking fee.
Location: Paper Dress Yoga, 352 Mare St, London E8 1HR
(opposite Hackney Central station – London Overground line)
Class level: OPEN (All levels welcome!)
Come shake a tailfeather with us!