Live Circuit Presents: Croft & Cotes, Rusty Salt, Broken Strange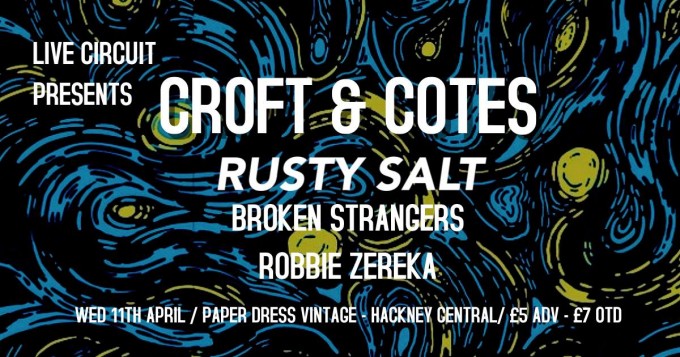 Live Circuit presents 4 up and coming live acts from our unique shop window stage in Hackney featuring..
Croft & Cotes
London based Duo
www.croftandcotes.com
WHY I'M HERE AVAILABLE NOW!
iTunes: //itunes.apple.com/en/album/id1088893621
Rusty Salt
Rusty Salt are an alternative rock trio based in Brighton. The band's style marries the riff firepower of Biffy Clyro, Muse, and Arcane Roots with the songwriting and melodic sensibilities of Foo Fighters and U2 to create driving, hard-hitting songs, and their intense, high energy live shows are never to be missed. The band's first EP 'No Use' is available now at: //rustysaltmusic.bandcamp.com/album/no-use
Broken Strangers
Broken Strangers; Fin Clark, Adam Looker, Sam Warner and Albert Wallace. Creating a thick force of noise, havoc and brotherhood, BS take their sweat-ridden shirts and battered drums across the UK. 2018 will see the release of Stray Life, with their debut album closely following later in the year.
Robbie Zereka
Alternative-pop musician, energetic performer and passionate and emotive lyricist. Irish born, based in London.
//robbiezereka.com/
//soundcloud.com/robbiezereka
//www.instagram.com/robbiezereka/
Tickets £5 Advance / £7 OTD
RSVP to the Facebook event page and invite your friends here!