SBD presents: French Boutik / The Sound Of Pop Art / Moon Apes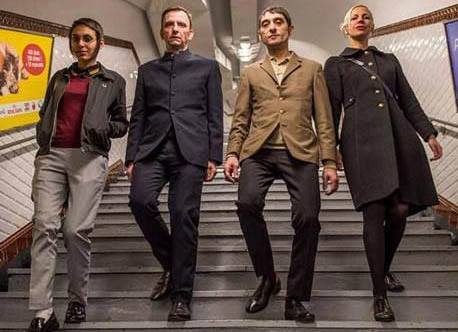 SBD presents: French Boutik – Friday April 13th
Limited advance tickets available here!
The Paris-based "pop moderniste" quartet have a unique vision of modern French pop where elegance and power collide. The sharply-dressed four avoid retro déjà vu while still maintaining clear 1960s, 70s and 80s influences.
They have played for SBD a few times now and every one of them has been a great show. Hear them play the great songs of debut LP 'Front Pop', plus hear them try out new songs from their forthcoming second album, to be recorded this summer.
//frenchboutik.com/
//www.youtube.com/watch?v=BlIkwrNesS4
plus!
The Sound Of Pop Art
We finally got them a London show! Songs with Mid 60ts psych pop, hints of Bacharach / Barry filmic arrangements, Motown, early 70's soul…
"Fusing funk, R&B, folksy whimsy and a large dash of soul, POP ART TRIP could be the soundtrack to a lost 60s movie. A warped, even more knowing Georgy Girl landscape of dreamy afternoons and lives not yet wasted" – Shindig Magazine
//www.youtube.com/watch?v=uhlHjrv9Fv8
The Moon Apes
A dark-acoustic duo who mix of folk and garage rock and have recently released the EP 'Six Of Seven'.
//www.themoonapes.com/
//soundcloud.com/the-moon-apes
@ Paper Dress Vintage
352 Mare Street, London E8 1HR
2 minute walk from Hackney Central station
£5 tickets here: //www.seetickets.com/event/french-boutik-sound-of-pop-art-the-moon-apes/paper-dress-vintage-london/1203556
Plus DJs til late!
RSVP to the Facebook event page and invite your friends here!