Youth Music Live!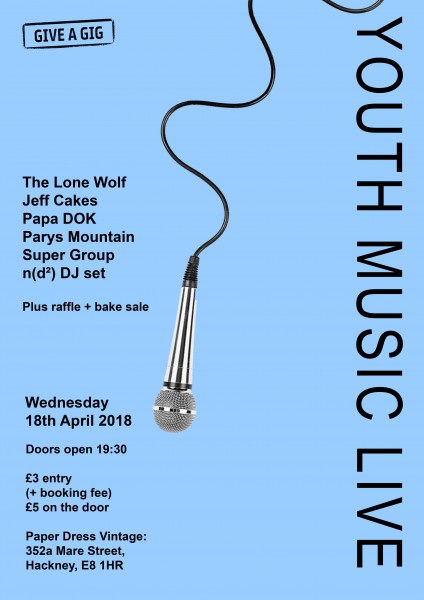 Following last year's success, we are happy to welcome back Youth Music back to Paper Dress!
Join them on Weds 18 April for an evening of live performances by Youth Music staff to mark the end of Give a Gig Week – Youth Music's nationwide extravaganza of live music and fundraising. Tickets are just £3 and available here!
Youth Music invests in music-making projects for tens of thousands of children and young people in challenging circumstances around the country, and we want to take this opportunity to practice what we preach. For one night only, Youth Music staff will take to the stage and we'd love to invite you to come and celebrate with us and, most importantly, raise funds for all the great projects we support.
Performers include veteran act Papa DOK, the acclaimed folk trio Jeff Cakes, and all the way from Brighton – The Lone Wolf. The newly-formed Youth Music Supergroup will headline the evening, while DJs n(d²) will provide musical entertainment until midnight!
The event will include a raffle and bake sale. Entry is £3 (plus booking fee) or £5 on the door. All proceeds will go directly to Youth Music-funded projects across the country.
About Give a Gig
One week. One hundred gigs. Give a Gig is Youth Music's flagship fundraising initiative taking place between 16-25 March 2018. Find out more:
//www.youthmusic.org.uk/giveagig