Live Circuit – J.W. PARIS Single Launch W/Couples, Wannaballon + guests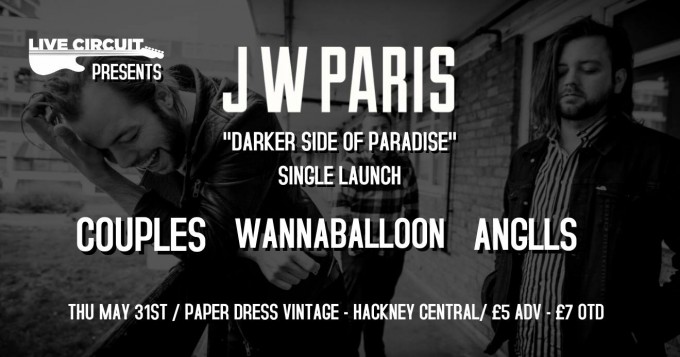 JW PARIS – SINGLE LAUNCH ! 
JW PARIS present their brand new release 'Darker Side of Paradise', a dynamic and driving beast of a tune with vocal, bass and guitar hooks a plenty. This ballsy new sound builds on their personal influences which range from Black Rebel Motorcycle Club (Official Page), The Dandy Warhols, Jack White, The Rolling Stones, Blur and Suede, which in turn gives them a raw anglo-american, alt-rock swagger with the vocal delivery, phrasing and harmonies that wouldn't sound out of place in the brit pop hey day.
Couples
London-based Post Punk // Alternative // Grunge
SoundCloud: //soundcloud.com/couplesband
Wannaballoon
//soundcloud.com/wannaballoon
Tickets £5 Advance / £7 OTD
RSVP to the Facebook event page and invite your friends here!
Postponed – The Local Presents: Rev Magnetic, ILK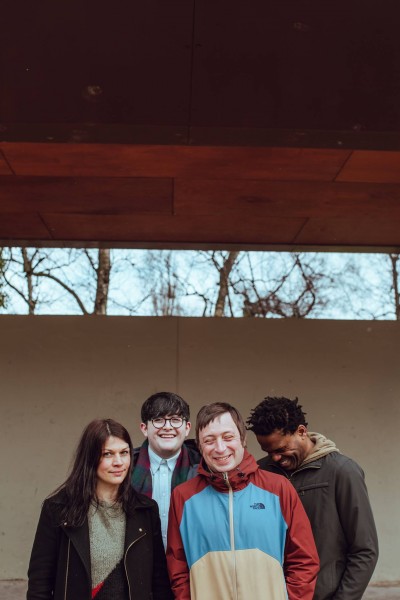 POSTPONED – due to unforseen circumstances this event has been postponed till September >> //www.facebook.com/events/1830553903670774/
The Local presents REV MAGNETIC and Ilk
Limited advance tickets here: //www.thelocal.tv/events/2018-05-30-rev-magnetic-paper-dress-vintage
While touring the world as guest multi-instrumentalist with Mogwai, Luke Sutherland (Long Fin Killie, Bows, Music A.M.) used the downtime to sketch a bunch of songs. Once he got home, he wrote a handful more and recorded them with the help of a few friends at his cottage on the edge of the Scottish Highlands. The result was an album's worth of material with references ranging from My Bloody Valentine to Teebs, Lemmy-era Hawkwind to ABBA, Vaughan Williams to Boulez
Keen to translate the radiant chaos of the recordings into a live setting, Luke put together Rev Magnetic, featuring Audrey Bizouerne (Gift Horse), Sam Leighton (Prides, St MARTiiNS) and Gregor Emond who played with Luke in a band called Hynd, way back before the birth of the internet. Combining elements of dream pop, shoegaze, R&B, and post rock, their first single, Like No Girl That Ever Was/Don't Let Joy Destroy You is the sound of summer at full surge.
//soundcloud.com/user-57925310/sets/rev-magnetic-3-tracks/s-20BW4
//www.facebook.com/revmagnetic/
//twitter.com/revmagnetic
//www.instagram.com/revmagnetic/
Ilk's colourful and dreamy songs unravel against a collision of psych pop influences and scruffy, found sound warmth.
//www.instagram.com/ilktheband/
//soundcloud.com/ilktheband
//twitter.com/ilkyilk
//open.spotify.com/artist/6KiP
Limited advance tickets here: //www.thelocal.tv/events/2018-05-30-rev-magnetic-paper-dress-vintage
DMP Presemts Future Juke: A 21st Century Blues Festival w/ JAKE LA BOTZ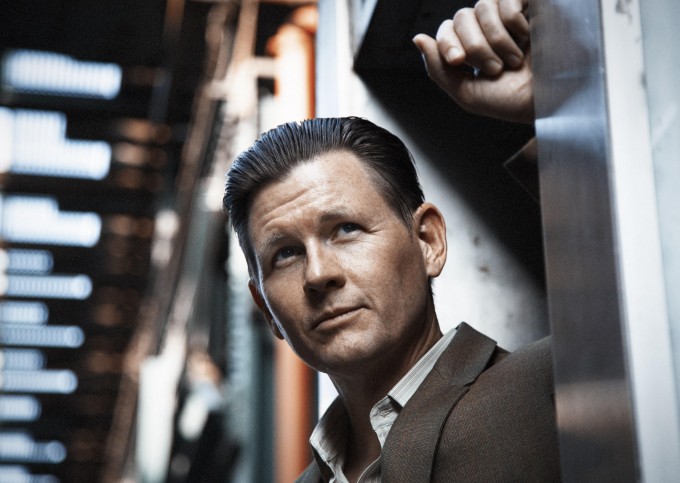 DMP PRESENTS: Future Juke: A 21st Century Blues Festival
Featuring..
PLUS SPECIAL GUESTS
SUPERMINX70 + Flesh Tetris + Pendennis + DJs We Got Killers

Superminx70 – Tis punk, tis powerpop, tis modernist and melodic but loads going on with a nigh on Dexys like soulful intensity, with a little angular and artful Bowie and something of The Small Faces. Top chaps, ace faces, hep cats. . . " …foot-stamping punky-mod-glam with catchy choruses and sloppy solos. The sound of English cars with fins, bench seats littered with Jackie magazine and Spangles wrappers…happy days!''
Flesh Tetris – deliriously deviant combo piloted by Andy Heintz (Creaming Jesus, The Men That Will Not Be Blamed For Nothing), and also featuring Jez Miller from the last mentioned and soooo many other bands, Karen Bell, Andy Duke (Tara Rez, The DPRK) and Eva Menon (Underrunners, Sigue Sigue Sputnik) ….glam punk and slippery techno hit the terminals of your brain like a suitably spaced interstellar jaunt between several virtual worlds. 'Retro SciFi Eurotrash armed to the teeth with barbed pop hooks and weaponised synths.'
Pendennis – Joy Division (early post Warsaw into Unknown Pleasures style) meets The Wedding Present with a bit of Interpol but more urgency, more scratchy post punk intensity.
Plus special guests to be announced and DJs till late!
Hooray Cabaret Presents MILK!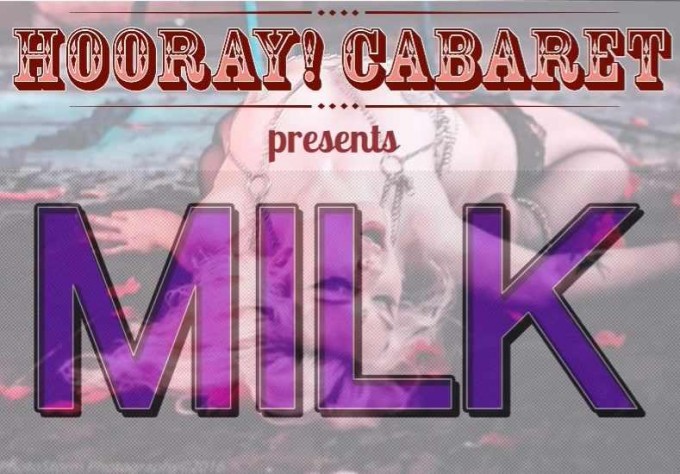 MILK returns to Paper Dress Vintage, with a fabulous night of dancing and debauchery. Join us for x-rated burlesque, sexy live music and Hooray's very own brand of depravity, line-up to be announced very soon…
Not for the faint-hearted. Dress to undress.
The last one sold out so get your advance ticket here whilst you still can!
Not been before? Here's what our audience say…
"Extraordinary! Fun, exciting, disturbing, beautiful, interesting, crazy. A real life, modern time cabaret/burlesque. If you would like to experience a slightly more open minded experience you absolutely have to see one the shows from this series"
"Love this night, one of the best nights around. Somewhere between burlesque and just bonkers chaos. Don't bring your mum x"
"Crazy, sexy, cool. Always a pleasure Milk. Sign me up for the next one"
"First time there. Loved it. Amazing inclusive atmosphere. Wild night. Awesome music. Will go again definitely"
"Can't stop thinking about what a great night this was with amazing people. What a show and what an incredible crowd of people!"
"My second time at MILK and once again a fantastic night of fun and naughtiness. A fabulous venue, reasonable bar prices and a fabulously inclusive yet diverse crowd"
Get your tickets now, including 4-for-3 group discounts. Do it. Do it now.
RSVP to the Facebook event page and invite your friends here!