El Renacer Presents: Estruç, SATU, Bianca Scout + DJs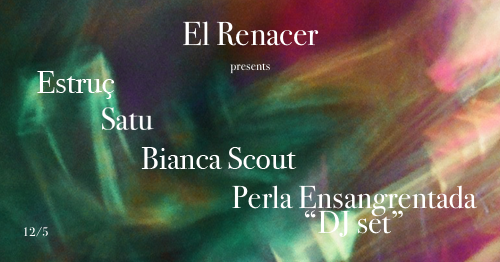 El Ranacer present an evening of live music and DJs, here's what they have to say about what is in store:
"Our very favourites from Barcelona – Estruç – will be performing for the first time on British soil. We will be carried away by SATU's intoxicating and synthy songs. Bianca scout is gonna show us what hides around the corners of reality.
Perla Ensangrentada (Itzel Sanclemente) will open the night with a dj set we know nothing about and it will be cathartic to say the least. 
Come and celebrate our (re)birth.
£6.60 adv. -> //www.wegottickets.com/event/434007
£8 otd"
RSVP to the Facebook event page and invite your friends here!