CAKE Comedy!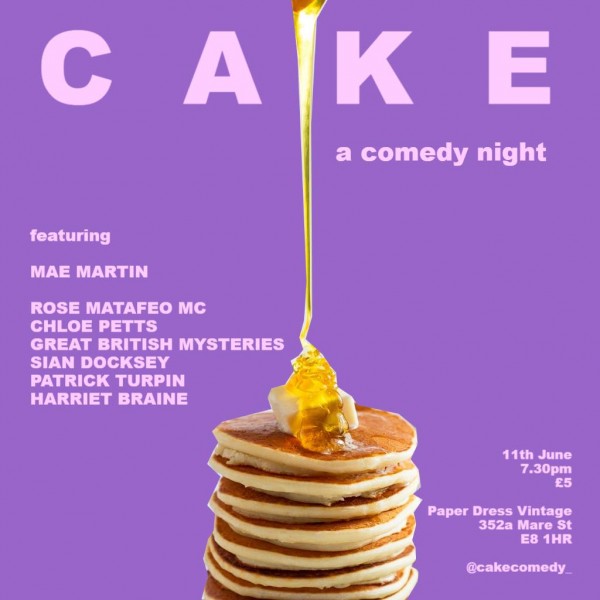 CAKE are back for another installment – Hot new comedy by the slice, every month at Paper Dress!
Featuring..
—–IVO GRAHAM (MC)—— 
Everyone's favourite self-aware Oxford-Etonian!
'Cleverly constructed comic timing' ★★★★ Edinburgh Evening News
'A very convincing set from this erudite comedian' ★★★★ The Independent
'Beautifully constructed comedy' The Scotsman
—–SARAH KEYWORTH—– 
'Charming' The Independent
'Pulling in the biggest laughs' Three Weeks
'Excellently deadpan' Huffington Post
—–KEMAH BOB—– 
Some wet, hot, pro-black, sex-positive comedy!
As seen on BBC Three and at UCBLA
—–FLORA ANDERSON—– 
"Well-tuned political antennae" Chortle
"One to Watch" Funny Women
"Very funny" Illegitimate Theatre
—–THE PIN—- 
Oh boy what a treat!
Writers and stars of their own multi-award-winning BBC Radio 4 series!
'The real hook is the comic intricacy… you'll be delighted' ★★★★ The Guardian
'The cleverest sketch show you'll eve see' ★★★★ The Times
'Consistently funny, absurd and smart' ★★★★ Chortle
'Always marvellous, always surprising' ★★★★ The Skinny
—–JORDAN BROOKES—- 
★★★★ Three Weeks
★★★★★ The Skinny
'Brookes is a startlingly talented comedian' Scotsman
'Intense, insane and exceptional' The Skinny
PLUS ONE HOT N SUGARY HEADLINER
———JAMIE DEMETRIOU——– 
Star and creator of the Channel 4 show Stath Lets Flats, plus PEOPLE TIME with Liam Williams and Claudia O'Doherty
'Startlingly good' The Guardian
'A Steve Coogan in the making' ★★★★★ The Independent
'A spectacular comedic work' ★★★★★ Fest
'So fully-formed and so confident. Also – no small matter, this, for a comedy – it is hilarious' The New Statesman
RSVP to the Facebook event page and invite your friends here!
And for just £5?! You forking what??!